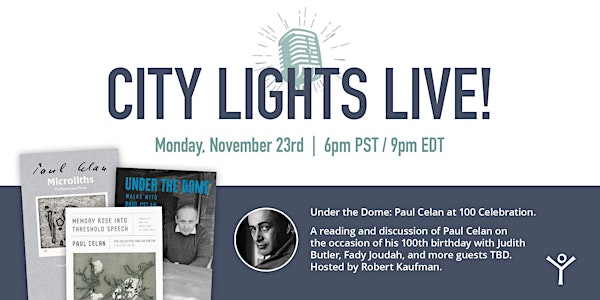 Under the Dome: Paul Celan at 100
A reading and discussion of the great Romanian-born poet Paul Celan on the occasion of his 100th birthday with many special guests.
About this event
A reading and discussion of the great Romanian-born poet Paul Celan on the occasion of his 100th birthday.
Special guests include Judith Butler, Mary Ann Caws, Norma Cole, Jean Daive, Philip Gerard, Fady Joudah, Myung Mi Kim, D.S. Marriott, Michael Palmer, Doris Salcedo, Timothy Snyder, Roberto Tejada, Rosmarie Waldrop, and Raúl Zurita. 
Moderated by Robert Kaufman.
Co-presented with the University of California at Berkeley's Program in Critical Theory
Co-sponsored by Farrar Straus, and Giroux, Contra Mundum Press, BAMPFA, and UC Berkeley's Departments of Comparative Literature, English, German, French, and Spanish & Portuguese.
Paul Celan (1920–1970) is considered one of Europe's greatest post-World-War II poets, known for his astonishing experiments in poetic form, expression, and address. His poetry, at times dealing directly with the personal aftermath of the Holocaust, has been a touchstone for so many since his passing, and his grappling with what poetry can mean or accomplish in the face of such atrocities has been a major reason why his legacy as one of the most important poets from the later half of the 21st century has endured so strongly.
Join us on the date of Celan's 100th birthday as we celebrate his life and writings with readings and discussion with special guests, especially highlighting three new books published on this occasion:
Under the Dome: Walks with Paul Celan by Jean Daive, translated by Rosmarie Waldrop with an introduction by Robert Kaufman and Philip Gerard; published by City Lights Books.
Memory Rose into Threshold Speech: The Collected Earlier Poetry, a Bilingual Edition by Paul Celan, translated by Pierre Joris with Commentary by Pierre Joris and Barbara Wiedemann; published by Farrar, Straus and Giroux.
Microliths They Are, Little Stones: Posthumous Prose by Paul Celan, translated by Pierre Joris; published by Contra Mundum Press.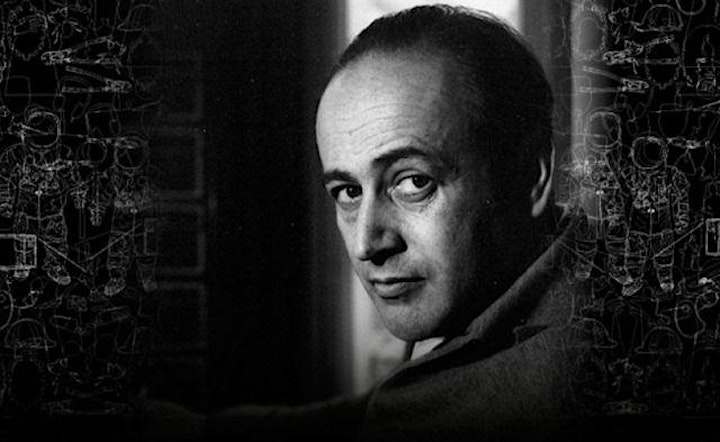 About the speakers:
Poet, translator, and editor Rosmarie Waldrop has been a forceful presence in American and international poetry for over forty years. Born in Germany in 1935, Waldrop studied literature and musicology before immigrating to the United States in the late 1950s. Waldrop has authored over 20 books of her own writing, including poetry, fiction, and essays. In 2006 she was elected to the American Academy of Arts and Sciences.
Author of over fifteen collections of poetry and seven volumes of fiction, Jean Daive has been an important voice in French letters for over 35 years. He lives and works in Paris.
Robert Kaufman is an associate professor of Comparative Literature at the University of California, Berkeley, where he also teaches in, and is past co-director of, the interdisciplinary Program in Critical Theory. 
Judith Butler is Maxine Elliot Professor in the Departments of Rhetoric and Comparative Literature at the University of California, Berkeley. They are the author of Frames of War, Precarious Life, The Psychic Life of Power, Excitable Speech, Bodies that Matter, Gender Trouble, The Force of Nonviolence, and with Slavoj Žižek and Ernesto Laclau, Contingency, Hegemony, Universality.
Fady Joudah has published four collections of poems, The Earth in the Attic, Alight, Textu, a book-long sequence of short poems whose meter is based on cellphone character count; and, most recently, Footnotes in the Order of Disappearance. 
D.S. Marriott is originally from the UK, but now lives in Oakland, California. His poetry is often associated with the Cambridge school of poetry. And as a scholar, he has been a leading theorist of afro-pessimism. Recent books of poetry include: Hoodoo Voodoo (Shearsman, 2008) and In Neuter (Equipage, 2012). Whither Fanon? Studies in the Blackness of Being (Stanford University Press, 2018) and Duppies (Commune Editions, 2019).
Roberto Tejada is a poet, art historian, curator, translator, and editor specializing in Latino and Latin American art born in Los Angeles. He is the author of the full-length poetry collections Still Nowhere in an Empty Vastness (2019), Full Foreground (2012), Exposition Park (2010), and Mirrors for Gold (2006), as well as the poetry chapbooks Amulet Anatomy (2001) and Gift & Verdict (1999).
Timothy Snyder is the Housum Professor of History at Yale University. He is the author of On Tyranny: Twenty Lessons from the Twentieth Century, Bloodlands: Europe Between Hitler and Stalin and Black Earth: The Holocaust as History and Warning. Snyder is a member of the Committee on Conscience of the United States Holocaust Memorial Museum and a permanent fellow of the Institute for Human Sciences in Vienna.
Mary Ann Caws is distinguished professor emerita of English, French, and comparative literature and resident professor in the Graduate School at the City University of New York. She is the author of many books on art and literature, including, Creative Gatherings: Meeting Places of Modernism, Picasso's Weeping Woman: The Life and Art of Dora Maar, Virginia Woolf: Illustrated Life, Marcel Proust: Illustrated Life, Robert Motherwell with Pen and Brush, and Pablo Picasso.
Norma Cole is a poet, translator, and visual artist. Her books of poetry include Actualities, Where Shadows Will, and Win these Posters and Other Unrelated Prizes Inside. Born in Toronto, Canada, Cole lives in the sanctuary city of San Francisco.
Myung Mi Kim is the author of Civil Bound (Omnidawn), Penury (Omnidawn), Commons (University of California), DURA (Sun and Moon, Nightboat Books), The Bounty (Chax Press), and Under Flag (Kelsey St. Press), winner of The Multicultural Publisher's Exchange Award of Merit. Kim was born in Seoul, Korea and immigrated to the U.S. at the age of nine. She is the James H. McNulty Chair of English at the University at Buffalo.
Michael Palmer was born in New York City in 1943 and long resident in San Francisco, and is the author of At Passages (1995); The Lion Bridge: Selected Poems 1972–1995 (1998); The Promises of Glass (2000); Codes Appearing: Poems 1979–1988 (2001); Company of Moths (2005);  Thread (2011); and, most recently, The Laughter of the Sphinx (2016).
Doris Salcedo was born in 1958 in Bogotá, Colombia. Salcedo's understated sculptures and installations embody the silenced lives of the marginalized, from individual victims of violence to the disempowered of the Third World. Although elegiac in tone, her works are not memorials: Salcedo concretizes absence, oppression, and the gap between the disempowered and powerful.
Raúl Zurita, winner of the Chilean National Poetry Prize, is one of the most vital voices in contemporary Latin American literature. Among his many books in Spanish are the Dantesque trilogy Purgatorio, Anteparaíso, and La Vida Nueva. Other important books include Zurita and El día más blanco. His books in English translation include Purgatory, Dreams of Kurosawa, Song for His Disappeared Love, and INRI.