A panel of journalists and mental health experts to discuss the impacts of traumatic events on reporters.
About this event
Join the Society of Professional Journalists' NorCal chapter for a live discussion about the challenges journalists face when reporting on traumatic events such as a deadly pandemic or civil unrest. Our forum will help news leaders and journalists understand how to prioritize their well being and find a healthy work-life balance that avoids burnout, especially while working from home. Non-journalists and other attendees will learn how to understand the stressors of our industry as well as how to deal with mental health challenges they might face.
This is a hybrid event that will take place in front of a limited live audience at CreaTV studios in downtown San Jose and streamed live on Zoom. In-person attendees must wear a mask and show proof of COVID-19 vaccination.
Panelists:
Moryt Milo, veteran journalist and editor, NAMI-SCC Board Member
Sara Gaiser, KQED news editor
David Mineta, CEO of Momentum for Health
Moderated by San José Spotlight co-founder & CEO Ramona Giwargis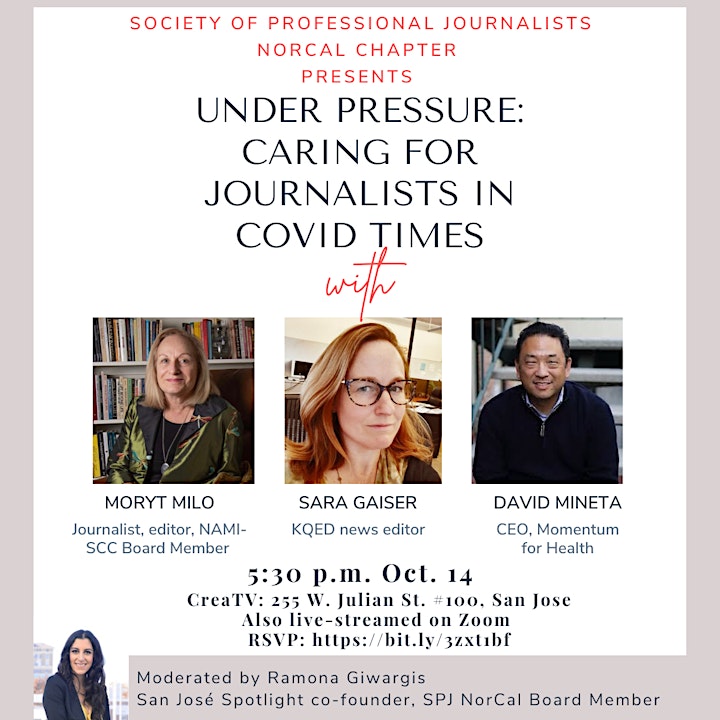 Organizer of Under Pressure: Caring for Journalists in COVID Times