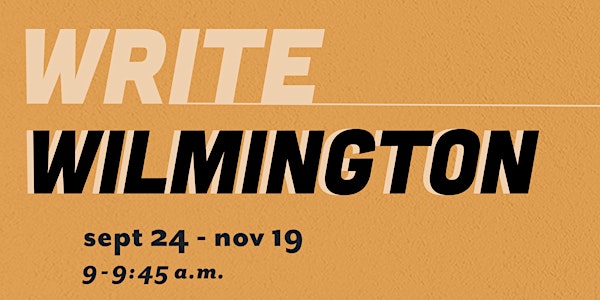 UNCW Presents: Write Wilmington
Join us on Fridays from 9-9:45am, September 24th to Nov 19th, for a free writing session hosted by UNCW's Department of Creative Writing!
About this event
Write Wilmington is an initiative started by Sayantani Dasgupta, co-coordinated by Jessica Ram, whose purpose is to carve out time and space for writing in community with one another.
From September 24th to November 19th, we will gather every Friday from 9:00am to 9:45am for a free writing session. Each session will be held on Zoom and led by a faculty member or graduate student. Instructors will deliver prompts and guidelines, everyone in attendance will write together, and often have time to share with one another. The goal here is not to workshop or receive feedback, but rather it is a designated time to forget about everything else, to push our imaginations, exercise creative muscles, and to simply write. We hope you'll generate drafts you might return to in the future, but our purposes are to get your gears turning.
Join us for a session of Write Wilmington! All are welcome!
*Closed Captions will be enabled during all sessions. Zoom link will be emailed out to all registered participants an hour before each session.
All sessions will be recorded and uploaded here: https://uncw.edu/writers/writewilmington.html