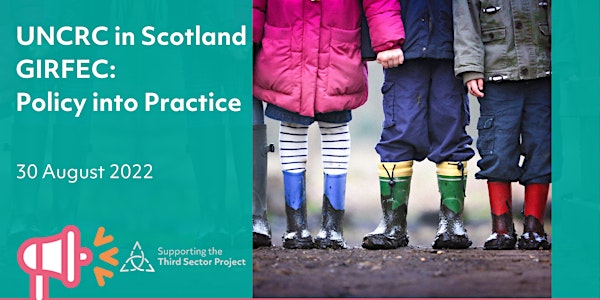 UNCRC in Scotland—GIRFEC: Policy into Practice
Supporting The Third Sector Project hosts the next UNCRC Event in the Making Rights Real series focusing on GIRFEC from policy to practice.
About this event
Key learnings
Updates from the Scottish Government GIRFEC team about the guidance refresh
Participation of children and young people in the policy refresh
Creative practice from Third Sector Children's Services to bring the National Practice Framework to life
Resources for practitioners to use to ensure children, young people and families are kept at the heart of GIRFEC in policy and practice.
The session is aimed at anyone working or volunteering in the children's services sector.
Background
This event is the latest event in the Making Rights Real Event series hosted through a National Collaborative of Third Sector Partners:
Together, GCVS, Children's Parliament, The Alliance, Scottish Child Law Centre, and Children in Scotland (STTS Project)
The event series aims to promote the alignment of UNCRC incorporation to specific policy areas. This event takes a focus on the GIRFEC policy particularly around the time of the GIRFEC Guidance Refresh.
GIRFEC is the core approach that underpins how children's services in Scotland are delivered, providing a shared language and unifying framework for working across disciplines and organisations, and supporting a rights-based child and family centred approach. It is a key element of the commitment to Keeping the Promise and is fully aligned with UNCRC.
This event will provide attendees with an update from the Scottish Government GIRFEC team about the guidance refresh, and how policy has developed into practice. Workshops will be hosted by a variety of children's services on how they have used GIRFEC to ensure the child, young person and family remains at the heart of the national practice framework to ensure the best outcomes for children and young people.
Facilitator
Scottish Government GIRFEC team
Circle - Circle is a Scottish charity working at the heart of deprived communities across central Scotland. Our aim is to support the most disadvantaged children and families to improve their lives, promote their healthy development and reach their potential.
Autism Understanding – Autism Understanding Scotland (AUScot) is an autistic-led charity dedicated to helping people deepen their knowledge and understanding of autism.
My Rights My Say - My Rights, My Say supports children aged 12-15 to use these rights. It's independent, confidential and easy to use, and here to make sure the voices of children with additional support needs are heard.
Enquire - Enquire is the Scottish advice service for additional support for learning. Our mission is to:
raise awareness of children's rights to extra support in school
help families and schools work together to ensure children get the support they need
provide advice to children and young people who might be struggling in school.
Plus Many More: if you are interested in being part of this event please get in touch with us at lfrobertson@childreninscotland.org.uk
Become a member of Children in Scotland
Children in Scotland is the largest national membership organisation for the children's sector in the country. To access discounted webinars and many other membership benefits including exclusive content and resources, and discounted commissioned training, please visit here.
Local authorities in membership with Children in Scotland
Please note that all local authority staff working from both headquarter and regional offices including senior management are included in membership and can register as members for discounted training with Children in Scotland. Membership does not extend to schools and nurseries within individual local authorities. If you are interested in your school or nursery becoming a member, please visit here.
Members are responsible for applying their discount at the time of purchasing a ticket, discounts cannot be applied after the ticket has been purchased. Please click here for instructions if you are unsure how to redeem your member discount.
System requirements for attendees
This webinar will be delivered using Zoom. You can attend from anywhere using a compatible computer, laptop, tablet or smartphone connected to the internet.
Please note, some organisations have additional security settings that may prevent you from accessing Zoom on a work device.
Please check that your organisation permits access to Zoom. If they don't provide access, we encourage you to use a personal device with Google Chrome instead. Otherwise, please speak to your IT team to gain access or ask them to change the security settings on your work device to access Zoom.
Closed Captioning and Live Transcription
Zoom enables Close Captioning and Live Transcription. Once you have joined the Zoom, you can access this by:
Click the "CC Live Transcript" button
Click one of the following:
Show Subtitles – Displays captioning on the bottom of the video. You can also select Hide Subtitle once subtitles are selected to hide them.
View Full Transcript – Opens a panel/pop-up and displays captions in real-time with both the speaker's name and time stamp.
Accessibility
The Children in Scotland Learning & Events team are committed to doing all we can to ensure our learning opportunities are accessible to everyone. If you require any adjustments to assist your learning, whether they be in relation to course materials or delivery format, please do contact us at events@childreninscotland.org.uk to discuss.=
Cancellation Policy
As a charity, Children in Scotland must cover the running costs of delivering events. We are therefore not in a position to offer refunds except under extenuating circumstances, in which case an administration fee would be applied.
Copyright and data sharing
Recording and/or distributing the webinar in any form is prohibited. This training may be recorded for internal review and use.
Please note that your personal details may be shared with the trainer for training purposes. These details will be deleted once the webinar has taken place.
If you have any questions or concerns, please email events@childreninscotland.org.uk.