Uncovering Beauty - A Tour of Secret Gardens
Winston-Salem Garden Tour, Saturday, April 30, 2022, benefitting the Garden Club Council of Winston-Salem and Forsyth County, North Carolina
About this event
Uncovering Beauty - A Tour of Secret Gardens
This biennial tour is a rare opportunity to explore the secret gardens hiding within the city limits of Winston-Salem. The tour provides a variety of gardens each with its own personality and design aesthetic. From the traditional English garden to mid-century modern, to a true gardener's garden hidden behind a brick wall; gardeners of all levels will delight in the diverse creativity and beauty of each space.
Garden Tour Tickets and Information
Tour-only tickets are $40
Premium Tour tickets are $60, include a gourmet boxed lunch available to pick-up and enjoy in a bonus garden.
Tour hours are 10 am to 4 pm, rain or shine
Tour guide and wristband(s) will be mailed to you prior to April 20, 2022. Any tickets purchased after April 15 can be picked up at The Garden Boutique (100 Reynolda Village, Winston-Salem).
Tour Guide - The tour guide is your passport into the world of secret gardens. It provides garden descriptions, directions and helpful information to make your day enjoyable.
Wristbands - Wristbands serve as your admission ticket.
Individual & Corporate Sponsorship Opportunities Available
Call Francie Bray at 336-528-4773, or email thebrays27104@gmail.com
About the Garden Club Council
The proceeds of this special garden tour benefit the beautification projects of The Garden Club Council of Winston-Salem and Forsyth County. Established in 1932, The Garden Club Council of Winston-Salem and Forsyth County is a multi-generational organization that prides its self on helping organizations and schools uncover the beauty in their surroundings and in our community.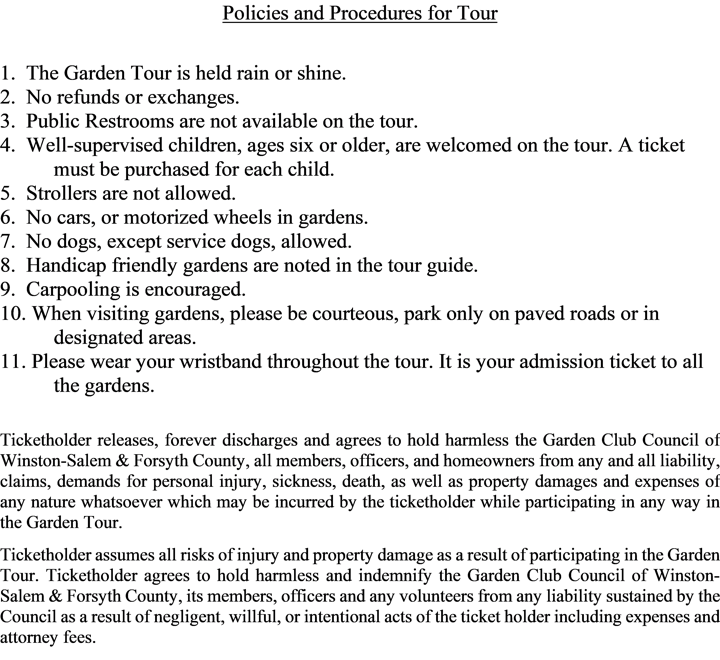 Organizer of Uncovering Beauty - A Tour of Secret Gardens
The Garden Club Council of Winston-Salem and Forsyth County was founded to help "protect, preserve and beautify our environment." Today our group includes hundreds of members from 21 garden clubs in the Winston-Salem/Forsyth County area. All of our garden club members are also members of the Garden Club of North Carolina. The Garden Club Council helps to promote local gardening, beautification, recycling, and environmental education. Our headquarters is located at the entrance to Reynolda Gardens-100 Reynolda Village, Winston-Salem, NC, 27106, 336-722-5640, wsgardentour@gmail.com