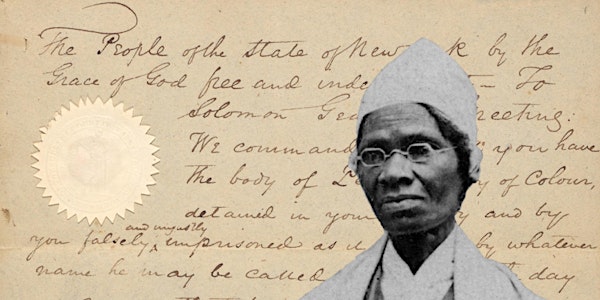 Uncovered: Sojourner Truth's Quest for Liberty and Justice
Join us as we recount Sojourner Truth's legal battle to liberate her son from slavery and the recent recovery of those court records
When and where
Location
Schomburg Center for Research in Black Culture 515 Malcolm X Blvd New York, NY 10030
About this event
IN-PERSON EVENT
Join scholars, archivists, and curators as they revisit the story of Sojourner Truth's inspiring life, tell the exciting story of how the long-lost court records from her fight to liberate her son from slavery were recovered in 2022, and discuss the important role of archives in the preservation of documents and the teaching of history to future generations.
Sojourner Truth was an iconic activist who was born into slavery but courageously opted to self-liberate. Shortly after she freed herself, she began the process of restoring her family. Undaunted by societal norms and biases, Truth went to court in Ulster County, New York, in 1828 to sue for her son's freedom. She won her case, becoming the first Black woman to win a lawsuit against a white man to secure a family member's freedom. While the records of this historic case were preserved for some time, they were lost for much of the ensuing 200 years — only to be recovered in 2022.
This program will feature the following speakers and discussants:
Dr. Nell Irvin Painter, Edwards Professor of American History, Emerita, Princeton University
Paul O'Neill, Esq., Commissioner of Jurors, Ulster County
Thomas J. Ruller, NYS Archivist
Dr. Michelle Commander, Deputy Director of Research and Strategic Initiatives, Schomburg Center for Research in Black Culture
A pop-up exhibit featuring the 1828 court records and other compelling items from Sojourner Truth's life and times will also be on view.
The digitized court records can be viewed here: https://digitalcollections.archives.nysed.gov/index.php/Detail/objects/88246
This event will be live streamed on the Schomburg Center's Youtube channel as well:
https://youtu.be/Eglfokv1PbM
This is event is brought to you by the Lapidus Center for the Historical Analysis of Transatlantic Slavery at the Schomburg Center For Research in Black Culture, the Historical Society of the New York Courts, the New York State Archives, and the New York State Unified Court System.
About the Lapidus Center for the Historical Analysis of Transatlantic Slavery
The Lapidus Center for the Historical Analysis of Transatlantic Slavery, founded in 2014 with a generous $2.5 million gift from Ruth and Sid Lapidus, generates and disseminates scholarly knowledge and works on the slave trade, slavery, and anti-slavery pertaining to the Atlantic World. The Center supports the work of researchers with long-term and short-term fellowships. Given the centrality of Atlantic slavery to the making of the modern world, Lapidus fellowships ensure that slavery studies are a cornerstone of the Schomburg Center's broader research community. The Center engages the public with a variety of programs, an annual nonfiction book prize, exhibitions, conferences, and partnerships with local, national, and international institutions. To learn more about the Lapidus Center, please visit https://www.nypl.org/spotlight/lapidus-center.
About the Schomburg Center for Research in Black Culture
Founded in 1925 and named a National Historic Landmark in 2017, the Schomburg Center for Research in Black Culture is one of the world's leading cultural institutions devoted to the preservation, research, interpretation, and exhibition of materials focused on African American, African Diasporan, and African experiences. As a research division of The New York Public Library, the Schomburg Center features diverse programming and collections totaling over 11 million items that illuminate the richness of global black history, arts, and culture. Learn more at schomburgcenter.org.
About The New York Public Library
For over 125 years, The New York Public Library has been a free provider of education and information for the people of New York and beyond. With 92 locations—including research and branch libraries—throughout the Bronx, Manhattan, and Staten Island, the Library offers free materials, computer access, classes, exhibitions, programming and more to everyone from toddlers to scholars, and has seen record numbers of attendance and circulation in recent years. The New York Public Library receives approximately 18 million visits through its doors annually and millions more around the globe who use its resources at www.nypl.org. To offer this wide array of free programming, The New York Public Library relies on both public and private funding.
PUBLIC NOTICE AND DISCLAIMER
IN-PERSON | By registering for this event, you are acknowledging that an inherent risk of exposure to COVID-19 exists in any public place where people are present. By attending an in-person program at The New York Public Library's Schomburg Center for Research in Black Culture, you voluntarily assume all risks related to exposure to COVID-19 and agree not to hold The New York Public Library, its Trustees, officers, agent and employees liable for any illness or injury. If you have symptoms consistent with COVID-19 or suspect you have been in close contact with someone who has tested positive, please stay home.
VIRTUAL | This Program uses a third-party website link. By clicking on the third-party website link, you will leave NYPL's website and enter a website not operated by NYPL. We encourage you to review the privacy policies of every third-party website or service that you visit or use, including those third parties with whom you interact with through our Library services. For more information about these third-party links, please see the section of NYPL's Privacy Policy describing "Third-Party Library Services Providers" at https://www.nypl.org/help/about-nypl/legal-notices/privacy-policy. During this Program, you will be using third-party platforms such as livestream.com/schomburgcenter, for the purpose of communication. This service may collect some personally identifying information about you, such as name, username, email address, & password. This service will treat the information it collects about you pursuant to its own privacy policy.
FIRST COME, FIRST SEATED Events are free and open to all, but due to space constraints registration is requested.  Registered guests are given priority check-in 15 to 30 minutes before start time. After the event starts all registered seats are released regardless of registration, so we recommend that you arrive early. 
GUESTS Please note that holding seats in the Langston Hughes Auditorium is strictly prohibited and there is no food or drinks allowed anywhere in the Schomburg Center.
AUDIO/VIDEO RECORDING Programs are photographed and recorded by the Schomburg Center. Attending this event indicates your consent to being filmed/photographed and your consent to the use of your recorded image for any all purposes of the New York Public Library.
PRESS Please send all press inquiries (photo, video, interviews, audio-recording, etc) at least 24-hours before the day of the program to Leah Drayton at leahdrayton@nypl.org.
Please note that professional video recordings are prohibited without expressed consent.