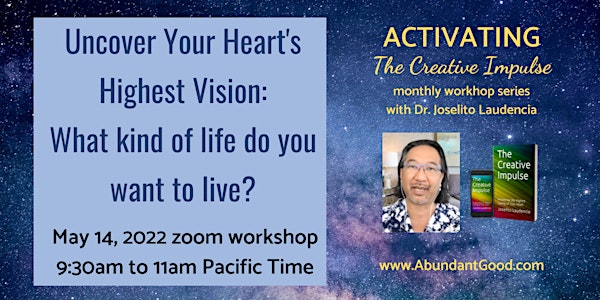 Uncover Your Heart's Highest Vision: What kind of life do you want to live?
Imagine if you experienced joy and the vitality of life each and every day. To experience that life, you first have to know what you want.
About this event
Are you feeling the call for something more in your life, but not sure what it is?
Do you need clearer guidance and inspired direction on your path for life or business?
Are you looking for a pathway to uncover where your heart is guiding you?
If your answer is "yes" to any of these, then I invite you to join us for this 90-minute workshop on "Your Heart's Highest Vision: What kind of life do you want to live?"
This workshop kicks off a monthly series of workshops called "Activating the Creative Impulse," based on the book The Creative Impulse: Answering the Highest Calling of Your Heart, by Dr. Joselito Laudencia.
The overall aim of the monthly workshop series is to help you step into the life that's calling you forward, by:
offering you a guided pathway that illuminates your inner compass,
uncovering the obstacles along your journey, and
connecting you to something greater that is always supporting you and cheering you on.
One of the first steps in any journey is knowing where you're going.
But for many, the simplest question of "What do you want?" isn't always that easy to answer.
In this first workshop, you will:
Learn about specific life structures, and how to give energy to each of those structures and areas
Feel into your inner joy and purpose, and what makes you come alive
Get clear on what life direction your heart is calling for you to express
Leave with specific action steps to get you started moving towards your heart's direction.
To help prepare you for the workshop, you will be reading select stories and lessons from the book, The Creative Impulse: Answering the Highest Calling of Your Heart. (You'll receive pdf's of these specific stories and lessons, or you can also purchase the book on Amazon.)
As part of the workshop series, you will also receive worksheets and handouts to guide you further into helping you uncover your life's direction. All of the worksheets and handouts will become an accompanying workbook to The Creative Impulse.
If you're ready to take your life to the next level and say yes to the nudgings of your heart, I encourage you to sign up today.
Note: If you'd like to learn more about the entire "Activating the Creative Impulse" monthly series, go here: https://www.abundantgood.com/activating-the-creative-impulse-monthly-series.html
---------------------------
When will this workshop happen?
This webinar will be live on zoom on Saturday, May 14, 2022, from 9:30 am to 11 am Pacific Time.
Will there be a recording?
Yes, a recording will be available. It's best if you can attend live so you can participate in the discussion and get any of your specific questions answered.
Any questions, please email me at joselito@abundantgood.com. I hope to see you at the webinar!
---------------------------
"I went to Joselito's reflecting and visioning retreat because I was hoping to have some support in deciding what I want for my business in the coming year(s). I was able to really relax into the sense of lightness that Joselito brought to this sometimes weighty and cumbersome area. It was also such a good reminder to focus more on who I'm being rather than what I'm doing, and that I have the option to be who I want to be with absolutely no preparation at all." - Roselie, a past workshop participant
---------------------------