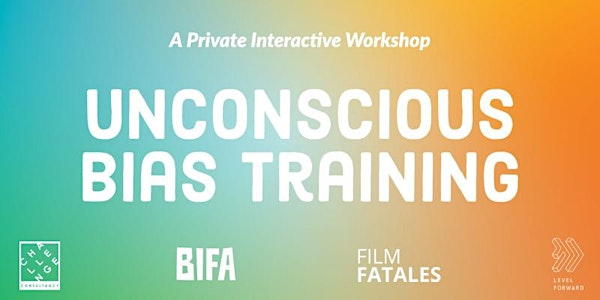 Unconscious Bias Workshop
You are invited to the next Film Fatales workshop!
Date and time
Saturday, December 5, 2020 · 10am - 12pm PST
Refund Policy
Refunds up to 1 day before event
Eventbrite's fee is nonrefundable.
About this event
Join Film Fatales, BIFA and Level Forward for a private workshop about Unconscious Bias led by Challenge Consultancy.
This workshop is for current members of Film Fatales and invited guests of Level Forward. Capacity is extremely limited. All donations go directly towards compensating the workshop facilitators. Reading materials will be sent in advance and a tool kit will be shared after.
This fully interactive workshop will cover how unconscious and ingrained biases (that is, biases that we are not aware of) affect human decision-making day-to-day and how that might have an effect on the work we do in independent filmmaking. How does the human decision-making process work and what factors can influence it? Where can logical decision-making go wrong and lead us to illogical conclusions? What is an unconscious bias and what can we be unconsciously biased against? How can we recognize and mitigate against unconscious biases on a personal level and in group discussions? How does this affect our work in the film industry and what we can do to fix it?
This private session will not be recorded to create a safer space for participation. Plan to log in a few minutes early to check your tech to make sure you don't miss anything. Adjust the lighting in your space so other participants can see your face. Please mute your audio and consider using headphones to minimize external noise. Plan to show up as fully as if we were together in person. See you soon!
What to Expect
Before the workshop begins we will send you some preparatory reading and a a quick quiz from Project Implicit which will help test where your biases might lie.
On the day of the session, please be ready at your computer at least 10 minutes before the training is due to begin so that we can start on time.
The workshop is fun and relaxed – our aim is to encourage thought and open-mindedness. There will be time during the session for questions and discussion of the topics raised.
After the session, we'll follow up with a toolkit to help consolidate key learning. We look forward to seeing you soon!
What is the course about?
There is now a large body of research conducted at, among others, Harvard, Yale and MIT that show us that unconscious and hidden bias or implicit associations explain a great deal of our patterns of behavior around diversity. Unconscious biases don't just affect the decisions that we make, they also affect how we communicate with people every day.
This course defines unconscious bias, investigates why it is inherent in us all and how we can recognize and deal with it at work. The course takes a practical approach through everyday examples, and explores the psychology behind unconscious bias. Course content includes:
Concept of unconscious bias
Relationship between implicit association, unconscious bias, stereotypes and attitudes
Recognizing the impact of unconscious bias
Reducing the effects of unconscious bias as individuals and within groups
Challenge Consultancy are leaders in the field of inclusion and diversity, designing and delivering innovative and engaging learning solutions for arts and media organizations, central government and other sectors.
We have been helping organizations take positive approaches to equality, diversity and inclusion since 1988. ​Our practical, action focused training is well received. A recent online program on dignity at work reached over a thousand people. Of those, 93% said their confidence in calling out unacceptable behavior had increased as a result of the training. In addition, more than 98% said that they would recommend our training to others.
We deliver engaging training that inspires people to treat others fairly, enabling them to create more inclusive and respectful workplaces and provide more accessible services. We create non-threatening, challenging and supportive training environments within which participants are encouraged to contribute.
Level Forward is an ecosystem of storytellers, business people and social change organizers focused on expanding the opportunity and influence of creative excellence in pursuit of equity and economic transformation.
The British Independent Film Awards highlight and reward the best, most innovative and creative independent filmmaking and filmmakers in the UK. We identify and encourage emerging talent, support and celebrate the independent film community and promote British film and talent to the public.
Film Fatales is an arts non-profit that advocates for parity in the film industry and supports a membership community of hundreds of women, transgender and non-binary feature film and television directors worldwide. Please contact us if you require an accessible accommodation.
About the organizer
Film Fatales is a 501(c)3 non profit arts organization and talent discovery platform which supports a membership community of over a thousand feature film and television directors of all marginalized genders. We advocate for hiring equality and inclusive programming practices by working with key decision makers to expand the talent pool and raise the visibility of underrepresented creators. Together we can build a more equitable film industry for us all.