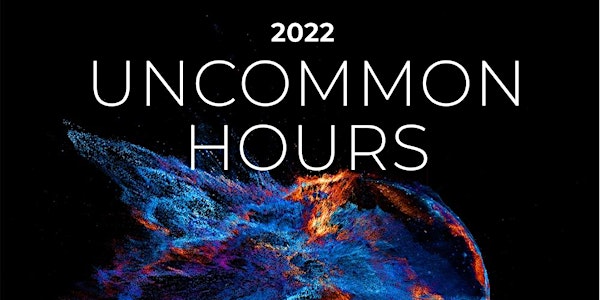 Uncommon Hours JANUARY 2022 virtual writing class and community
The online writing community where we achieve uncommon success!
About this event
JANUARY 2022
Let This Be the Year
PRACTICES AND PRODUCTIVITY
How to kick-start your writing life
Intentions, goals, accountability
A framework for success
Balance deferred gratification with small satisfactions
During the 2022 series, we will meet live once a month (second Wednesdays) to generate new writing, boost our writing skills, get publication strategies and hone our uncommon practices and productivity hacks. Each month will feature writing prompts and writing time with a focus on:
> CRAFT such as dialogue, plot, language
> PUBLICATION tips about agents, submissions, pitches, book proposals and more
> PRACTICE such as meditation or creative visualization, tapping into the science of emotion and creativity.
10 live monthly classes
Boost your skills with craft tips
Support yourself as a writer with self-care practices
Stoke your inspiration and focus with productivity and spiritual practices
Find out how to query agents
Learn how to approach pitches and book proposals
Find mentors and peers
WHY UNCOMMON HOURS?
Writing time is not common time.
If you're frustrated with the effort of finding time to (at last!) write that book, essay collection or story collection—even themed Medium posts that help you explore it and find your audience—then welcome to Uncommon Hours, a community built around an online course about designing and de-stressifying the writing life.
You'll get a toolkit of habits, hacks and practices that actually work for real writers. (I would say they are time-tested, but you may groan at the pun.) Plus, you'll gain a whole new community of collaborators who are working it out, just like you are. 
Both offerings—the monthly virtual classes and live community meetings, as well as the master class—work together to give you a robust experience for the skills and practices you need to be a thriving writer.
You may sign up for one, or both, at any time. (SEARCH EventBrite for Uncommon Hours Master Class to find out more.)
Join our warm and welcoming community.
Tap into the science.
Gain emotional fortitude.
And write those beautiful pages with us.