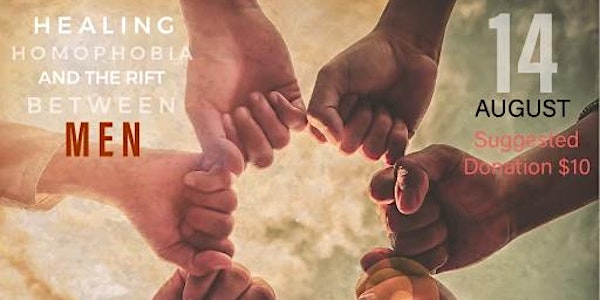 UNCLENCH : Healing Homophobia & the Rift Between Men
How does internalized homophobia impact how men relate to themselves and the world? In this workshop we will discuss and explore this theme.
When and where
Location
TBD TBD Austin, TX 78751
Refund Policy
Contact the organizer to request a refund.
Eventbrite's fee is nonrefundable.
About this event
UNCLENCH : HEALING HOMOPHOBIA & THE RIFT BETWEEN MEN
A workshop primarily for men, regardless of sexual identity.
What this workshop is: A workshop about the male body and the male experience, specifically in the context of gently unpacking and exploring the ways homophobia, misogyny etc. unconsciously and consciously pre-determine our behaviors. It is also an opportunity to learn tools and practices for managing your own emotions and nervous system.
What this workshop is not: It is not an erotic event. It is not a sexual event. There will be no encouragement to change anyone's sexual orientation or gender expression.
What you can expect from the experience: There will be a variety of discussion opportunities in small groups and in the group as a whole. I hope to facilitate a responsive and relevant exploration together, therefore I may improvise based on what the group wants or needs. I will be teaching a variety of exercises to help with healthy emotional release and balancing of the nervous system. We will also be playing with proximity, touch, and comfort zones. Each person's autonomy and power of choice will be encouraged throughout.
Homophobia - A fear of homosexuality...
Have you ever considered how internalized homophobia has impacted you and how you relate to yourself, others, and the world? How does homophobia influence how men treat men, women, and children? What assumptions do we make about other human beings across the globe as a direct influence of homophobia? Are we able to see beyond the Western values we are steeped in here in North America? Whether you identify as hetero- or homosexual, or just plain you, there are strong social forces that demand our conformity. Strong social forces that can wield heavy consequences if ignored, especially depending on what setting you are in. Homophobia as a social force affects innumerable people, especially men, in the way they dress, interact, relate... there are many, many examples of this. There's something present between us that is influencing our behavior without our full consent. What is it? How can we exercise our choice in these matters?
In this workshop I invite you to join me in contemplating these themes... themes which, for myself personally, have been a source of anguish, confusion, and fear at times in my life... And more recently are sources of wonder, joy, and enthusiasm. One small example: as a male who grew up with long hair in west Texas, I often dealt with many insults and assaults on my masculinity. Simply due to Western hair length standards of the 20th century. I did not always know I had the choice to choose my own male identity until adulthood - I mistakenly let others define me. I always continued growing my hair, but I'd contracted inside. I have wrested myself free from those definitions in an arduous journey growing into mature masculinity. My mission in hosting this workshop is to create an opportunity for us to explore our own choices about our male identity and how we choose to relate to each other as male-bodied folk. My hope is to enkindle greater compassion, empathy, and vision for our shared male reality.
Logistics: *Timeliness, Snacks* Please arrive at 1:45, we will begin at 2:00. Please arrive having eaten. Snacks will be provided during the break.
*Regarding Donations* There are only 15-20 spots available. I am asking for a $30 donation - give what you can or feel called to give. You can send the amount you choose to give to the below accounts or pay via Eventbrite. Regardless, please RSVP via Eventbrite.
Venmo: @kayanji
PayPal: @caseyabell