Description
Live electronics, unexpected sound objects, a panoply of musical instruments, and original works – two internationally acclaimed electroacoustic composer/performers, Korean-American composer/sound artist
Bora Yoon
and French electronic artist and upright bassist
Florent Ghys
- join forces to create a new dynamic musical experience and journey for the ears, body, and soul.
Bora Yoon is an award-winning, Korean-American composer, vocalist, and sound artist who creates immersive audiovisual soundscapes using digital devices, voice and found objects and instruments from a variety of cultures and historical centuries - to create a unique language of storytelling with music, space, and sound. Inspired by architecture, she has composed for the 55,000 sq. foot abandoned McCarren pool, historic churches, a Frank Gehry building, galleries and black box theaters, and the digital film and video realm with music art films, live dance, and multimedia performance. Named one of the "14 Artists Who Are Transforming the Future of Opera" by Huffington Post, Yoon's pioneering works have been presented by Lincoln Center, Brooklyn Academy of Music, the Nam June Paik Museum (Korea), Singapore Arts Festival, MADE Festival (Sweden), Festival of World Cultures (Poland), Park Avenue Armory, and Walker Art Center, among others.
Florent Ghys is a composer and double bass player from Bordeaux, France, based in Princeton, NJ.
His music has been described as ''thrilling breed of post-minimal chamber music'' (Time Out NYC) and ''highly contrapuntal showcasing intelligent multi-tracking and inventive use of sampled speech'' (WQXR). Journalist John Schaefer says: "Composer and bassist Florent Ghys writes pieces that blend elements of minimalism, pop music and a dose of extravagant wit".

He has been commissioned by ensembles and musicians such as the Bang on a Can All-Stars, Jack quartet, Cadillac Moon ensemble, So Percussion, Wild Rumpus, Dither quartet, Nicholas Photinos, Vicky Chow, and Kathleen Supove. His music has been performed at the Lincoln Center, B.A.M., Barbican Center, M.I.T., Sydney Opera House, San Martin Theater in Buenos Aires, and Muziekgebouw in Amsterdam.

Florent has been a composer in residence with the MacDowell Colony in 2013 as well as the Norton Stevens Fellowship. His collaboration with French filmmaker Isabelle Solas on the film "En un temps suspendu" won the Sacem price for short movies, and the movie "L'âme de la Forêt" with filmmaker Julien Paumelle was selected for the Short Film Corner at the Festival de Cannes. A film composer, arranger, producer, and Max programmer, Florent Ghys is also the founding member of the low-string quartet Bonjour which includes brilliant NY-based performers: James Moore (Dither), Eleonore Oppenheim (Victoire), Ashley Bathgate (Bang on a Can All-Stars), and Owen Weaver (Mantra).

The label Cantaloupe released three albums of his solo music "Baroque Tardif" EP, LP and "Télévision."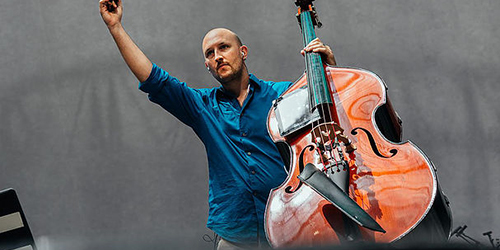 Uncharted is a concert series featuring high-profile local artists debuting first-time performances of new work or new collaborations. The Uncharted concert season covers a broad selection of performative genres, from jazz to traditional folk, electronic to classical, cabaret to tap dance. Performances for Uncharted take place every Thursday from March 24 to May 12.
"The Uncharted series was founded as a safe space for artists to take risks," says series curator Jennie Wasserman, formerly of SFJAZZ, Jazz at Lincoln Center, Joe's Pub and Carnegie Hall. "Last season's collection of sold-out concerts proved that audiences are always excited to hear something new from their favorite performers. That success has emboldened us to vary our lineup even further. Greenwich Village is one of America's oldest and most successful social melting pots; reflecting the neighborhood's artistic excellence and diversity is one of the goals of our programming."