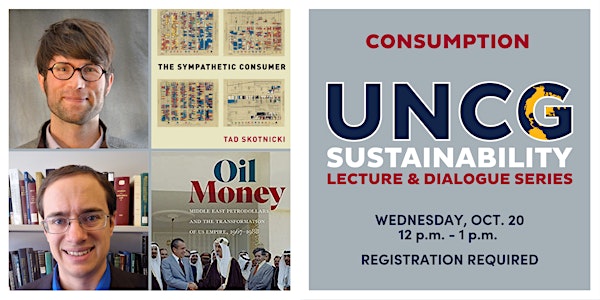 UNCG Sustainability Lecture & Dialogue Series: Consumption
The Sustainability Lecture and Dialogue Series features UNCG researchers addressing issues integral to building thriving communities.
About this event
Dr. Tad Skotnicki is Assistant Professor of Sociology at the University of North Carolina - Greensboro and studies the culture and politics of capitalism. His recent book, The Sympathetic Consumer: Moral Critique in Capitalist Culture (Stanford, 2021), traces the historical development of consumer activism in the Atlantic world since the late eighteenth century.
When people encounter consumer goods – sugar, clothes, phones – they find little to no information about their origins. The goods will thus remain anonymous, and the labor that went into making them, the supply chain through which they traveled, will remain obscured. In his book, Dr. Skotnicki argues that this encounter is an endemic feature of capitalist societies, and one with which consumers have struggled for centuries in the form of activist movements constructed around what he calls The Sympathetic Consumer.
Dr. David M. Wight is a Visiting Assistant Professor of History at the University of North Carolina - Greensboro. He is the author of Oil Money: Middle East Petrodollars and the Transformation of US Empire, 1967-1988 (Cornell University Press, 2021) as well as multiple articles and book chapters on the history of international relations, the United States, and the Middle East.
In "Oil Money," Dr. Wight offers a new framework for understanding the course of Middle East–US relations during the 1970s and 1980s and offers an investigation of the wide-ranging and contradictory effects of petrodollars on Middle East–US relations and the geopolitics of globalization. He is currently conducting research for a new book analyzing the dramatic rise in the number of Arab students attending universities in the United States and of American professors developing educational programs in the Arab world during the Cold War.