"One of the best livestream comedy shows!" Vulture "A comedy be in!" Rolling Stone "Nothing's cooler!" Vanity Fair
About this event
Vulture called Beth Lapides' UnCabaret "one of the best livestream comedy shows to watch while quarantining!" Come see why on Sunday Sept 19, when Beth and her stellar guests Alec Mapa, The Sklar Brothers, Parvesh Cheena, Lindsey Kraft, Calpernia Adams and Jamie Bridgers share stories, wisdom, rants, songs, commune and a deep dive into this now. Plus Mitch Kaplan and the band.
"We all need a good laugh right about now, right? Here's an opportunity to have that and feel like you're actually part of a community again." LA Weekly
Tickets include a 48 hour watch window. The private link will be sent to you as soon as the live stream concludes.
UnCabaret is a legendary comedy innovator largely responsible for the revolution in alt comedy. It's a place for wildly fun, idiosyncratic, intimate, conversational comedy, where comedy luminaries share the stories ripped from the headlines of their own lives. Always different, and always about the now. UnCabaret has been breaking ground in comedy for 25 years live and on Amazon, Sirius and Comedy Central.
Why the Un? Unhomophobic, unxenophobic, unmysogynistic. Unhacky.
Read more about UnCabaret in the LA Weekly cover story.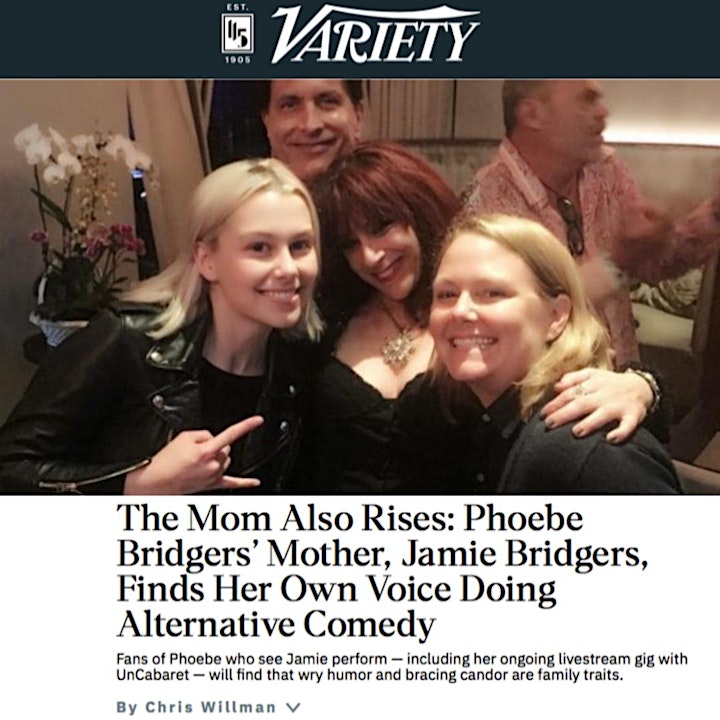 Organizer of UnCabaret Zoom Edition #34
UnCabaret is the original alt comedy show, it's intimate, conversational and funny. We produce shows and host events and workshops.

Now in its 25th groundbreaking year, UnCabaret celebrated with a sold out show at CAP/UCLA at The Theatre at Ace Hotel on 11/18/18. Here's Variety's story about it.

Beth Lapides, creator, producer and host, invites the most original and vital voices in comedy to share the stories that are ripped from the headlines of their own lives. Each show is a one time only night orchestrated to uplift and inspire. 
UnCabaret has appeared on Amazon, Comedy Central, audible.com and on five critically acclaimed CD's. Our podcats, Life & Beth is available on iTunes. Much of our back catalogue is avaialbel on audible.com.

UnCabaret has been featured in and on Comedy Central,  CNN, NY Times, LA Times, The LA Weekly, melmagazine, Entertainment Weekly, NPR's This American Life and All Things Considered, The New York Times, Vanity Fair etc. As well as CNN's History of Comedy, PBS's 'Maker's: Women in Comedy' and "We Killed: The Rise of Women in American Comedy". 

Spin off shows have included the critically acclaimed "Other Network Festival of UnAired Pilots" and "Say The Word", TV writers reading stories of their own lives.
WHO
Among our performers: Patton Oswalt, Margaret Cho, Janeane Garofalo, Bob Odenkirk, Sandra Bernhard, Kathy Griffin, Julia Sweeney, Tig Notaro, Julia Sweeney, Greg Behrendt, Taylor Negron, Jeff Garlin, Rob Delaney, Judd Apatow, Laura Kightlinger, Baron Vaughn, Jennifer Coolidge, Merrill Markoe, Maria Bamford, Alex Edelman, Roseanne Barr, Greg Proops, David Cross, Rick Overton, Eddie Pepitone, Rory Scovel, Jen Kirkman, Moshe Kasher, Michael Patrick King, Jen Kirkman, Sarah Silverman, Karen Kilgariff, Kira Soltanovich, Byron Bowers, Natasha Legerro, Moon Zappa, Cheri Oteri, Tim Bagley, Julie Goldman, John Riggi, Justin Sayre, Mary Lynn Rajskub, Randy and Jason Sklar, Ali Wong, Lauren Weedman, Carrie Fisher, Dave Holmes, Drew Droege, Dave Holmes, Erin Foley, Jackie Kashian, Alec Mapa, Paul F Tompkins, Del Shores, Aparna Nanchurla, Miss Coco Peru and so many more!
Mitch Kaplan is our musical director and co-producer. Musical guests have included Phoebe Bridgers, Shelby Lynne, Lisa Loeb, Dweezil Zappa, Sam Morrow, Terra Naomi, Judith Owen, Jill Sobule, Zach Sherwin, Syd Straw, Ruby Friedman, Kelly Mantle, Allee Willis and Garfunkel and Oates.
WHERE
We're currently in residency at Rockwell Table and Stage on Second Sundays. We've had extended residencies at LunaPark, HBO Workspace, Skirball Cultural Center, The Knitting Factory, First & Hope/AuLac. We've toured and done pop-ups at The Getty, The Los Angeles Public Library Main Branch, The Laugh Factory, The Great American Music Hall, Knitting Factory NY, CAP/UCLA at The Theatre at Ace Hotel, Ace Palm Springs, Earlham College, Washington University and more.
We are an incubator and many projects, including Julia Sweeney's 'God Said, Ha!' have come out of our Sunday nights.
.EDU
Our .edu branch has been in operation for over a dozen years and our workshop, 'Infinite Writing' runs in 6 week cycles once a season in Los Anegles currently a Actors Comedy Studio. Beth Lapides teaches both this, the one day seminar 'You But Funnier', and works as a private creativity coach with clients and corporations. 
Classes have been presented by Second City Chicago, UCLA Extension, IOWest, The Skirball Cultural Center, mediabistro, Humber College for Comedy, Kripalu Center for Yoga and Health, LA Gay and Lesbian Center, PS 122, and Actors Comedy Studio.
For more info on classes check this out.
Come for the comedy, stay for the hugs.