Unbridled: Bootlegger's Bonanza
When and where
Location
Untitled 111 West Kinzie Street Chicago, IL 60654
Description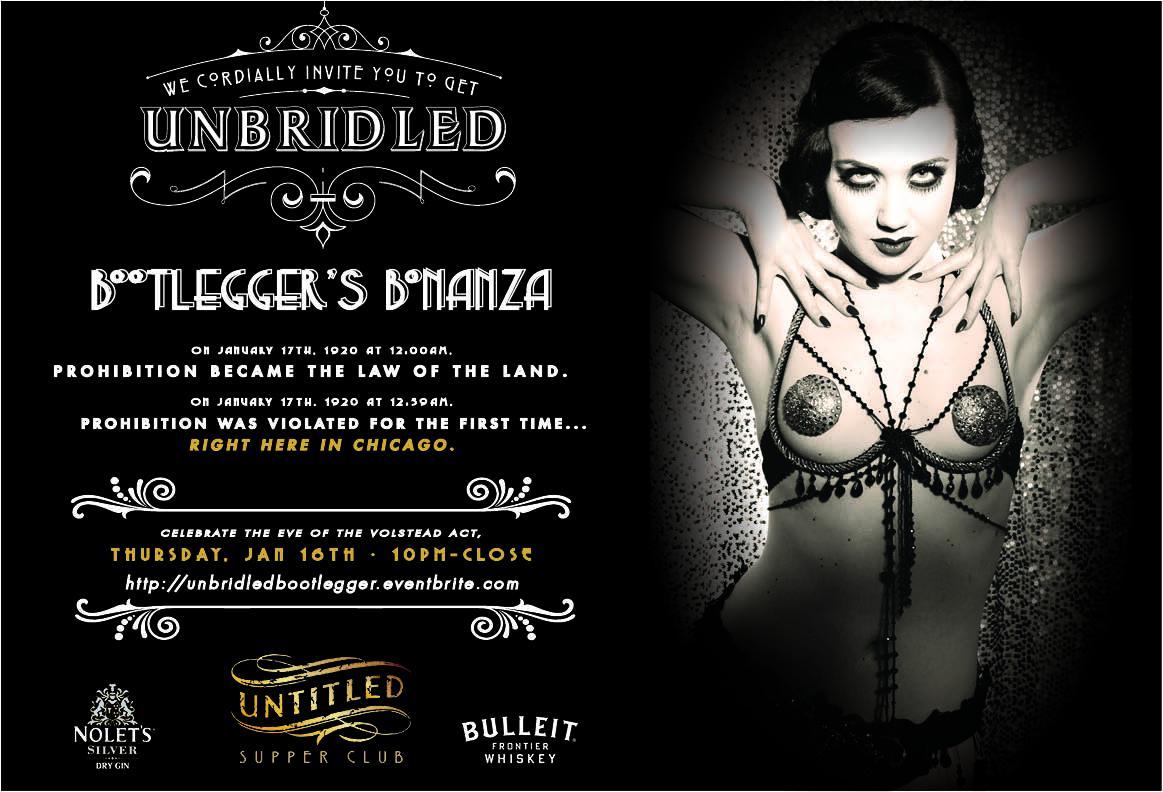 Step Back in Time and Rebel during Unbridled: Bootlegger's Bonanza!
Celebrating The Eve of The Volstead Act

WHAT:
On Jan 17th, 1920 at 12:00am, Prohibition became the law of the land. On Jan 17th, 1920 at 12:59am, Prohibition was violated for the 1st time right here in #Chicago! Come rebel against the Volstead Act at Untitled at our BOOTLEGGERS BONANZA show of Unbridled at Untitled on Thu, Jan 16th at 10pm!

WHEN:
Thursday, January 16, 2014

TIME:
Beginning at 10:00 PM


MORE DETAILS:
Gallivant down into the swanky and sassy venue beneath Chicago's city streets as Untitled celebrates the dawn of prohibition and the rise of gangsters and organized crime with a special edition of their weekly sexy burlesque and variete party, Unbridled.

Come January 16, the anniversary of the of eve the Volstead Act (which prohibited the production, sale, and transport of alcoholic beverages), guests will be lured in by the rebellious burlesque performances and Prohibition-era style cocktails that await in the upbeat and enticing spot. The Bootlegger's Bonanza will kick off as Unbridled performers take the stage with acts from notable favorites like Solaire, Tila Von Twirl, Bisi Dancers, Ammunition, Spring, Peruklator and Lady Jack. The salacious evening will also feature scandalous, yet fierce 'lady cops' dashing by on roller-skates on the search for the upmost dissenting guests.

1920s inspired cocktails featuring Nolet's Gin and Bulleit Bourbon will be highlighted at the January 16 event and on January 17 as guests are invited to celebrate the passing of the Act as they try not to get caught for their risqué actions.