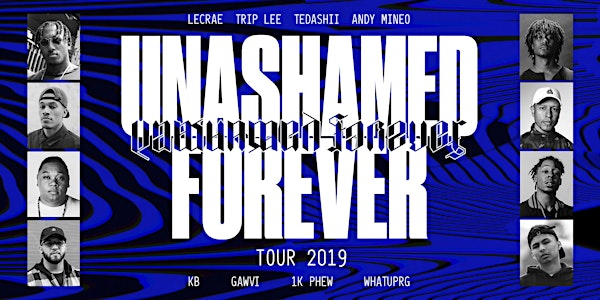 Unashamed Forever Tour
The Unashamed Tour is BACK! See all 8 artists on Reach Records under ONE roof, ONE night, on ONE stage glorifying ONE God!
When and where
Location
Northland Church 530 Dog Track Road Longwood , FL 32750
Performers
Headliners
More Performers
Trip Lee
Tedashii
KB
GAWVI
1K Phew
WHATUPRG
About this event
FOR VIP TICKETS: https://vip.supply
The Unashamed Tour has been one of the biggest events in Christian Hip Hop since its beginning in 2010. On March 14th, the tour returns for the first time since "Unashamed Tour V" in 2013, offering fans a night of worship, spanning 18 cities, with Reach Records artists Andy Mineo, GAWVI, KB, Lecrae, Tedashii, Trip Lee, 1K Phew, and WHATUPRG.
The tour will hit each city bringing the message it's bigger than music because, "The word of the LORD endures forever" 1 Peter 1:25. Fans can look forward to an evening of freedom to celebrate the heritage of faith, and community with unique sets from each artist in major markets such as Washington, D.C., Atlanta, Dallas, and Houston with the last stop being April 13th in Tampa, FL.
Unashamed Forever: Unashamed Tour 2019 is presented by Reach Records in partnership with William Morris Endeavor and Rush Concerts.