Unapologetic x Hot 97 DOPE IV | 90s versus 2000s Retro affair | gpharoah
About this Event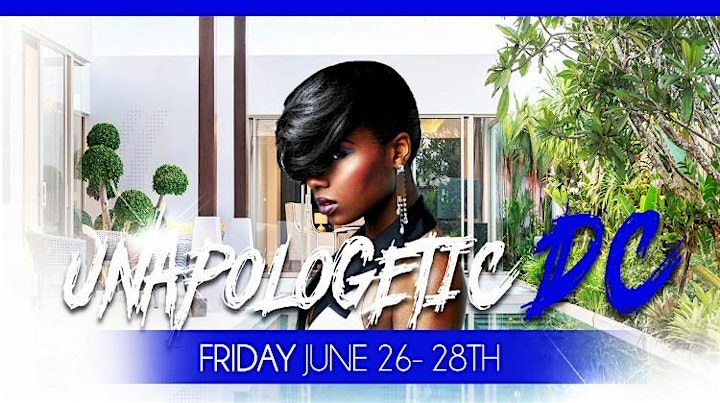 COMING SUMMER 2020
UNAPOLOGETIC WEEKEND DC
5+ EVENTS | 3+ VENUES | 10+ HOURS OF OPEN BAR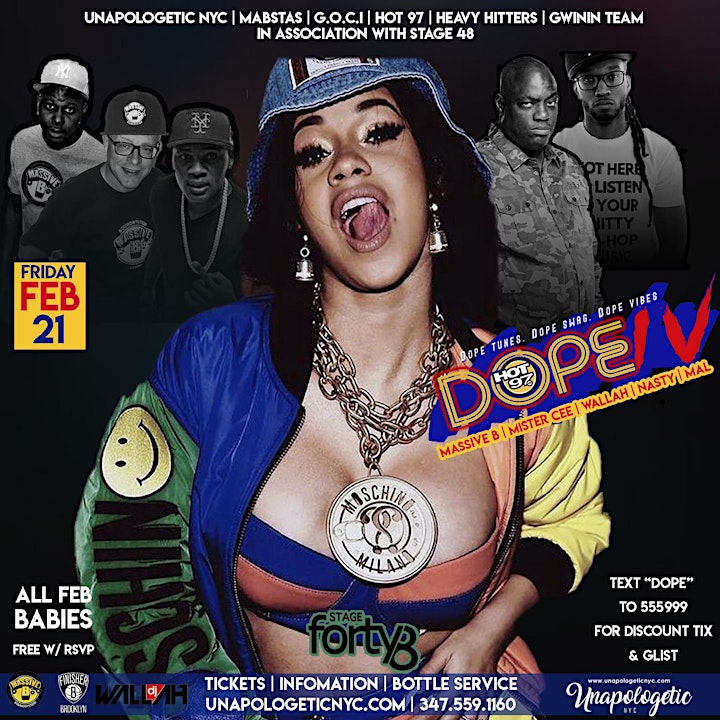 UNAPOLOGETICNYC I MABSTAS I GWININ TEAM I HOT 97 I HEAVY HITTERS I PITBULLS IN ASSOCIATION WITH STAGE 48 PRESENT
UNAPOLOGETIC X HOT 97: DOPE IV
FRIDAY FEBRUARY 21 2020
DOPE TUNES. DOPE SWAG. DOPE VIBES.
ALL FEBRUARY BIRTHDAYS FREE WITH RSVP TEXT 347.559.1160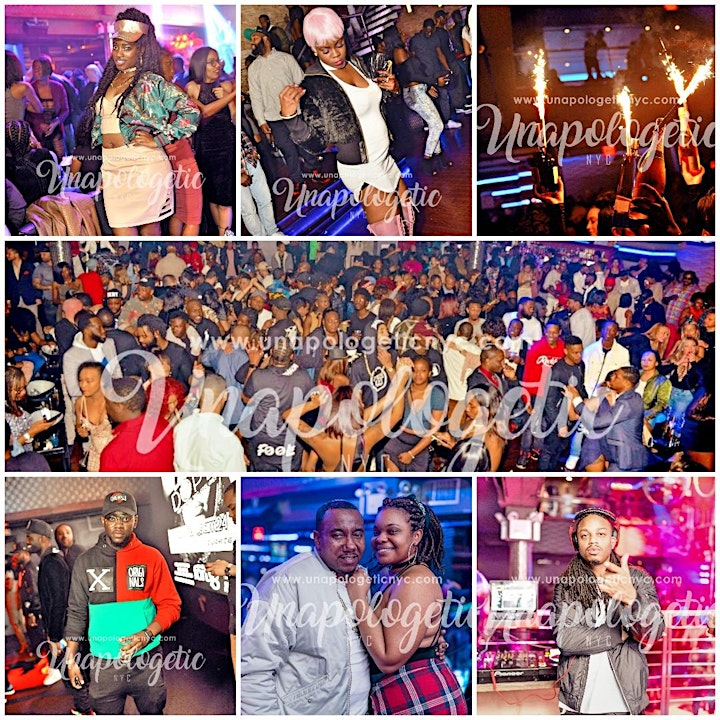 NEVER BEEN UNAPOLOGETIC?
VISIT WWW.UNAPOLOGETICNYC.COM AND CHECK OUT OUR PHOTO AND VIDEO GALLERY, SEE WHAT THE HYPE IS ABOUT!!!!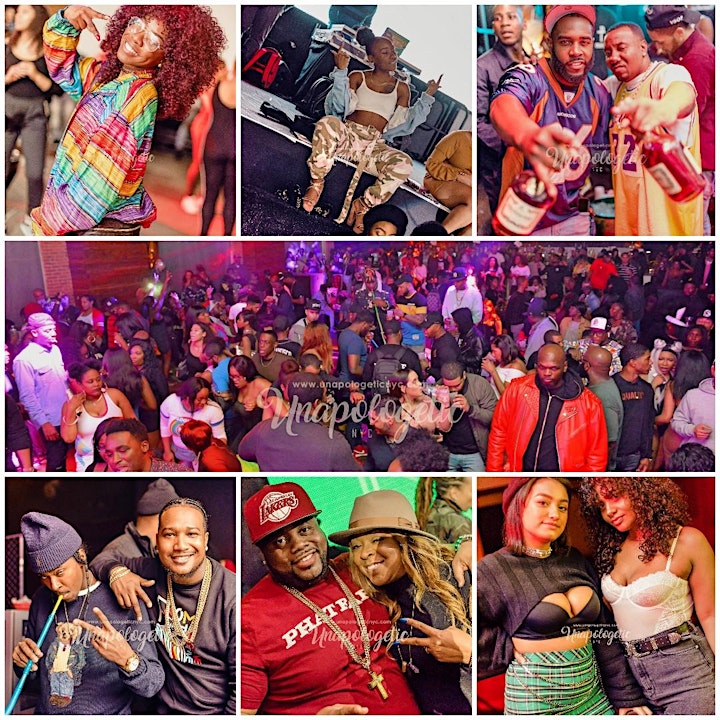 THE DOPEST PARTY ON EARTH, W/ THE DOPEST DJS.
TURN UP WITH HOT 97 LEGENDS DJ ENUFF OF THE HEAVY HITTERS, BOBBY KONDERS AND JABBA OF MASSIVE B, AND DJ WALLAH ALONG SIDE THE MABSTAS DJ NASTY OF GWININ TEAM AND DJ MAL, AT NYC NUMBER ONE NIGHT CLUB, STAGE 48!!!!
#BeUNAPOLOGETIC #BeDOPE #UNAPOLOGETICNYC
PRESOLD VIP BOTTLE SERVICE SPECIALS
ALL PRICES INCLUDE TAXES AND GRATUITY
DEPOSIT REQUIRED. 347.559.1160
PLEASE TEXT US TO CONFIRM YOUR ORDER AND SELECT YOUR SECTION.
3 PEOPLE PER BOTTLE. BIRTHDAY PERSON DOES NOT COUNT AS A GUEST.
ADD CHAMPAGNE OR 2 BLUE JUICE CARAFES TO ANY PACKAGE FOR $50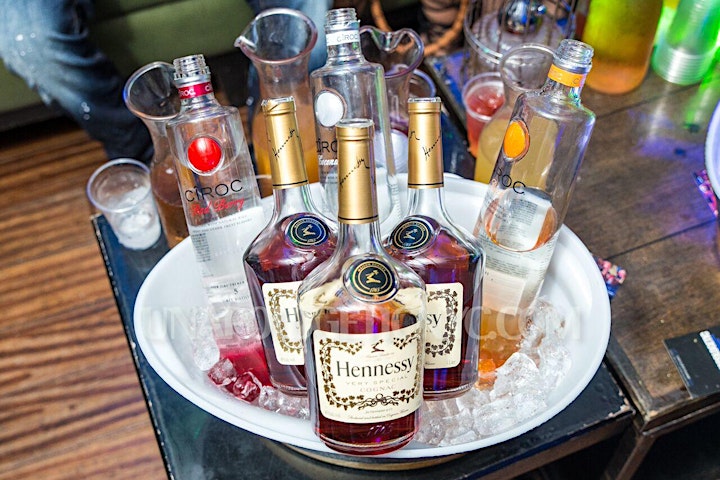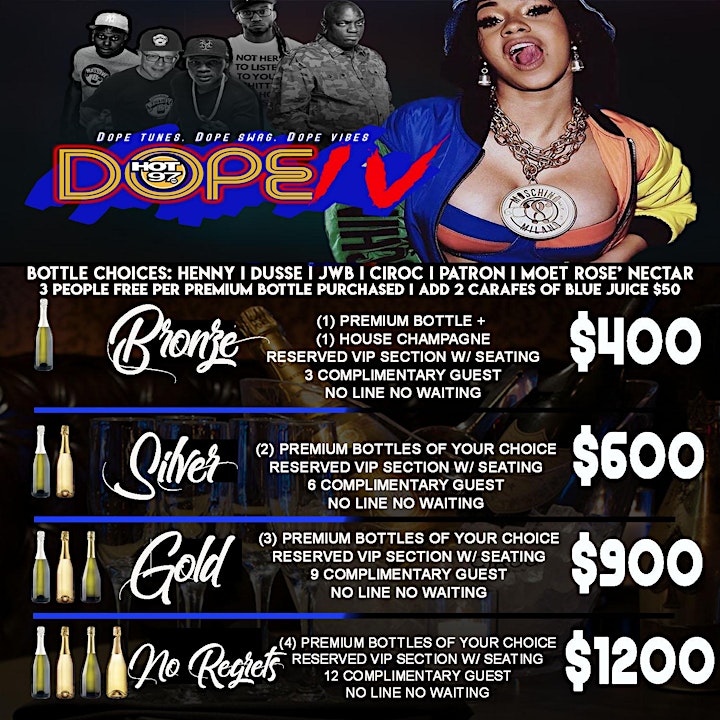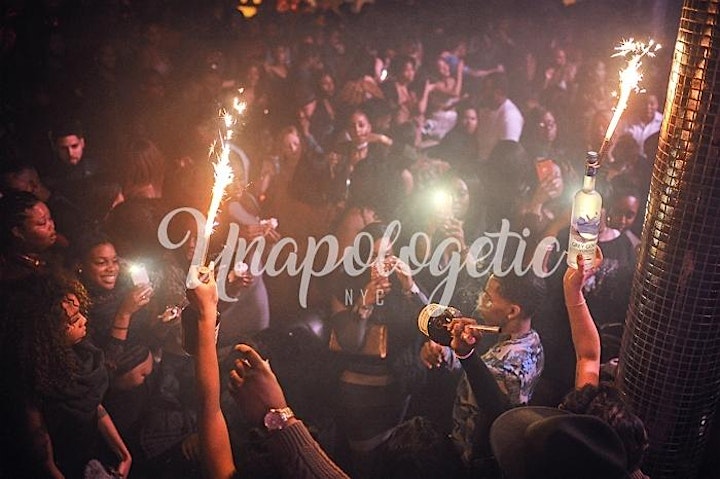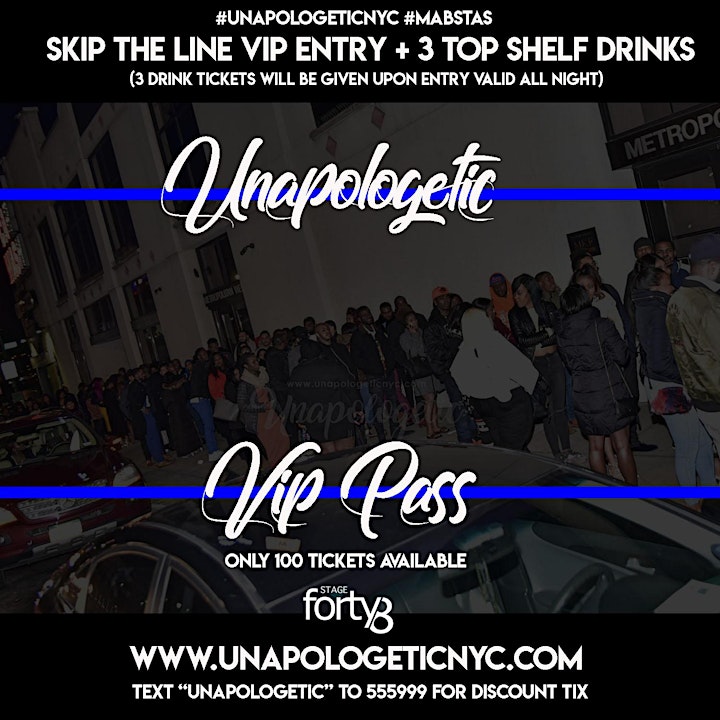 UNAPOLOGETIC VIP PASS
only 100 vip passes available
3 TOP SHELF DRINK TICKETS VALID ALL NIGHT
only $55 per person
- choose from any drink on the menu & our world famous stoopid fruity blue juice (valid on drinks valued $16 or less)
+VIP Admission + No Lines, No Waiting Entry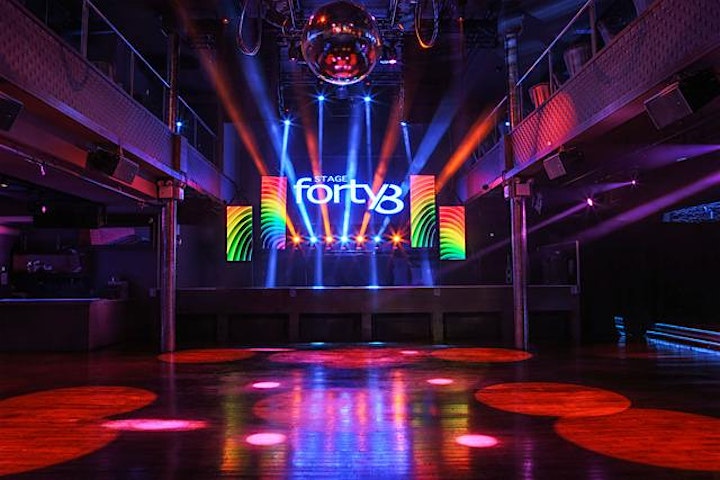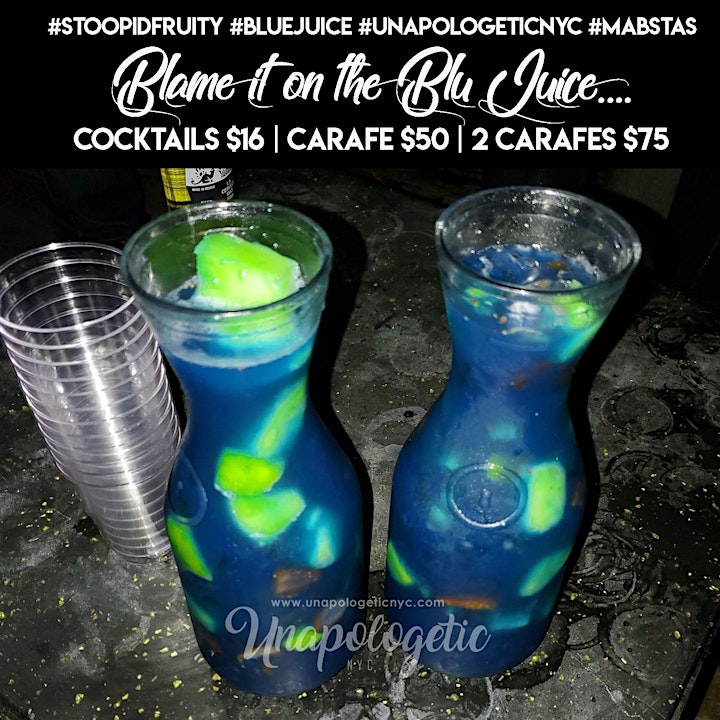 Buy one, Get one 50% off all night
CARAFES OF OUR
SIGNATURE DRINK
STOOPID FRUITY BLUE JUICE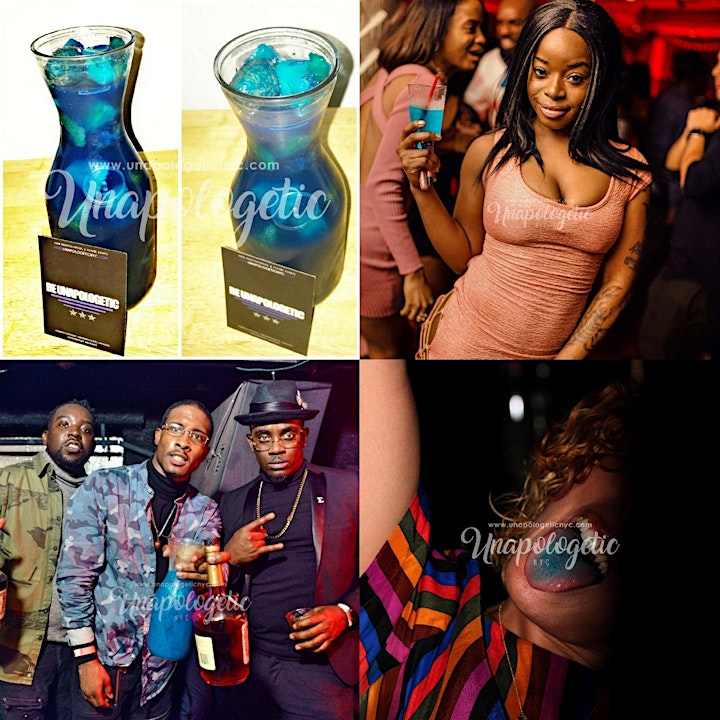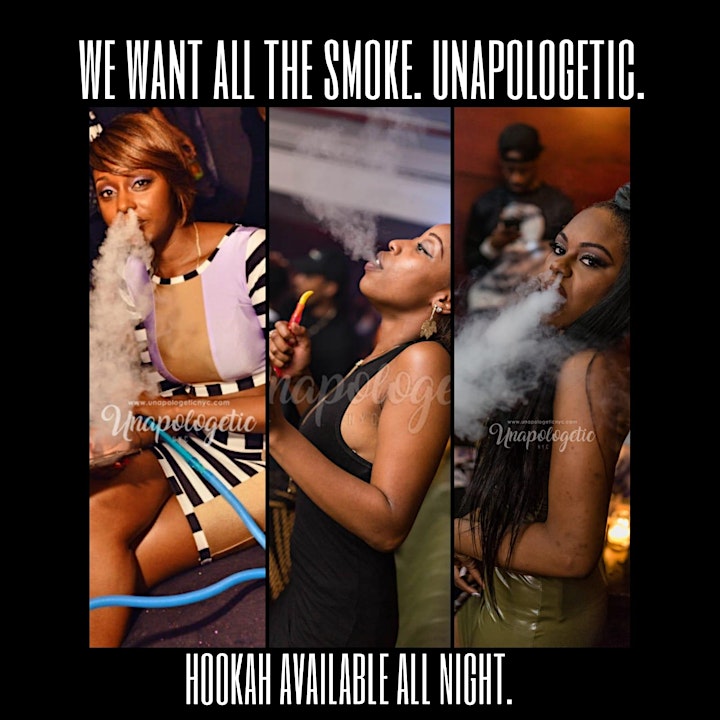 HAVE AN UNAPOLOGETIC BIRTHDAY, ITS THE ONLY WAY TO DO IT
to rsvp text 347.559.1160
Birthday Person free all night
Discount Code for Advanced Tickets
Guest List for Reduced Door Admission
Personalized Flyer w/ Picture