About this Event
UNAPOLOGETIC DC WEEKEND
4 EVENTS | 3 VENUES | 10+ HOURS OF PREMIUM OPEN BAR
DISCOUNT HOTEL ROOMS | ROUND TRIP TRANSPORTATION AVAILABLE ON LUXURY CHARTER BUS INFUSED WITH Top shelf + BLUE JUICE + FINGER FOODS + BYOB PERMITTED | LOCAL TRANSPORTATION TO ALL UNAPOLOGETIC EVENTS INCLUDED WITH ALL TICKETS.
BUSES LEAVE NYC MSG FOR DC - Thursday June 25th 12pm |
ADDITIONAL PICK UP LOCATIONS WILL BE ADDED BASED ON DEMAND IN NJ, PHILLY AND DEL.
weekend passes start @ $175
All inclusive RoundTrip, Local Transportation + Host Hotel packages starting at $350 per person.
Quads, Triples, Doubles and Singles available.
Ala Carte Tickets Available
TICKETS | INFORMATION | Bottle Service
www.unapologeticnyc.com | 347.559.1160
FAQ
CAN I GET A DISCOUNT HOTEL ROOM WITH RIDING THE BUS?
YES WE HAVE MORE DISCOUNT ROOMS AVAILABLE PLEASE VISIT OUR FRIENDS AT WANDERLUST TRAVEL
CAN I GET ROUNDTRIP BUS WITHOUT BUYING A PARTY PASS?
NO. BUS IS FOR ATTENDEES ONLY.
HOW DO I BOOK MY HOTEL ROOM?
AFTER YOU PAY FOR YOUR TICKET, A LINK WILL BE RELEASED TO RESERVE YOUR ROOM. CREDIT CARD IS REQUIRED TO RESERVE ROOM, PAYMENT IS NOT REQUIRED UNTIL CHECK IN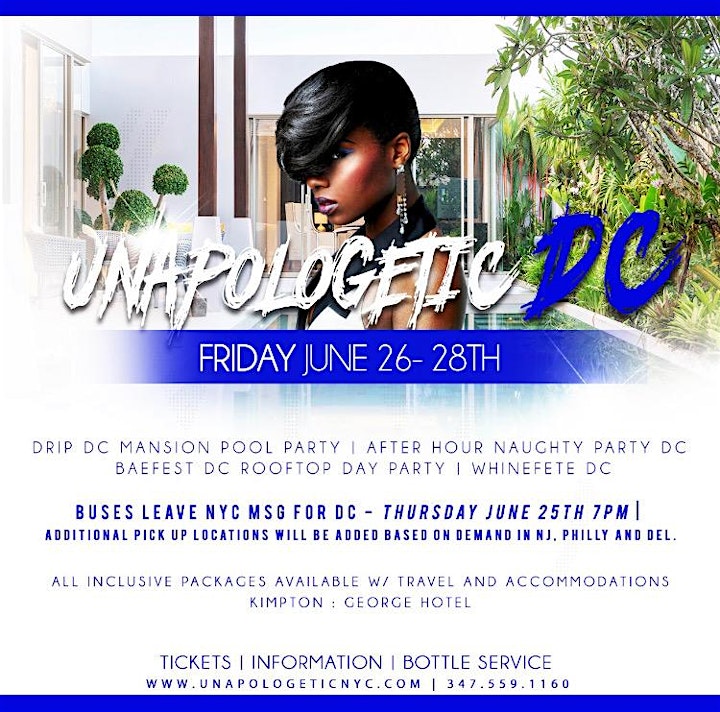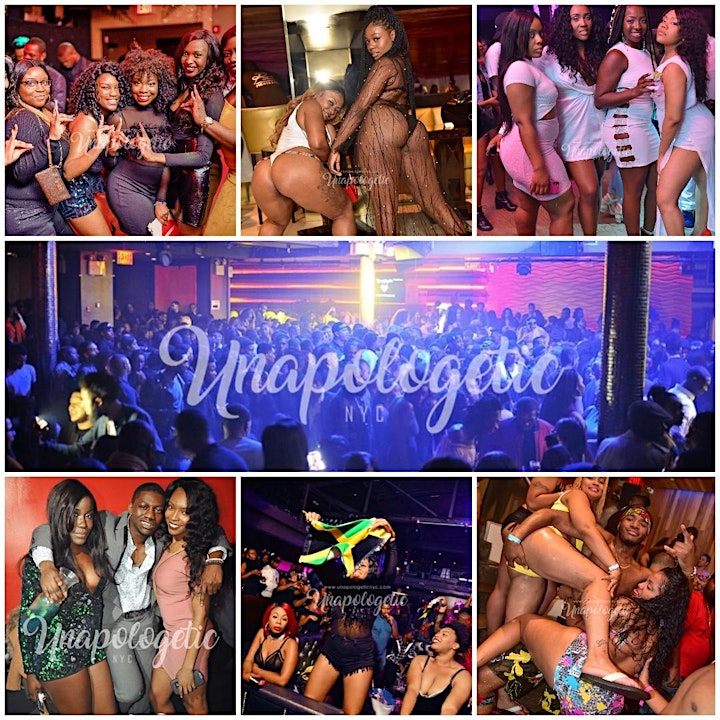 DISCOUNT HOTEL ACCOMODATIONS PROVIDED BY THE KIMPTON GEORGE HOTEL
CREDIT CARD REQUIRED TO RESERVE ROOM. AFTER DEPOSIT FOR PARTY PASS IS PAID.
PAYMENT IS DUE UPON CHECK IN.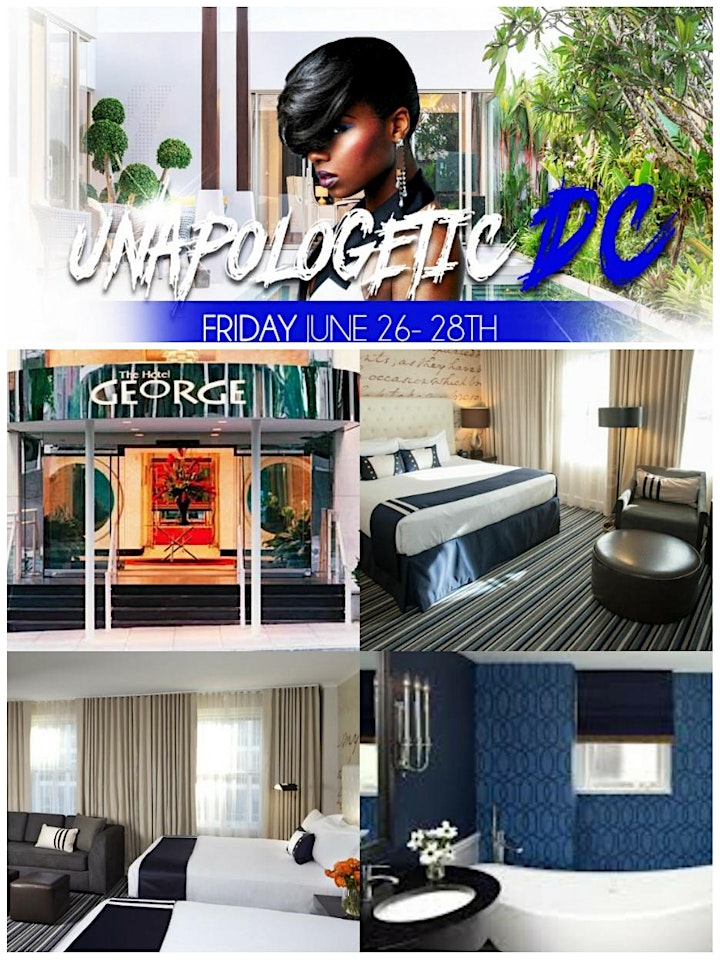 THURSDAY BUSES DEPART 12pm- NON STOP PARTY ON THE RIDE TO DC WITH TOP SHELF LIQUOR AND STOOPID FRUITY BLUE JUICE
THURSDAY
HOTEL CHECK IN- 4PM
WELCOME TO DC PARTY @ REWIND (OPEN TO THE PUBLIC)
FOOD | DRINKS | VIBES BY DJ NASTY
8PM TO 2AM
FRIDAY 2PM TO 10PM
BAEFEST -Rooftop Day Party
2 HOUR OPEN BAR- DECADES ROOFTOP (OPEN TO THE PUBLIC )
(SHUTTLE AVAILABLE ONLY FOR ROUNDTRIP TICKET HOLDERS)
FRIDAY NIGHT 10PM-2AM
NAUGHTY PARTY DC LOCATION TBA
SATURDAY 2PM- 6PM
DRIP POOL PARTY
LOCATION TBA
SATURDAY NIGHT TIME AND LOCATION TBA
UNAPOLOGETIC DC FINER THANGZ YACHT PARTY
OUR EPIC CARIBBEAN PARTY WITH HOT 97 MASSIVE B BOBBY KONDERS AND JABBA
BIRTHDAY CELEBRATIONS GET 30% OFF WEEKEND PASSES TEXT 347.559.1160