Premiere broadcast of the play Ursula and post-show panel discussing the immigration crisis from the lens of Central America, Mexico, and US
About this event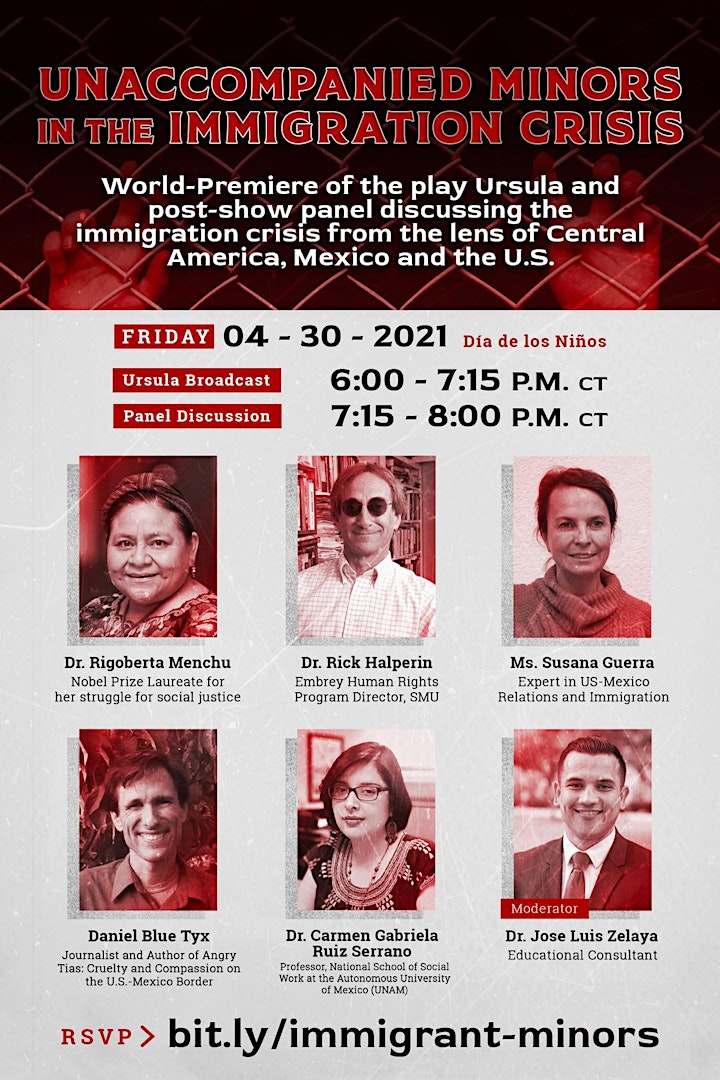 POST-SHOW PANELISTS:
DR. RIGOBERTA MENCHU
Nobel Prize Laureate for her struggle for social justice
Rigoberta Menchú was born on January 9, 1959 to a poor Indian peasant family and raised in the Quiche branch of the Mayan culture. In her early years she helped with the family farm work, either in the northern highlands where her family lived, or on the Pacific coast, where both adults and children went to pick coffee on the big plantations. Rigoberta Menchú soon became involved in social reform activities through the Catholic Church, and became prominent in the women's rights movement when still only a teenager. Such reform work aroused considerable opposition in influential circles, especially after a guerilla organization established itself in the area. The Menchú family was accused of taking part in guerrilla activities and Rigoberta's father, Vicente, was imprisoned and tortured for allegedly having participated in the execution of a local plantation owner. After his release, he joined the recently founded Committee of the Peasant Union (CUC). In 1979, Rigoberta, too, joined the CUC. That year her brother was arrested, tortured and killed by the army. The following year, her father was killed when security forces in the capital stormed the Spanish Embassy where he and some other peasants were staying. Shortly afterwards, her mother also died after having been arrested, tortured and raped. Rigoberta became increasingly active in the CUC, and taught herself Spanish as well as other Mayan languages than her native Quiche. In 1980, she figured prominently in a strike the CUC organized for better conditions for farm workers on the Pacific coast, and on May 1, 1981, she was active in large demonstrations in the capital. She joined the radical 31st of January Popular Front, in which her contribution chiefly consisted of educating the Indian peasant population in resistance to massive military oppression. In 1981, Rigoberta Menchú had to go into hiding in Guatemala, and then flee to Mexico. That marked the beginning of a new phase in her life: as the organizer abroad of resistance to oppression in Guatemala and the struggle for Indian peasant peoples' rights. In 1982, she took part in the founding of the joint opposition body, The United Representation of the Guatemalan Opposition (RUOG). In 1983, she told her life story to Elisabeth Burgos Debray. The resulting book, called in English, I, Rigoberta Menchú, is a gripping human document which attracted considerable international attention. In 1986, Rigoberta Menchú became a member of the National Coordinating Committee of the CUC, and the following year she performed as the narrator in a powerful film called When the Mountains Tremble, about the struggles and sufferings of the Maya people. On at least three occasions, Rigoberta Menchú has returned to Guatemala to plead the cause of the Indian peasants, but death threats have forced her to return into exile. Over the years, Rigoberta Menchú has become widely known as a leading advocate of Indian rights and ethno-cultural reconciliation, not only in Guatemala but in the Western Hemisphere generally, and her work has earned her several international awards.
DR. RICK HALPERIN
Embrey Human Rights Program Director, Southern Methodist University
Dr. Rick Halperin began teaching human rights courses in 1990 in the William P. Clements Department of History. After being chosen as Director of the new Embrey Human Rights Program, he began overseeing its academic program, planning its public events, and developing a wide array of human rights focused trips. Halperin has held many leadership positions in human rights and social justice organizations. During his more than 40-year affiliation with Amnesty International USA, he has served as chair of its board of directors three times. He has also served on the boards of the National Coalition to Abolish the Death Penalty, the Center for Survivors of Torture, the International Rescue Committee and the Texas Coalition to Abolish the Death Penalty. He has participated in a U.N. human rights delegation that inspected Irish prison conditions in Dublin and Belfast, as well as in delegations monitoring human rights in El Salvador and Palestinian refugee camps in Gaza. Halperin holds degrees in Southern U.S. History from Auburn University (PhD, 1978), Southern U.S. History from Southern Methodist University (MA, 1974), and U.S. History from George Washington University (BA, 1971). He also studied at The Sorbonne in Paris (1968-1969).
MS. SUSANA GUERRA
Expert in US-Mexico Relations and Immigration
Ms. Guerra studied Sociology at the National Autonomous University of Mexico and received her Master's from the Villanueva Montaño University. She completed the Diploma in Psychoanalysis and Confinement in Cloister Institutions, taught by the Universidad Iberoamericana, and has also participated in various courses on Human Rights. Throughout her career, she has attended different forums for reflection in Europe and Latin America, where she has shared her experience as a Mexican in the field of International Migration. Ms. Guerra has worked at the National Human Rights Commission and at the Mexican Consulate in Los Angeles, California. She currently works in the Secretariat of the Migrant and International Liaison of the State of Guanajuato, directed by Dr. Juan Hernández in Mexico where public policies are addressed and generated for the different groups of human mobility that transit and reside in Guanajuato.
PROF. CARMEN GABRIELA RUIZ SERRANO
Professor at the National School of Social Work at the Autonomous University of Mexico (UNAM)
Professor Ruiz-Serrano worked on her Doctorate in Social Work at the National University of La Plata (Argentina and received her bachelors in social work. She is currently working as a full-time professor and current Head of the Postgraduate Studies Division of the National School of Social Work at the National Autonomous University of Mexico. She has been practicing professionally as a Social Worker since 1997 and since 2013. She is the co-founder and coordinator of Social and Human Development Projects of the TAIDECO Civil Association (Integral Workshop for Community Development, A.C.) and has also carried out studies in childhood and its connection with structural violence and within the domestic sphere. Author of the books: Child Abuse. From Domestic Violence to Structural Violence and Child Abuse.
MR. DANIEL BLUE TYX
Journalist and Author of Angry Tías: Cruelty and Compassion on the U.S.-Mexico Border
Daniel Blue Tyx is a teacher and freelance journalist who has lived in and reported from McAllen, Texas for many years. He is the author of the book Angry Tías: Cruelty and Compassion on the U.S.-Mexico Border, about community activism in response to the policy of family separation. He has also written about border issues for the Washington Post, the Texas Observer, and Yes! magazine. He currently teaches Humanities for grades 7-12 at a bilingual Quaker school in Monteverde, Costa Rica.
MODERATOR:
DR. JOSE LUIS ZELAYA
Educational Consultant
Dr. Jose Luis Zelaya completed his Ph.D. in Urban Education at Texas A&M University. He is also a first-generation college student who in the year 2006 became the first one in his family to graduate from high school. Jose Luis was born in San Pedro Sula, Honduras where he lived until 13 years of age. Jose Luis is now 33 years old and the father of Amaris Josie Zelaya. He believes that higher education holds the potential to create generational legacy and provide life-lasting benefits to our loved ones. He contributes his academic achievements to the great sacrifices of his family, numerous systems of support, educators, mentors, peers, and a strong personal desire to succeed. Education is generational power!