About this Event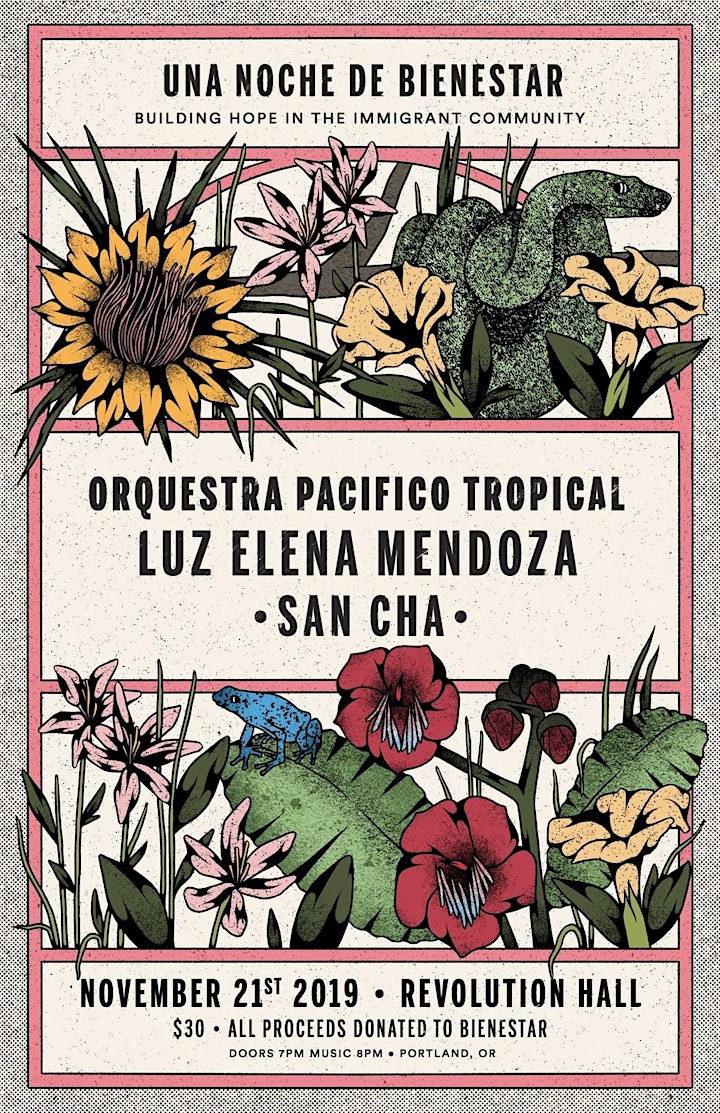 Una Noche De Bienestar: Building Hope In The Immigrant Community
Latinx performers take the stage in a musical celebration of immigrant culture, community, and strength. Featuring Luz Elena Mendoza, San Cha, and Orquestra Pacifico Tropical.
100% of proceeds go to benefit Bienestar, a nonprofit affordable housing developer. Bienestar builds housing, hope, and a brighter future for Latinx, immigrant, farmworker, and other low-income families in the Portland Metro Area.
Orquestra Pacifico Tropical
Deep in the vein filled jungles of each of our hearts beats a music with roots as wide as continents and influence as deep as time itself. Cumbia, music of the Southern American Hemisphere. Orquestra Pacifico Tropical have taken this frenetic, addictive rhythm and accomplished what musicians across time and space have always done, bringing crowds into a blistering dance frenzy. From clubs to the forests of the Pacific Northwest, to hear the ecstatic thump, rumble, and sheer brilliance of the racing rhythms of coastal Colombia side by side with the psychedelic guitar explorations of the Peruvian rain forest is to travel across continents and through time with Orquestra Pacifico Tropical as the guide. WIth respect to those who came and innovated before us, and armed with an arsenal of percussion, woodwinds, horns, accordion and guitars, these 11 friends have come together in the spirit of capturing and breathing new life into this most essential of musics. Cumbia, music of the people.
Featuring members of Sun Angle, Deer or the Doe, O Bruxo, Ioa, Lewi Longmire Band,Tu Fawning, Point Juncture WA, Modernstate, Jippedo and Team Evil, Orquestra Pacifico Tropical's wall of sound is dedicated to expanding the music of Central and South America to the people and dance floors of the Pacific Northwest.
SAN CHA
San Cha is a singer-songwriter, based in the City of Angels, increasingly known for her visceral and explosive live performances. Her name, derived from the Spanish word sancha, which translates to 'mistress', is a mischievous reference to the title of 'San', given to male saints in the Catholic tradition. Fans of cumbia and punk, bolero and electro, flock to see San Cha's emotional renditions of traditional Mexican rancheras and original songs that queer conventions of identity, power and love. Her striking stage presence is accompanied by the one-of-a-kind garments she adorns, aesthetic reflections of the years spent performing in drag and club scenes in the Bay. San Cha was most recently the headlining act at the kickoff of the 2019 Red Bull Music Festival, with recent performances at the Getty Museum, TBA Fest, Levitt Pavillion, HOCO Fest, Sonido Clash Music Festival and Santa Monica Pier.
The maximum number of tickets available per purchase for each event is the maximum number permitted per customer. Your name, credit card, address, and email address will be verified. Revolution Hall & Eventbrite reserves the right to cancel any orders in excess of the stated ticket limit.
Any tickets suspected of being purchased for the sole purpose of reselling can be cancelled at the discretion of Revolution Hall/Eventbrite.
Set times and support acts subject to change.
Performers
Date and Time
Location
Refund Policy