Description
On October 18th, 2018, Silicon Valley- Nigeria Economic Development Inc. (SV-NED)is proud to host the 21st Century Women and Youth in Innovation and Technology at the United Nations during the 2018 General Assembly. The conference is presented in collaboration with SV-NED Inc., Global Connection for Women Foundation (GC4W), and the United Nations Women.
SV-NED & GC4W collectively agree that to meet the promises of the United Nations Sustainable Development Goals by 2030, we must join forces in advancing the rights of the youth and women in innovation technology space. For the heart and engine of every nation is in its young people and its women, they are the incredible forces behind any thriving country's growing economy.
We also believe that the educational training and development of women and the youth population as a form of empowerment will fuel the local economy of any nation. Technology and innovation are changing rapidly and the disruptive ideas have provided the necessary quest for lifelong learning while maintaining the need to keep up with the high-skilled job is to continuously learn in a fast and changing economic climate.


Confirmed Speakers:
9:00 AM — 10:00 AM : Check In / Security Clearance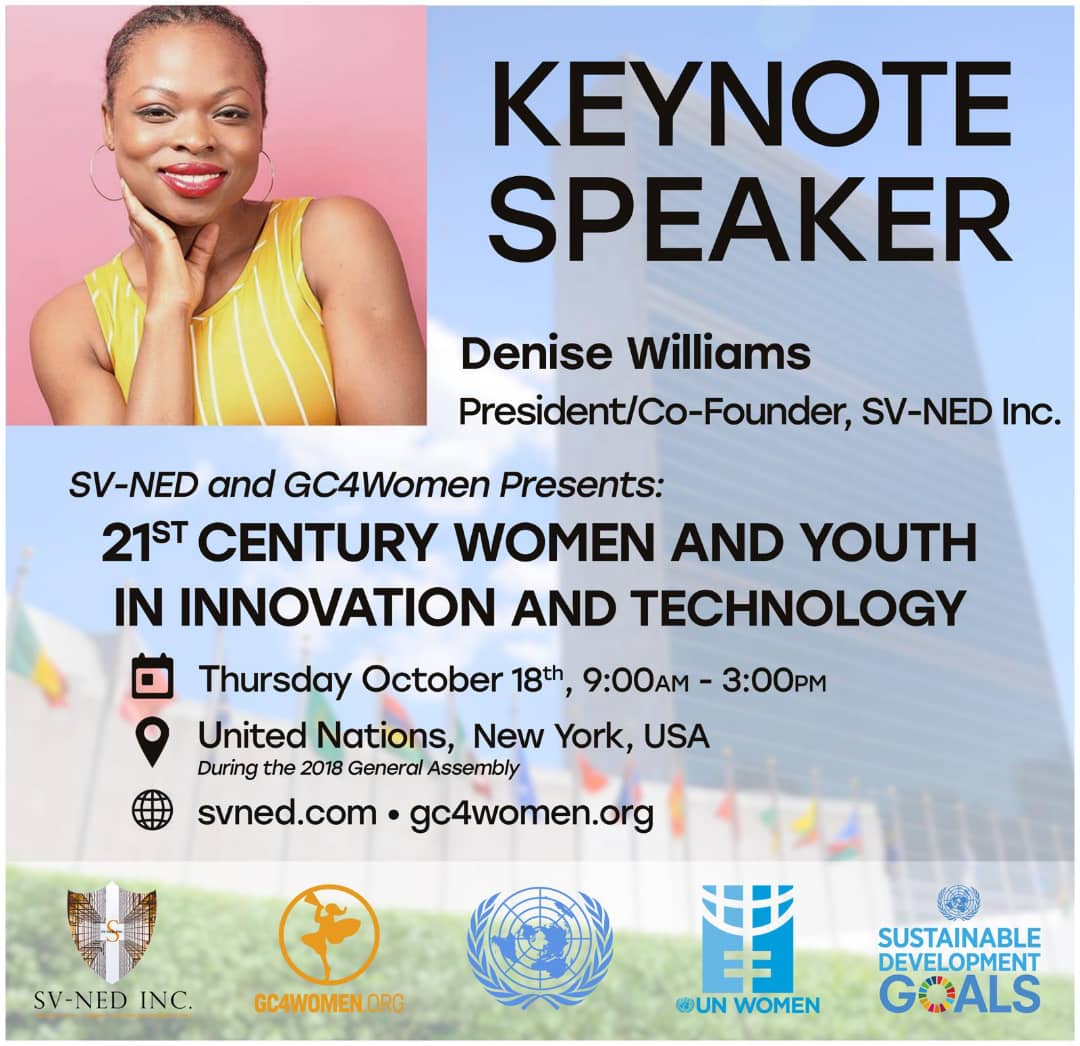 10:00 AM — 10:30 AM: Welcome to the United Nations, Youth Speaker: What is SV-NED Inc? Denise Williams, MBA President & Cofounder SV-NED Inc.
10:30 AM — 11:00 AM: Youth Speaker: Maame Boateng — Associate, Intergovernmental Relations & Africa at the United Nations Global Impact — Gender Equality/ Women's
11:00 AM — 11:30 AM: Keynote Speaker: Cathy Smith — UN Women — SDG's Goals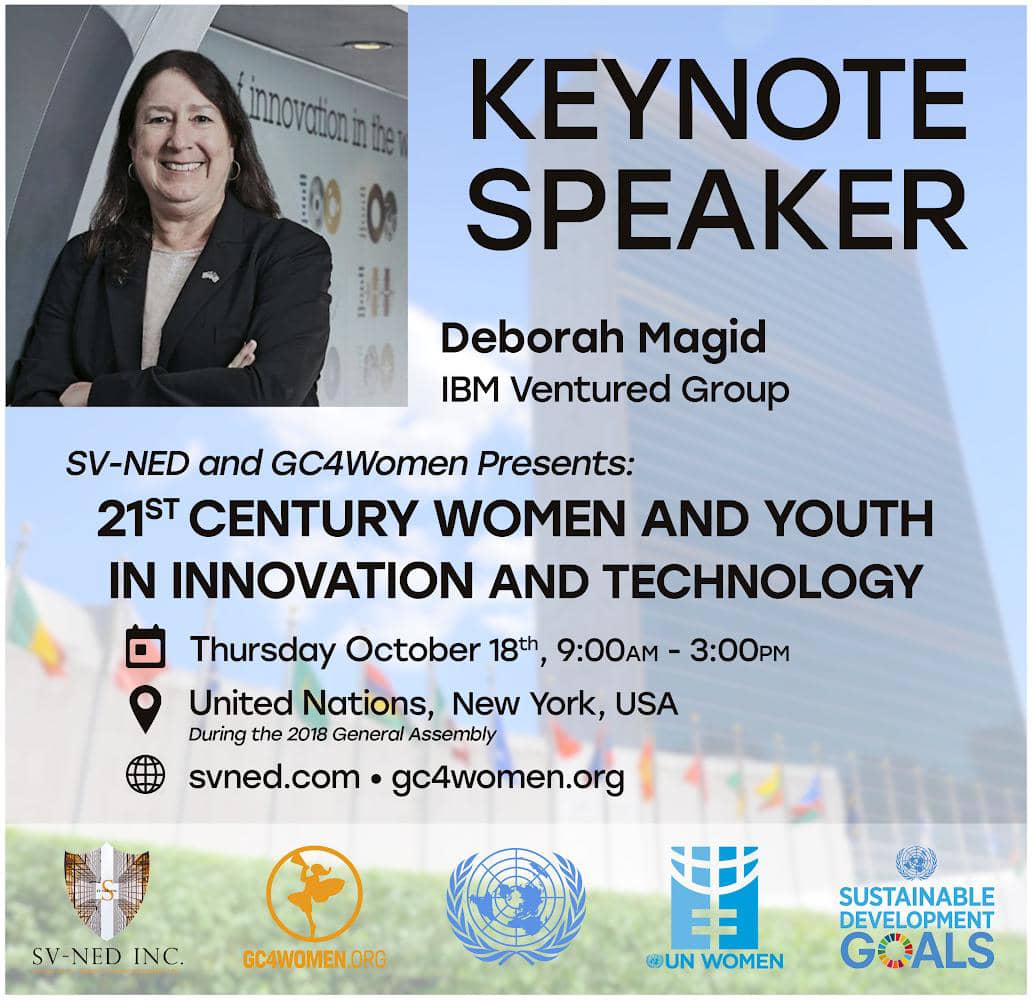 11:30 AM — 12:00 PM: Keynote Speaker: Deborah Majid — Director of Software Strategy at IBM Venture Capital Group — Women in Tech
12:00 PM — 12:30 PM: Speaker: Lilian Ajayi-Ore Founder/CEO of Global Connection for Women and NYU Adjunct Professor. 'The Role of Women & Youth in the Technological Advancement of a country.'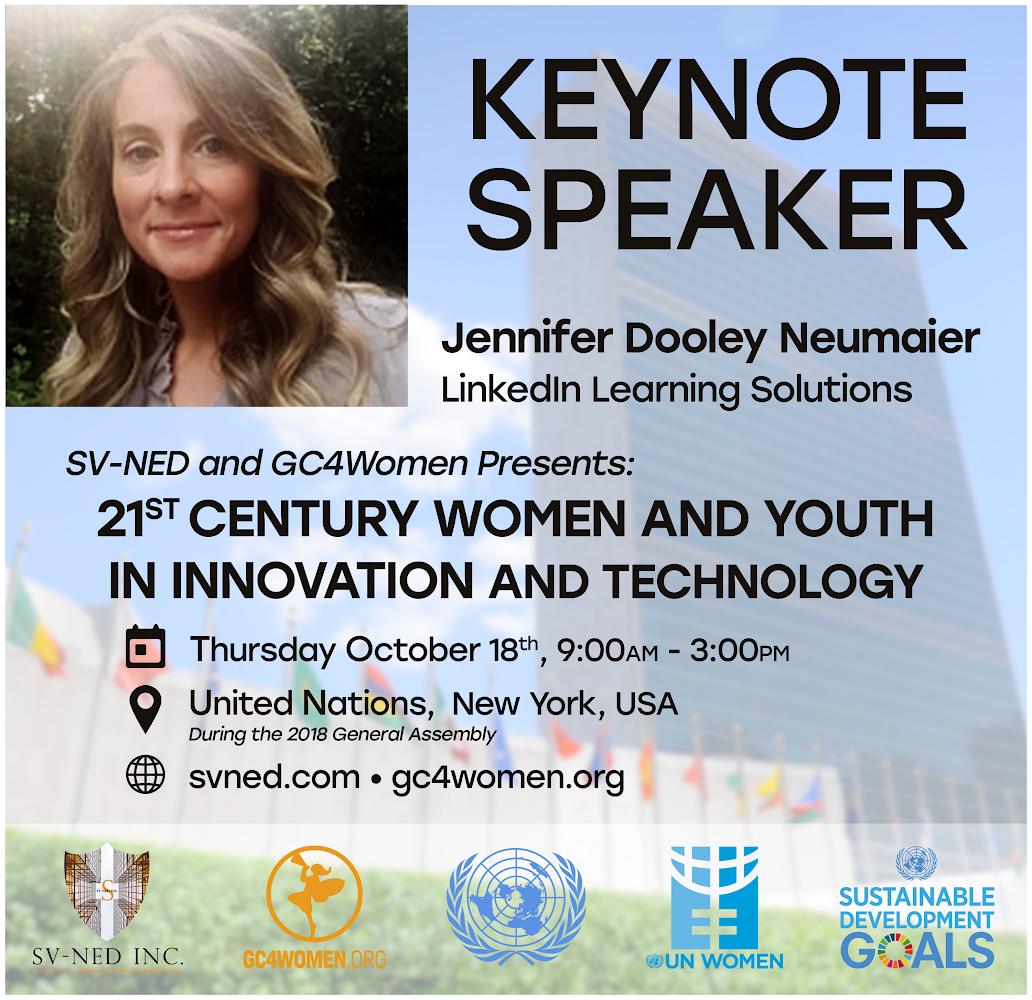 12:30 PM — 1:00P PM: Speaker: Jennifer Dooley Neumaier, LinkedIn Learning Solutions — Women in Tech
1:00 PM — 1:30 PM: Speaker: Dr. Judy Kuriansky United Nation NGO Section: Department of Public Information and ECOSOC — International Association of Applied Psychology
2:30 PM — 3:00 PM: 3rd Keynote Speaker Chief Temitope AjayiChairman/CEO SV-NED — Women in Tech
We truly hope you can join us on such an important occasion, to discuss very critical matters. This event is by invitation only, all guests are prescreened by the United Nations for Security Clearance before the conference convenes, therefore this invitation is restricted and limited to the general public.
Please secure your attendance by R.S.V.P via Eventbrite.
For general questions or inquries, please send an email to info@svned.com cc: denise@svned.com, lilian.ajayi-ore@gc4women.org Temitope.ajayi@svned.com.

Thank you for you in advance for your time and participation.