UN Sustainable Development Goals and Small Businesses
The UN Sustainable Development Goals and Small Businesses: Reality and Opportunities, discussion led by Dr. George Jabbour
About this event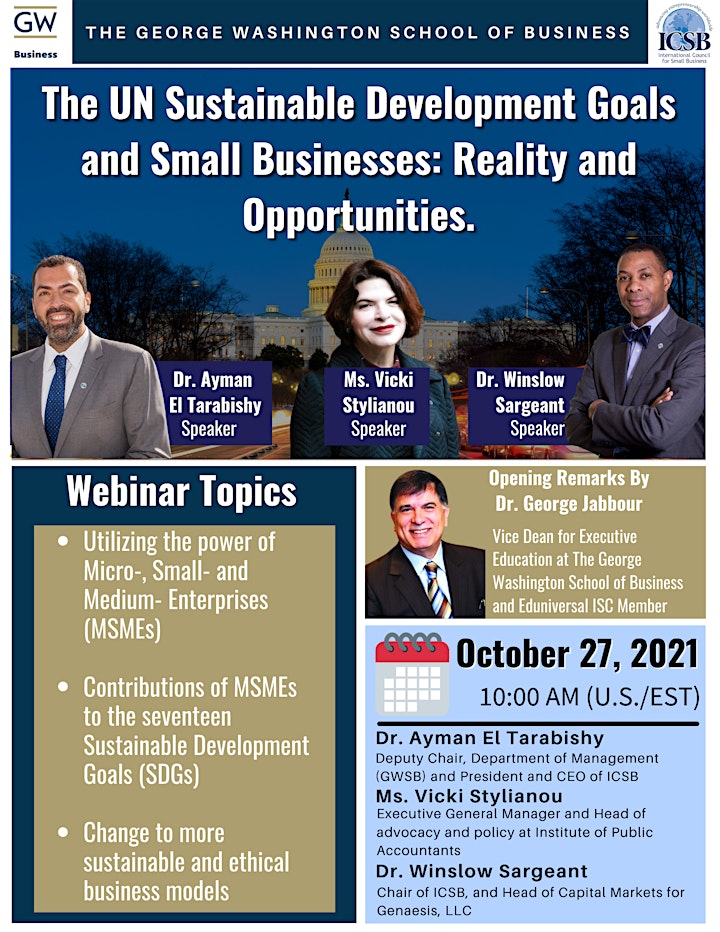 The World post-Covid and has the opportunity to achieve the SDGs by utilizing the power of Micro-, Small- and Medium- Enterprises (MSMEs). According to the Business and Sustainable Development Commission, sustainable business models could open economic opportunities worth $12 trillion and create 380 million jobs by 2030, with more than 50 percent being located in developing countries. However, the SDG targets are ambitious and require a transformation of public and private activities.
The relevance, role, and contributions of MSMEs to the seventeen Sustainable Development Goals (SDGs) are undeniable. In addition, MSMEs can be the economic engine in creating employment and incomes, particularly for the poor and marginalized groups. Therefore, it is possible to establish direct and indirect linkages between MSMEs and the seventeen goals through these lenses.
The world needs a transformation and engagement from MSMEs to adopt new business models, bring in innovation/technology, and do business differently – more sustainably and ethically.
MSMEs have been identified as the key players to make this transformation a reality.
Organizer of UN Sustainable Development Goals and Small Businesses