Multiple Dates
UN SDGs Corporate Guidebook Series Contributors GROUP ONE Online Info-Sessi...
Event Information
Location
ONLINE - address entered for FB requirement
1315 Main Avenue (online)
Ste 218
Durango, Colorado 81301
Description
New in January!!! Focused 90-Minute Thursday Info-Sessions REGISTER ONCE - GET ACCESS TO ALL RECORDINGS! 10:45am EST (NYC), 7:45am PST (LA), 4:45pm CET (Paris) 9:15pm IST (New Delhi), 11:45pm UTC (Shanghai)
Attend all or just 1 - YOUR choice! Participate LIVE or view recordings after posted. Find out how YOU can be part of this epic Meta-Project! WebEx link will be distributed prior to each event. Questions? Email: information@sherpasustainabilityinstitute.org
Focus: GROUP 1 - FIRST 4 UN SDG Corporate Guidebooks: Goals 12, 8, 4 and 3
Orientation for Researchers + Writers begins January 7th.
REGISTER for 1/10 Session to get RECORDING for 1/3/19 Session 1: Last Call for Group 1 Researchers & Writers! Learn about the Meta-Research Team - a once-in-a-lifetime opportunity to contribute to a project with thought-leaders around the world! This team is researching across all SDGs, identifying what companies are focusing on which SDGs. Potential case studies are identified and information for most promising case studies is parsed to SDG-Specific Teams. The Meta-Research Team will be especially active through the end of Q2 '19, then taper to occasional updates. There are remaining spaces for this team; formation will conclude by Orientation, week of 1/7. The Meta-Research Team will be acknowledged in all 17 Guidebooks.
Find out about other opportunities to contribute, from Manuscript Reviewers to Social Media, Project Management, Co-Authors and more. Learn about the rest of the project schedule, including how to get involved in SDGs for Groups 2-4, as a Co-Author or Researcher.
1/10/19: SDG 12 Sustainable Consumption & Production - Call for Case Studies
1/17/19: SDG 8 Employment & Economic Growth - Call for Case Studies
1/24/19: SDG 4 Quality Education - Call for Case Studies

1/31/19: SDG 3 Healthcare & Well-Being - Call for Case Studies
ABOUT THE GOALS: Endorsed in 2015 by all 193 United Nations Member States, the 2030 Agenda and its Sustainable Development Goals focus global efforts and attention on 17 pressing issues. The 17 UN SDGs have been lauded as a galvanizing force for a more socially responsible global community. However, with 169 underlying Targets, the UN SDGs have been characterized by many thought-leaders as overwhelming...
...that's why we're getting it done ONE BITE at a TIME!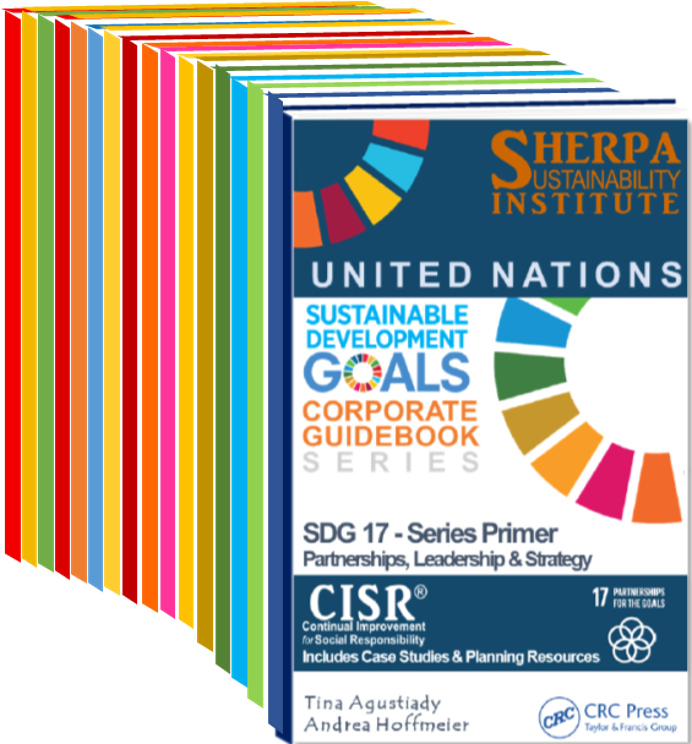 Location
ONLINE - address entered for FB requirement
1315 Main Avenue (online)
Ste 218
Durango, Colorado 81301