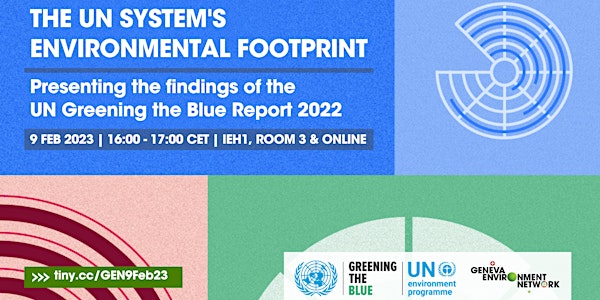 UN Greening the Blue Report 2022 | Presentation of Findings
This session presents findings of the UN Greening the Blue Report 2022, showing UN System's efforts in reducing its environmental footprint.
By Geneva Environment Network
When and where
Date and time
Thu, 9 Feb 2023 16:00 - 17:00 CET
Location
International Environment House I, Room 3 Chemin des Anémones 11-13 1219 Châtelaine-Genève Switzerland
About this event
In 2019, the Chief Executives Board for Coordination endorsed the Strategy for Sustainability Management in the United Nations System, 2020–2030 (Strategy for Sustainability) to intensify efforts to combat climate change through internal sustainability strategies.
UN system entities report their environmental footprint against the environmental impact areas (greenhouse gas emissions, waste, air pollution, water and wastewater, and biodiversity) and management functions (environmental governance, procurement, and human resources) identified in the Environmental Sustainability in the Area of Management section of the Strategy for Sustainability. They do so via the annual Greening the Blue Report, which is produced in partnership with the Sustainable UN (SUN) Facility of the UN Environment Programme.
This annual reporting shows whether the UN system is 'walking the talk' on environmental sustainability. It has assisted the UN system in making steady progress towards reducing its environmental footprint.
The 2022 edition of the Greening the Blue Report revealed that the UN system accelerated efforts on environmental governance and environmental training in 2021. It highlighted the 2021 environmental impacts of its 307,000 personnel in 53 reporting entities across Headquarters, field offices and operations on the ground.
At this session, leading experts will discuss the UN system's efforts to reduce its environmental footprint in alignment with Strategy for Sustainability targets.
Registration
The event will take place in a hybrid format, at the International Environment House I (Room 3) and online. As most organizations in Geneva return to the office, we encourage you to join us in-person if you can. Coffee will be served from 15:30 CET onwards. Register on Webex for online attendance.
Learn more on our event page.