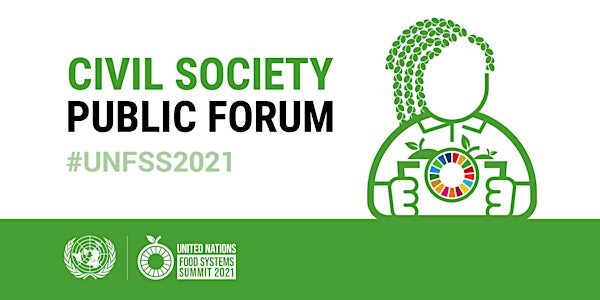 UN Food Systems Summit Civil Society Public Forum
Join us as we canvas ideas and create opportunities for you to participate and share your ideas!
About this event
中文 | Español | Français | Português | العربية
The Civil Society Public Forum is part of a series of open-door events starting last year, to allow everyone, everywhere to get involved and ask questions on the Summit engagement process. During this Forum, representatives from each of the five Action Tracks and the Food Systems Summit Dialogues will share progress of idea-generation, and next steps in the Summit process. The conversation will focus on the Pre-Summit and beyond. Participants will also be invited to reflect on progress and provide feedback.
Transforming food systems to deliver on the SDGs by 2030 will require action by everyone, everywhere, and civil society will play an essential role if we are to succeed. We hope you will join the conversation.
Join us
Register: Please register your attendance here on Eventbrite prior to 12 July 2021.
Live: This live Forum will be hosted on Zoom and the link to join will be provided in your Eventbrite registration confirmation email.
More information
The Forum will be introduced by Dr. Agnes Kalibata, UN Secretary-General's Special Envoy to the 2021 Food Systems Summit, and co-convened by Martin Frick, Deputy to the Special Envoy and Mamadouo Goita, Executive Director of the Institute for Research and Promotion of Alternatives in Development (IRPAD) and Vice-Chair for Civil Society of the Summit's Champions Network.
For further information about the Summit, please visit the FAQ here.
Stay up to date by following the Summit on social media: Twitter | Instagram | Facebook