Un-Convention Preston

Friday, June 17, 2011 from 10:30 AM to 11:00 PM (BST)
Event Details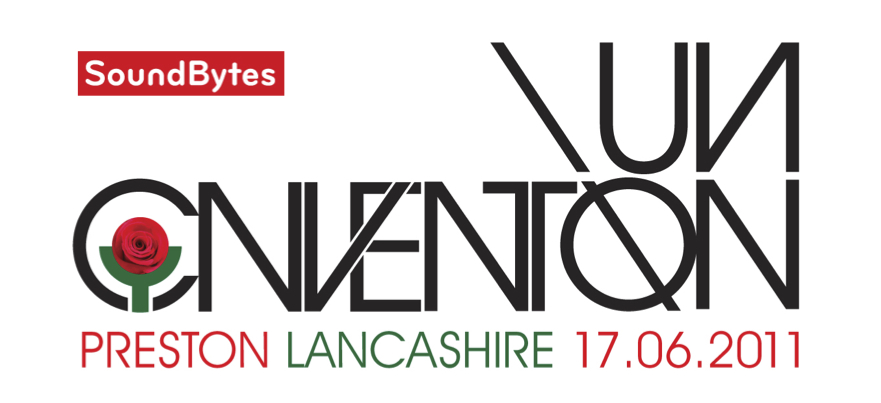 Un-Convention is a series of music events and conferences aimed at grass roots and independent artists, promoters, labels, entrepreneurs, writers, technologists and innovators.
Now in its third year, the 22nd Un-Convention will take place in collaboration with Soundbytes at Avenham Park Pavilion and The Continental in Preston, UK on Friday June 17th 2011 from 10.30am.
Un-Convention Preston will focus on opportunities for artists and independent music companies in the modern music landscape. With discussions around building sustainable careers, developing live opportunities, both in the UK and further a field, as well as a specific look at the scene in and around Lancashire this is a real opportunity for those looking to develop themselves in the independent music sector.
The event aims to connect young and emerging practitioners with each other; to provide them with practical and achievable strategies; and to encourage them to work together to create and support cultural activities in the region.
The day is free to attend and includes panels, workshops, clinics and a gig, and will feature some of the most cutting edge artists and thinkers in the modern music industries.
Participants include Kirsty Almeida (artist signed to Decca, Universal), Louis Barabbas (Debt Records), Ollie Clueit (My Band is Better Than Your Band and Radio Plugger for Anorak London), Jay Taylor (The Ruby Lounge), John Robb (Goldblade, journalist and broadcaster), Frazer Boon (Mad Ferret), Pat Fulgoni (Kava Kava and Chocolate Fireguard Records), plus more to be announced.
Also in attendance will be SoundCloud, Ditto Music, Sentric Music, Band Central and Verbal Vigilante providing clinics and advice.
Places are limited, and in high demand, so please only register if you can attend this event.
For more information contact jeff@unconventionhub.org
www.unconventionhub.org
Schedule Un-Convention Preston June 17th 2011
Avenham Park Pavilion (Main Space)
10.30am Registration of Delegates
Panels
11.00am – 12.15pm
Sustainable Careers
Moderator: John Robb
Panelists:
Chris May (Eureka Machines / The Sisters of Mercy)
Jay Taylor (The Ruby Lounge)
Kirsty Almeida
Liam McKenzie (The Coustics)
12.20pm – 1.15pm
Digital Platforms
Presentations on digital tools and platforms from;
David Adams (SoundCloud)
Matt Parsons (Ditto Music)
Simon Pursehouse (Sentric Music)
Will Padley (BandCentral)
Simon Harrison (The Lemon)
1.00pm – 2.00pm
Lunch
2.00pm – 3.15pm
Live and Let Live
Here, there, and everywhere
Moderator: Howard Monk
Panelists:
Louis Barabbas (Debt Records)
Rhys Bradley (To The Bones)
Danny Wareing (Middle Finger Salute)
Pat Fulgoni (Kava Kava)
Steve Morricone (Wrath Records)
3.30pm – 4.45pm
Living Proof
Moderator: Olaf Furness
Artist TBA
5pm – 6.15pm
Local scenes; collaboration, co-operation and ways to make things happen.
Moderator: TBA
Panelists:
Frazer Boon (Mad Ferret)
Ben Robinson (Kendal Calling)
Ollie Clueit (My Bands Better Than Your Band / Anorak London)
Sean McGinty (BBC Lancashire)
6.30pm close Avenham Park Pavilion
Avenham Park Pavilion (Room 2)
2.00pm – 4.00pm
Digital Clinic with SoundCloud, Ditto Music, BandCentral, Sentric Music and Simon Harrison
New Continental (Main Venue)
Delegates must register at Avenham Park Pavilion first
12.30am – 1.30pm
Consultation / speed networking
With Jay Talyor, Louis Barabbas, Ollie Clueit and more to be announced
New Continental (Snug)
5.00pm – 6.00pm
Workshop / Presentation

With Verbal Vigilantes
New Continental (Main Venue)
Evening Gig
Doors 7.00pm
Bands TBA
Close 11.00pm
Un-Convention Preston is a co-collaboration with SoundBytes. It is supported by Creative Lancashire, a service provided by Lancashire County Council

Previously Un-Convention's have taken place across four continents, in places such as Belfast and Swansea through to Brisbane, Mumbai and Sao Paulo.
Participants have included Huw Stephens (Radio 1), Youth (The Orb & The Fireman), Peter Hook (New Order), John McClure, Caroline Elleray (Coldplay & Keane), Pete Jobson, Mark Gardener (Ride), Tom Robinson, Don Letts, Jarvis Cocker, Bill Drummond (the KLF), Martin Atkins (Nine Inch Nails) and Billy Bragg, plus performances from I Am Kloot, The Whip, Reverend SoundSystem, Everything Everything, The Virgin Marys, Liam Frost, Beth Jeans Houghton, Gallops, Arthur Delaney and The Loose Salute.
When & Where

Avenham Park Pavilion and The Continental
Avenham Park
PR1 8JT Preston
United Kingdom


Friday, June 17, 2011 from 10:30 AM to 11:00 PM (BST)
Add to my calendar
Organizer
Un-Convention
A series of music events aimed specifically at the grass roots of the industry, the goal of Un-Convention is to bring together like minded individuals to discuss the future of independent music.
From DIY labels, and self releasing bands, to promoters and agents, entrepreneurs and innovators, Un-Convention is looking to the future of music, and how it will develop and flourish in the technological age.