Description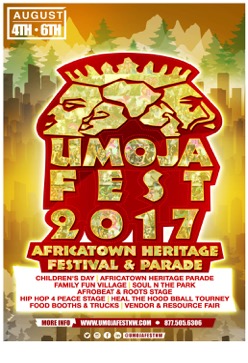 We need you to put the "U" in Umoja = Unity!

Umoja Fest brings the Soul to Seafair as the oldest and largest celebration of Black diaspora beauty, brilliance, resilience and unity in The Pacific NW. We want to make sure that this year is dedicated to lifting up the value of Black lives, networking with each other, supporting Black businesses and getting connected with resources to build our selves and community. We need you to make that happen!

Celebrating the best of the Black community and African Diaspora culture in northwest featuring Music, Food, Culture and family fun! Attractions include the Africatown Heritage Parade featuring dance troops and drill teams, Children's Day & Family Fun Village, Soul N The Park, Afrobeat & Roots Stage, Heal The Hood Basketball Tournament & Hip Hop 4 Peace stage and delicious flavors of the African diaspora from restaurants and food trucks, vendor marketplace, community resource fair and more!
Visit umojafestnw.com for sponsorship and volunteering information!