2021 Black History Month Events & Activities - Umoja Community Region IV- All Welcome! RSVP for desired events below to get Zoom links.
About this Event
Greetings and Happy Black History Month From Umoja Region IV,
To make the RSVP process for our collective and individual BHM events, we would like you to RSVP using the above Eventbrite RSVP tab and then each individual event Zoom link below that you are interested in. This will allow us to follow up with you and make sure you have the necessary information for each week's event. Thank you for you willingness to celebrate American History through our Black lens and engage with the amazing campuses of Region IV!
Monday, February 1st - Friday, February 5th
HBCU Virtual Events - see image below for details.
RSVP: https://elcamino.formstack.com/forms/hbcu_black_history_month_registration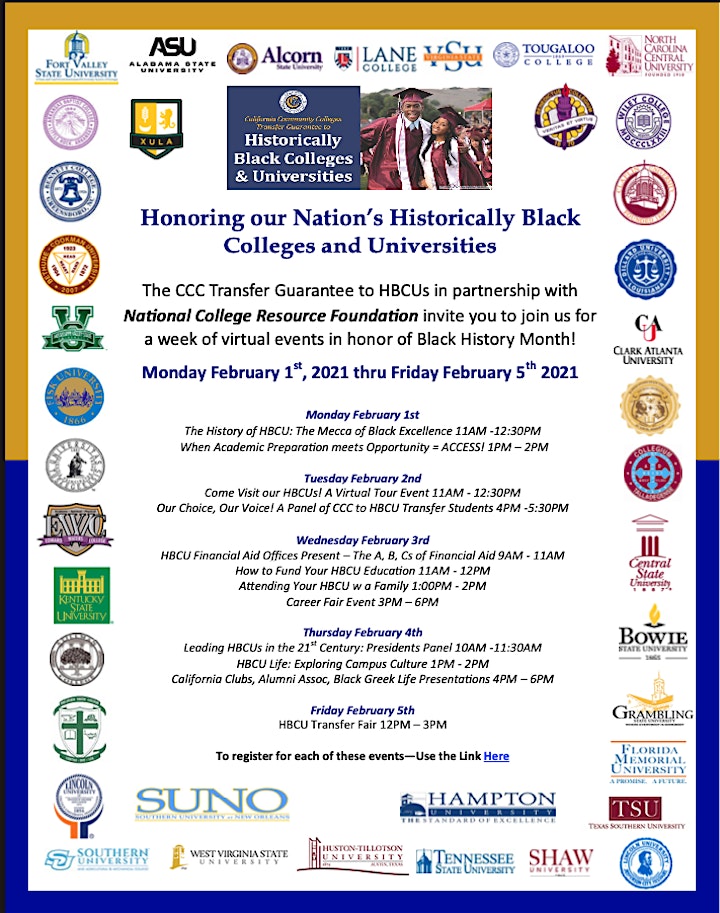 Thursday, February 4th
5:00pm - 6:30pm
California African American Museum - Four Hundred Souls: A Community History of African America, 1619 - 2019
In Four Hundred Souls: A Community History of African America, 1619-2019, editors Ibram X. Kendi and Keisha N. Blain have assembled an extraordinary chorus of voices that includes ninety writers. Encompassing a range of styles from historical essays and short stories to personal vignettes and fiery polemics, each contributor takes on a five-year period in the four-hundred-year journey of African Americans from 1619 to the present. Join Kendi, a National Book Award winner and New York Times bestselling author, and Blain, an award-winning historian, editor, and president of the African American Intellectual History Society, along with contributors UCLA Assistant Professor Kyle Mays and Society of Black Alumni Presidential Professor and Professor of History at Johns Hopkins University Martha Jones, as they discuss this new book and the importance of community history.
RSVP: https://caamuseum.org/programs/talks-and-workshops/four-hundred-souls-a-community-history-of-african-america-1619-2019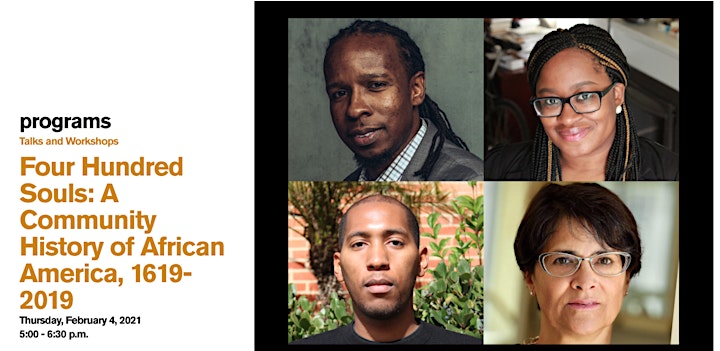 Curl Time: Part 3- Oh, My Hair!
February 9 | 5 p.m. - 6:30 p.m.
The shops are closed, but you still need hair care. Black business owners Hair by Nikki L and celebrity barber Maurice Manley II will discuss ways to care for your hair during the pandemic. Zoom
Thursday, February 11th
1:00pm
Black History Month Guest Speaker Thea Monyee
Pleasure Noir: Pleasure in Black Bodies and other marginalized persons
Thea Monyee ´is a licensed therapist committed to creating healing opportunities to Black/Marginalized bodies through decolonization, joy, and pleasure. In addition to appearances on HBO, OWN, FOX SOUL, and THE RED TABLE TALKS, she is the host of Shaping The Shift Podcast, founder of MarleyAyo, and The Blacker The Brain: A Mental Health Decolonizing Campaign, Conversation, & Cohort, co-host of Dem Black Mamas Podcast, and co-creator of The Free Joy Experience.
Zoom Link Registration: https://laccd.zoom.us/meeting/register/tJIuduiopz0jE91DZeO3daRQQAOFwW_BpWRn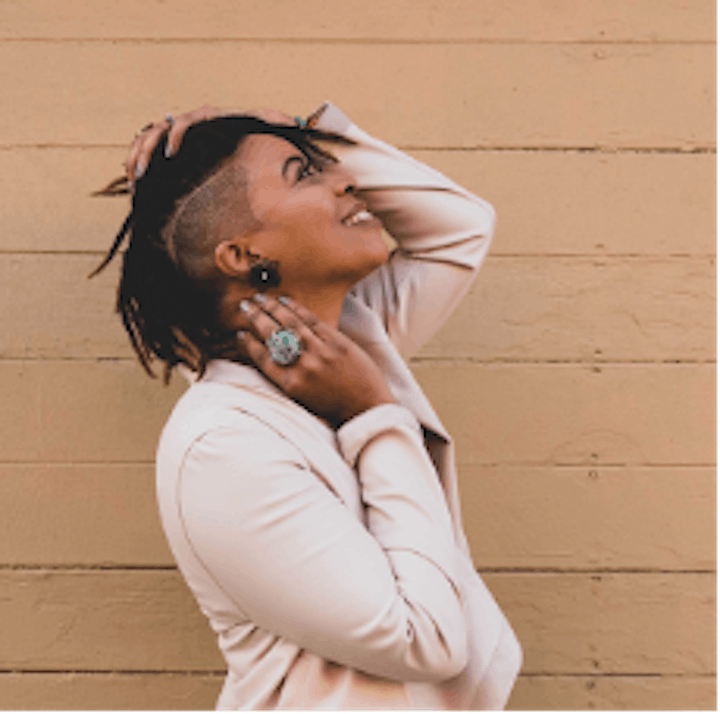 Friday, February 12th
3:00pm - 4:30pm
African American Read In
Join us as we read and discuss texts written by African American authors and provide space to recognize and amplify their work. Original poems and spoken word also welcome.
RSVP: bit.ly/READIN2021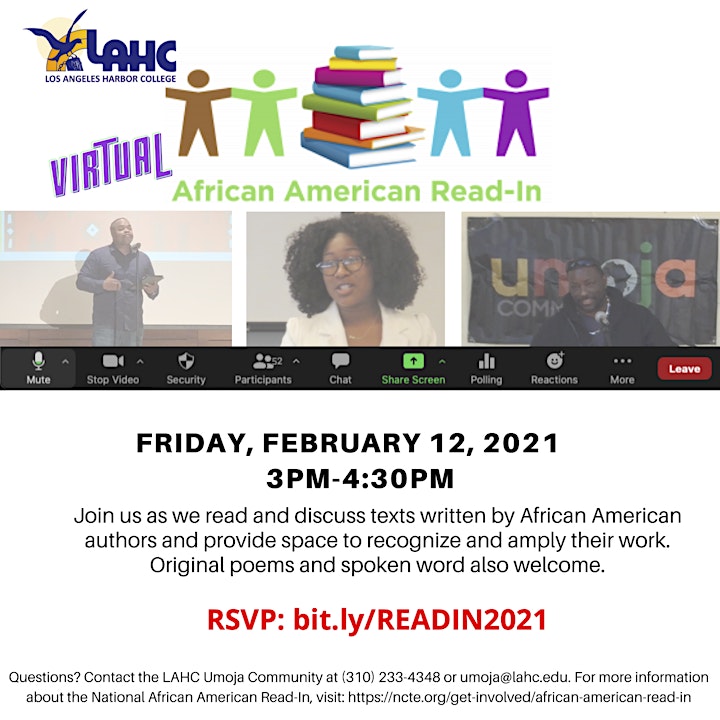 Tuesday, February 16th
De'Von Truvel: Founder/Creator of Play Black Wall Street
Black Economics and History...Remember. Relearn. Rebuild.
Learn about the real businesses and events of Northern Tulsa, Oklahoma one of the most economically successful communities in American History.
*Black History Raffle At Close Of Event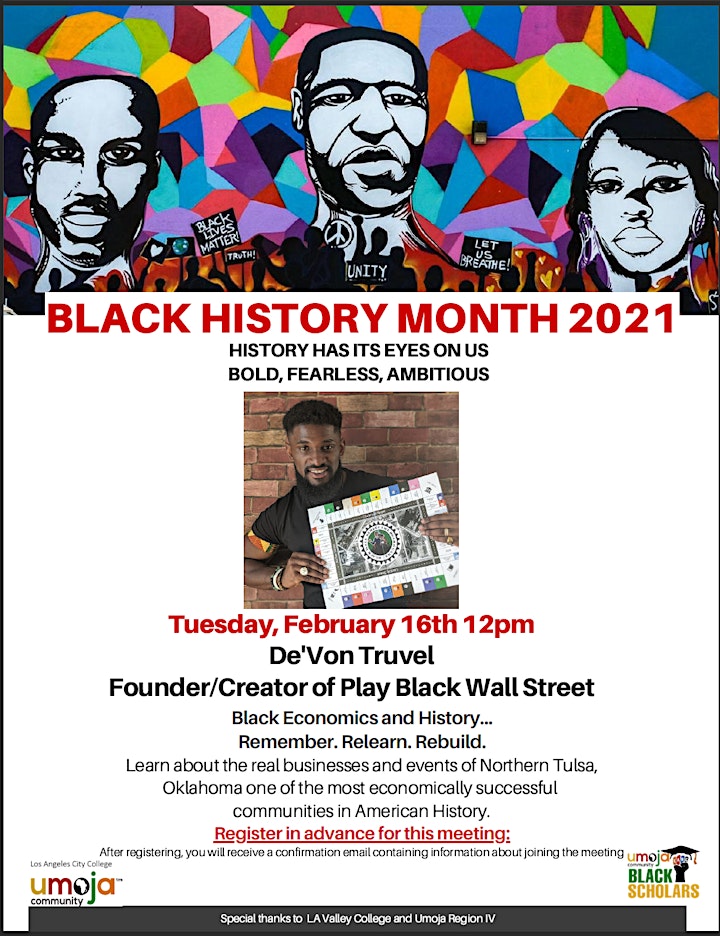 Let's Talk About #BlackGirlMagic and #BlackBoyJoy
Sponsored by Cerritos College - Umoja Success Program
February 16 | 11 a.m. - 12:30 p.m.
Join our open discussion about the meaning of Black excellence and joy of Black culture.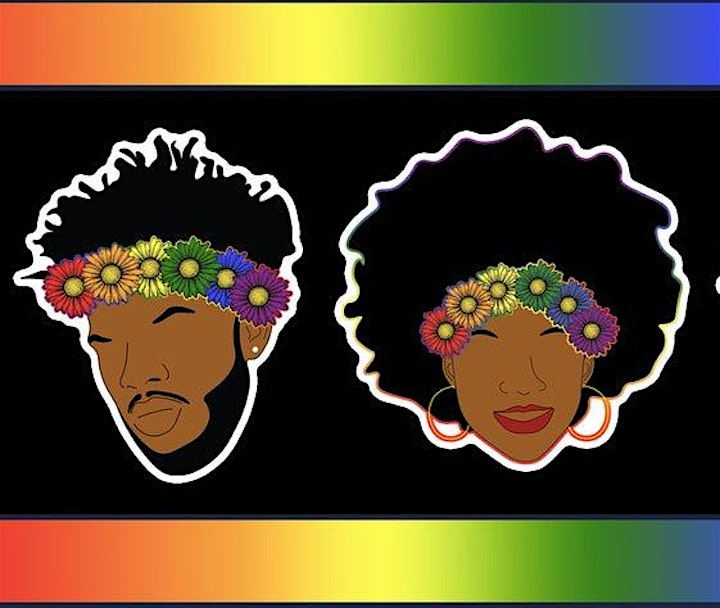 Tuesday, February 16th
4:00pm
Umoja Village Paint Night
Join us for a night of vibes, art and community. The best part? We're mailing you the supplies! Click the link below to reserve your spot and choose your canvas while supplies last.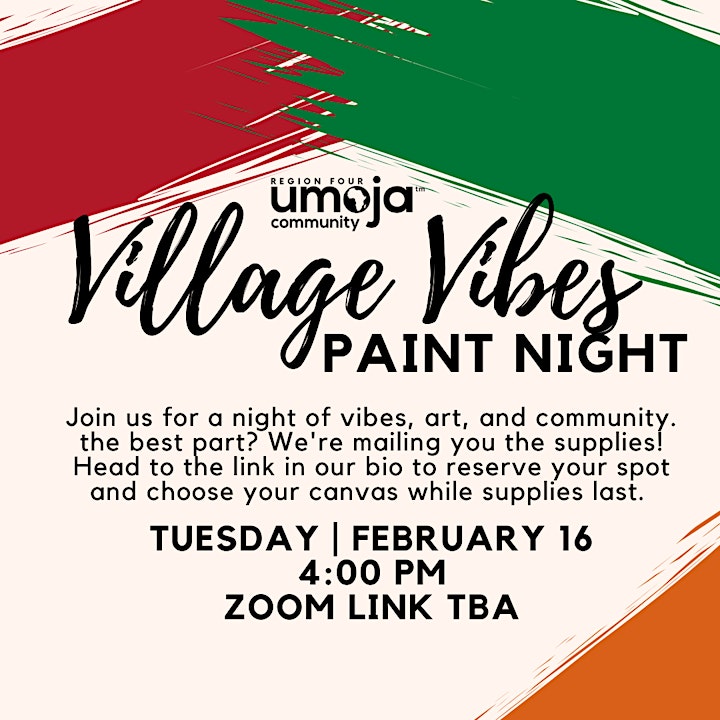 This event is designed for community college students who participate in Umoja, or similar programs to connect with the Black community at CSUN. Join us to hear about what's happening at CSUN from current students, faculty and staff. This is a great opportunity to get answers to questions you have about our campus and community. Registration is free, and open now.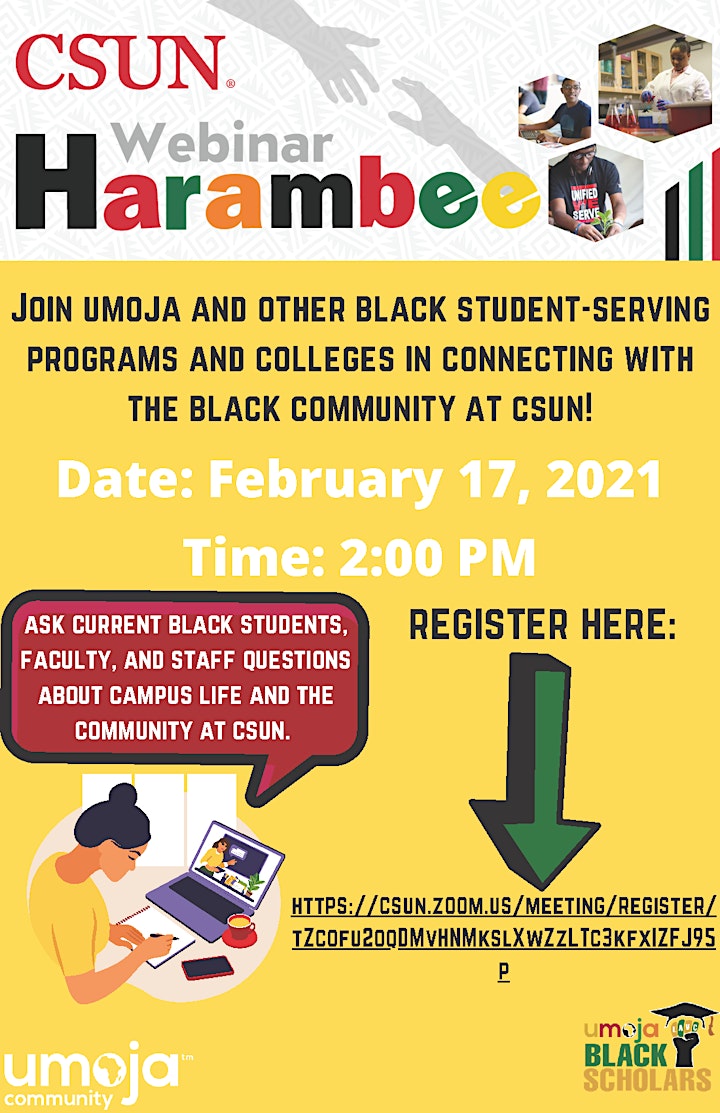 Thursday, February 18th
1:00pm - 3:00pm
FAHREN JAMES - THE BLACK LIVES MATTER EXPERIENCE
Join us for a lively conversation with guest speaker Fahren James of BLM South Pasadena on the role of 21st century activism and the roles of students in organizing, mobilizing, and contributing to the movement.
RSVP: http://bit.ly/2MPg4qC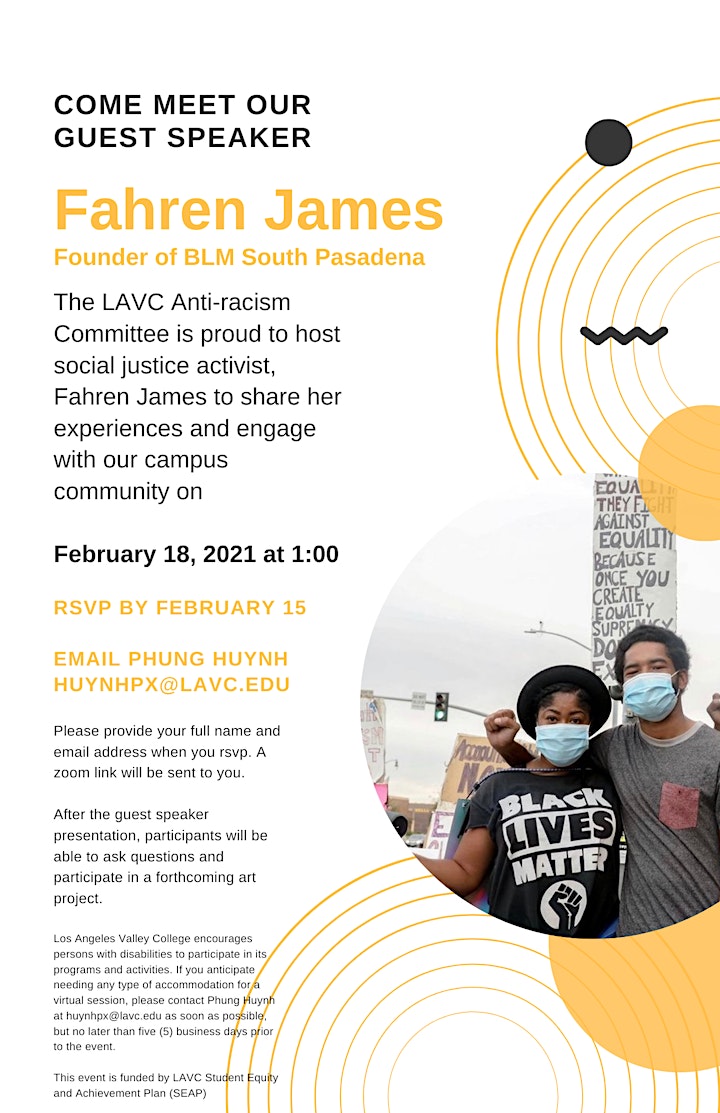 Wednesday, February 24th
4:00pm - 5:30pm
Black History Trivia: Black Card Revoked ReMiX
Join us for a lively game of Black history trivia! Questions from the popular Black Card Revoked game will be mixed in for extra fun and laughter. Bring your cell phone to play with us virtually on Kahoot!
RSVP: bit.ly/3t4cvNS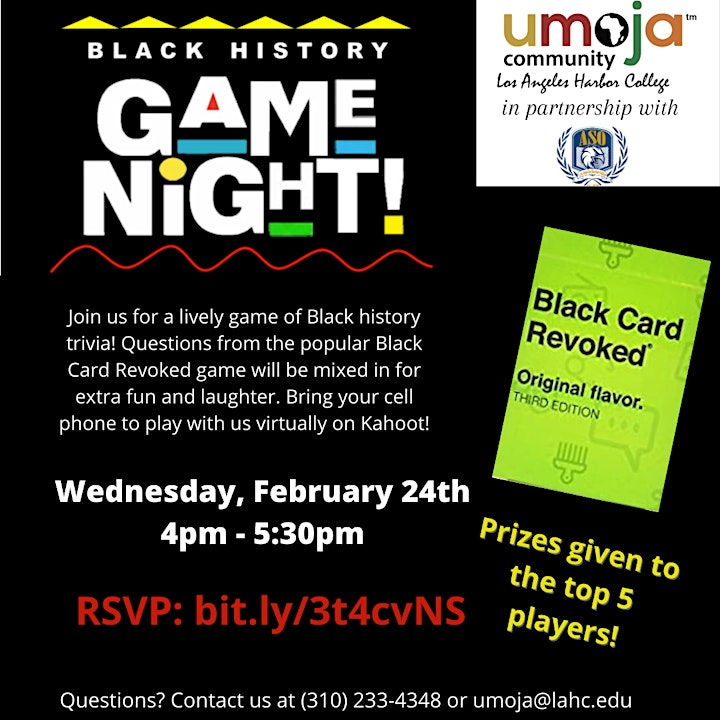 Get Your Mind Right
Sponsored by Umoja Success Program at Cerritos College
February 23 | 11 a.m. – 12:30 p.m.
Join our group discussion with TED Talks speaker and therapist Thea Monyee about ways to get peace of mind and mental health strategies.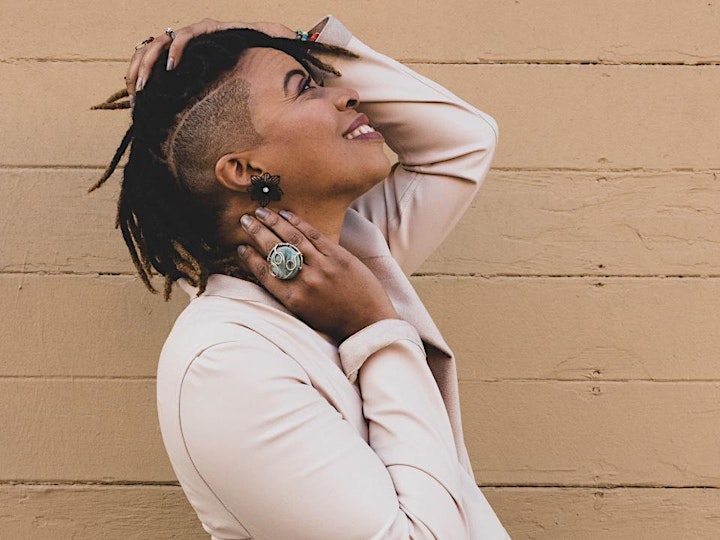 February 23rd | 12:30pm
Dr. Tyrone Howard, UCLA Graduate Professor
A native and former classroom teacher of Compton, California, Dr. Howard is considered one of the premiere experts on educational equity and access in the country.
Keynote Address: We Are Our History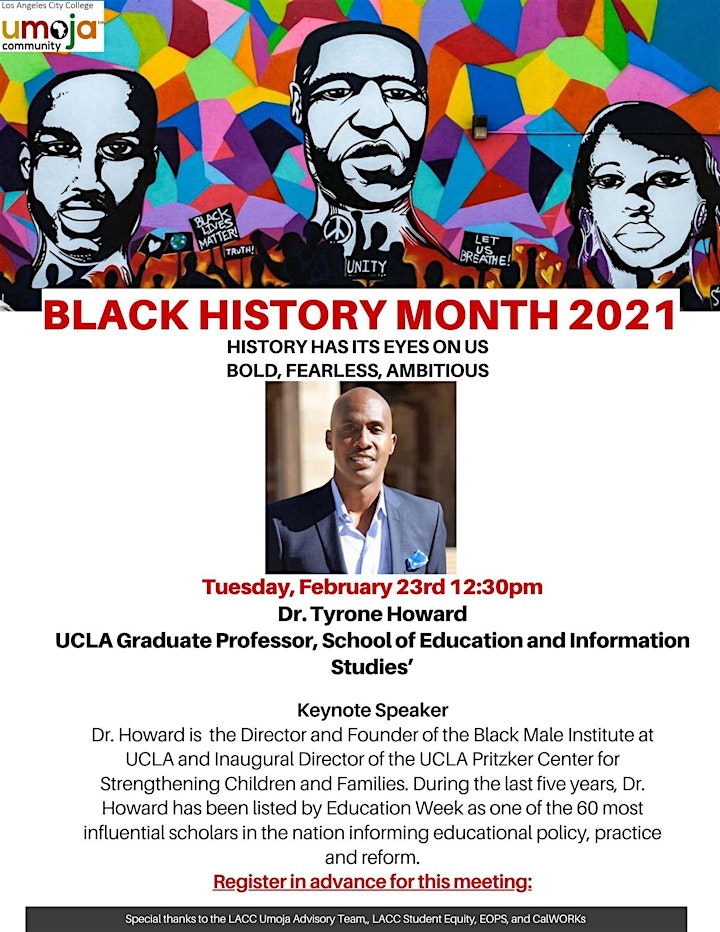 February 25 | 2 p.m. – 3:30 p.m.
Sponsored by the English Department- Cerritos College
Nate Marshall is the author and editor of numerous works, including The BreakBeat Poets: New American Poetry in the Age of Hip-Hop, Finna, Wild Hundreds, and the audio drama
Bruh Rabbit & The Fantastic Telling of Remington Ellis Esq. He teaches creative writing and literature at Colorado College.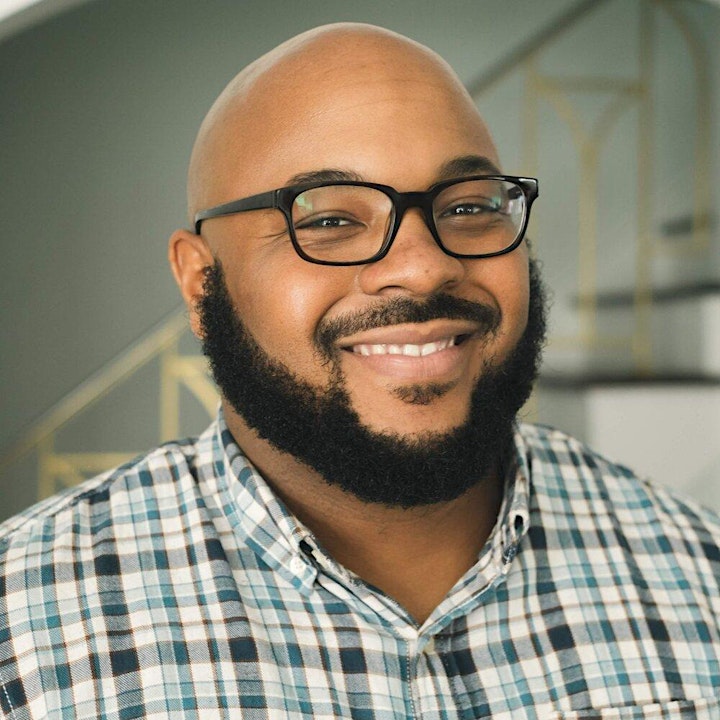 Thursday, February 25th - Saturday, February 27th
Umoja XVI Conference
Join us for Umoja Conference XVI! This year's virtual Umoja Conference will feature:
Powerful workshops
Engaging speakers
Exciting Raffles
Conscious Entertainment
Virtual Fellowship
Much more!
If interested, contact the Umoja Community coordinator / counselor on your campus for additional details.