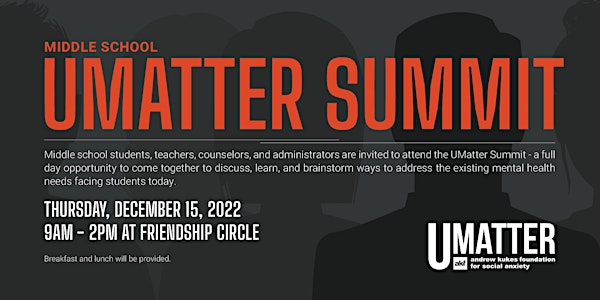 UMatter Middle School Summit
Middle Schools are invited to attend and learn more about UMatter and how hosting a UMatter Week at your school can have a positive effect.
When and where
Location
Friendship Circle 6892 West Maple Road West Bloomfield Township, MI 48322
About this event
UMatter focuses specifically on teens that are struggling. Under the guidance of Rabbi Yarden Blumstein, UMatter operates on a peer-to-peer model of teens helping their peers overcome stigmas and other obstacles related to mental health.
Middle school students, teachers, counselors, and administrators are invited to attend the UMatter Summit on Thursday, December 15 at Friendship Circle.
Our School Summit is a full day opportunity to come together to discuss, learn, and brainstorm ways to address the existing mental health needs facing students today. Through informative trainings and speakers, powerful discussion, and valuable networking, staff and students alike will leave feeling empowered to bring their learning back to their respective schools and launch their own UMatter Week.
UMatter's goal is to cultivate a culture shift in schools, to bring students from a place of depression and extreme isolation to a place of hope and inclusion. The UMatter message is twofold: you, as a person, matter unconditionally, and you, as a person, matter to someone else.
Breakfast and lunch will be provided.
Schools that register are eligible for a transportation grant to help cover the cost of transportation to the summit as well as a UMatter Week grant following the event.