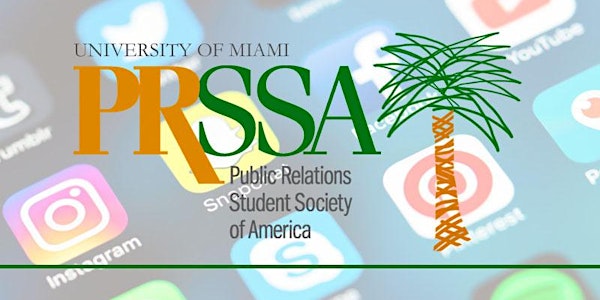 UM PRSSA Social Media Influencer Panel
Date and time
Monday, April 9, 2018 · 6:30 - 9pm EDT
Location
Shalala Student Center, Activities Room South 1330 Miller Drive Coral Gables, Florida 33146
Description
Follow us on social media @theumprssa for a chance to win GIVEAWAYS at the event! #UMInfluencerPanel
Complimentary admission to PRSSA members, UM students, faculty and staff. Admission for all others is $10.
Research in the social media influencer area has pointed toward a growing trend of marketing and public relations professionals using the reach of these brand ambasadors to sway consumer opinion and purchasing practices. Influencers who have a large following can reach consumers via their blogs and social networks.
The University of Miami PRSSA will host a panel of local social media influencers to discuss the use, promotion, ethics and future of social media influencers in public relations and brand marketing. The panel will include various industries including health & beauty, nutrition, food, and travel.
Social influencers: @beyondsouthbeach @laurenashleypatao @latinomarketing @foodtribe @ojandcigs @nicolechaplin1 @leanettef
A light networking reception to follow the panle discussion in the Moss Terrace.