ULTRE with Pep's "50 Reasons to Go Back & Give bLack...The Unforgettable Gh...
Description
You are cordially invited to travel to Ghana, West Africa with Yaa Gyasi Peppy Parke to celebfrate her 50th EarthStrong in one of her favorite places in the world!
Make your non-refundable $250 NOW and by January 3, 2020 to confirm your spot. Comsider making monthly payments of at least $250 thereafter to ensure that you do not feel financially stressed.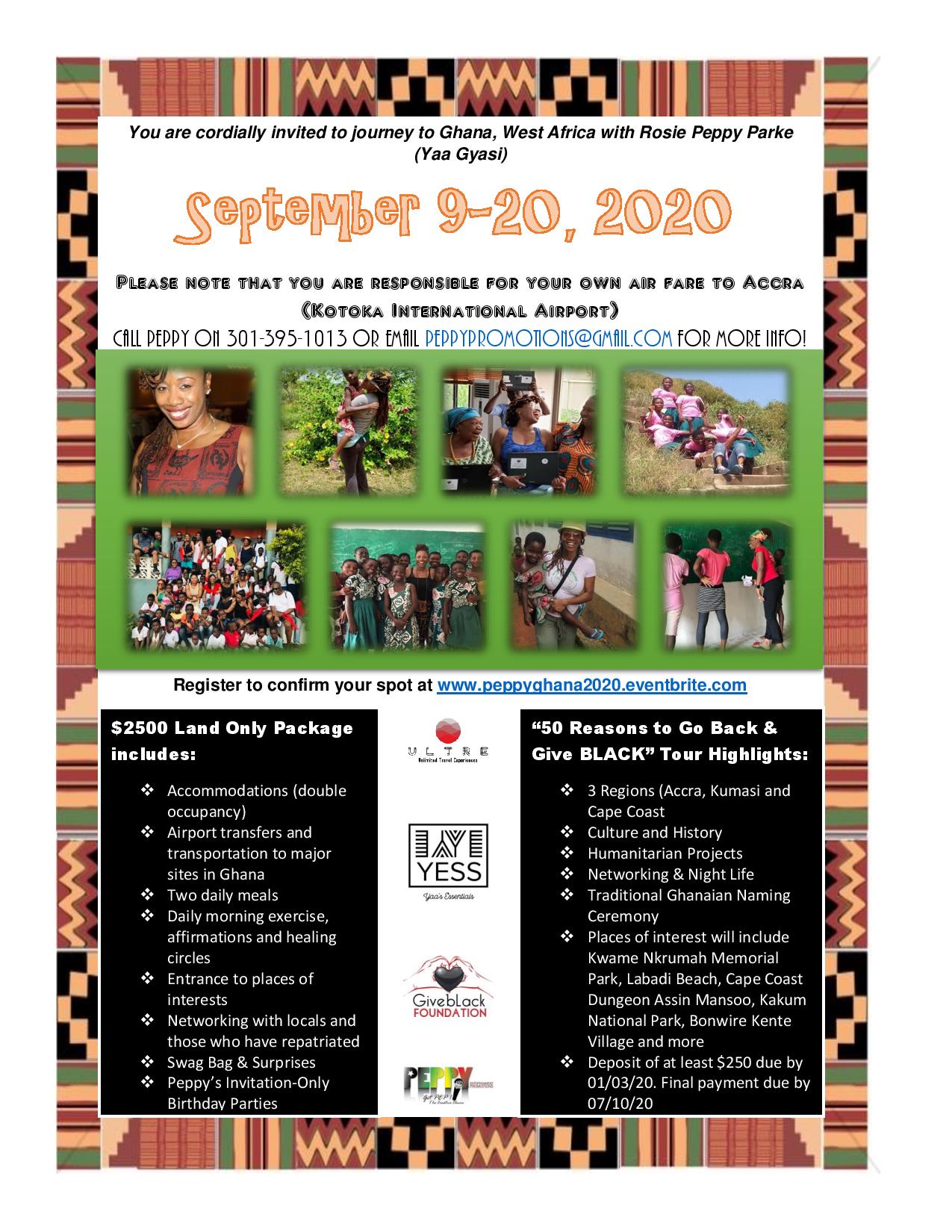 PLEASE EMAIL PEPPYPROMOTIONS@GMAIL.COM IF YOU HAVE QUESTIONS.
https://www.dropbox.com/sh/q9z4zoh8vt3bf7e/AAB05pTHLim4Zex4wX4DxQ_0a?dl=0&fbclid=IwAR0nq60mvkRgJnoojZHLz7VGvsGMkgJtXsnx6W2dDus_pgutzJkscbOVbmc - click on this link to see the photos from May 2019 Tour to Ghana.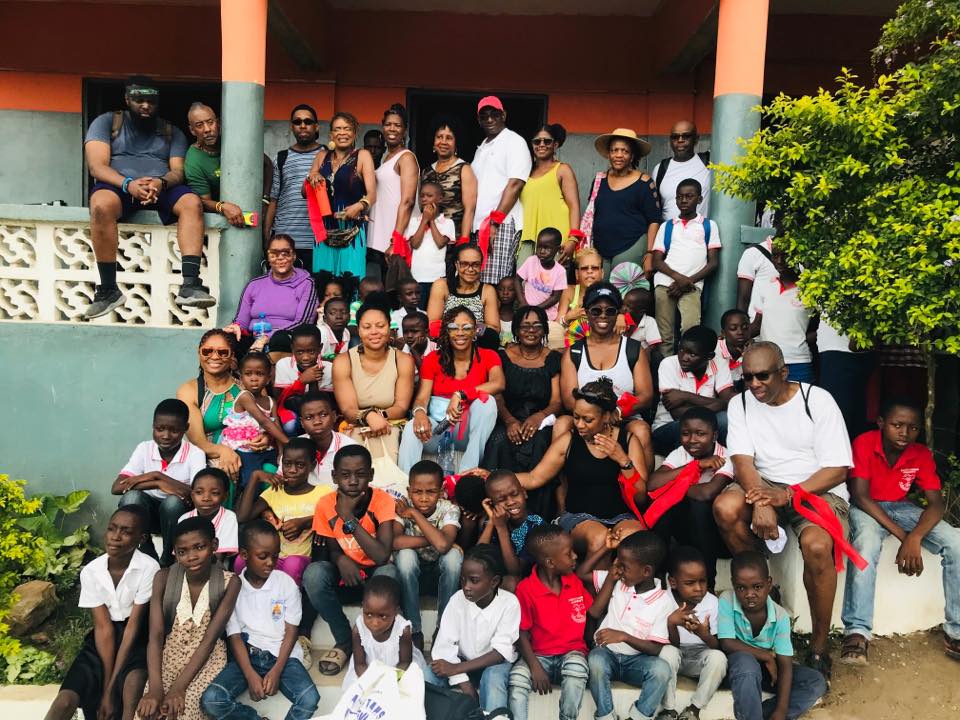 On this unforgettable experience to Ghana which will be from September 9-20, 2020, Peppy invites you to journey with her to discover this beautiful country where many of our ancestors came from. It will include 10 days of traveling to 3 major regions in Ghana: Accra, Kumasi, and Cape Coast while learning, enjoying, reconnecting, networking, retracing, retreating, and refreshing. And Yes, of course, you will also be CELEBRATING with Peppy in all 3 regions and witnessing some of her humanitarian efforts in Ghana LIVE and in LIVING COLOR!!
I promise you that you will have the time of your life and leave wanting more. Historic and notable places we will visit are Independence Square, Manhyia Palace, Kwame Nkrumah Memorial Park, Assin Mansoo, Cape Coast/Elmina Dungeons, Aburi Botanical Gardens, Trinity Home Orphanage, The Good Shepherd Orphanage, Akoma International Academy, Busua Beach, Labadi Beach, Makola Market, Shai Hills, Kakum National Park and other sites.

Daily activities will include Morning Exercise including Yoga, Daily Affirmations, Daily Sharing and Nights on the Town. Ten (10) lucky travelers will win a FREE massage session right on the beach in Ghana!
You will get the chance to meet many who have repatriated to Ghana, visit land sites, and also various arts and craft villages, all the while meeting the nicest people on the planet!
LAND ONLY PACKAGE for $2500 includes:
*Accommodations for 10 nights based on double occupancy

2 meals daily

Transportation including airport transfers and within Ghana

Swag Bag

Surprises
*Single accommodations incur an additional $50 per day charge
To register with your $250 non-refundable deposit, due by January 3, 2020, 2019, please click HERE or Paypal to peppypromotions@gmail.com or CashApp to $RosieParke. You may also call Peppy on 301-395-1013. We are offering convenient payments of $250 per month, but please feel free to make deposits over $250 per month if you wish.
Final balance for your package MUST be paid by July 9, 2020.
PLEASE NOTE THAT YOU ARE RESPONSIBLE FOR YOUR OWN AIR FARE TO AND FROM GHANA. ASK ABOUT THE SPECIAL GROUP AIRLINE TERMS AND CONDITIONS.


Please visit www.rosieparke.com or www.igiveblack.org/2YaaSistahs for itinerary, frequently asked questions and additional information.
Organizer of ULTRE with Pep's "50 Reasons to Go Back & Give bLack...The Unforgettable Ghana Experience"
In the world of work, they say attitude determines your altitude and if this is true then Yaa Gyasi Peppy Parke may as well have coined the saying herself. As her nickname suggests – Peppy, as she is known on the entertainment and promotions circuit — has the positive attitude and incredible energy to connect people and foster community building wherever she goes. She is passionate, energetic, and perseverant and is the epitome of PEP.
A native of Jamaica, Ms. Parke has been living in the DC area since January 2003 and holds a Masters degree in Management with specialization in Public Relations and an Undergraduate degree in Business and Professional Management as well as an Executive Certificate in Nonprofit Management from Georgetown University. She is the founder and creative director of Peppy Entertainment & Promotions, LLC; the creator, producer and host of PEP Talk TV; the founder and executive director of The Give Black Foundation; a board member of the Ayensudo Akoma International Academy in Ghana; a community advocate; and so much more.
Her areas of expertise include planning, administering, and managing workshops, conferences and events domestically and internationally. She serves as liaison with external partners to conduct research on emerging industry and technological trends, prepares a wide range of materials and develops complex documents such as communications programs and electronic documents for Web sites and other publications. Ms. Parke is a seasoned Public Relations Professional and serves as Media Liaison for various projects. She has done extensive work with community based organizations and has an acute awareness of social and cultural dynamics within various countries and communities.  Ms. Parke is passionate about giving back to those who are less fortunate and recently launched I Give bLack as another way to encourage others to also so give back to those less fortunate in Caribbean and African countries.  She was quoted as recently saying, "At this stage in my life, I am most passionate about giving back to Blacks, without apology.  Please join me on this mission."
To contact Yaa Gyasi Peppy Parke, email peppypromotions@gmail.com or visit www.rosieparke.com