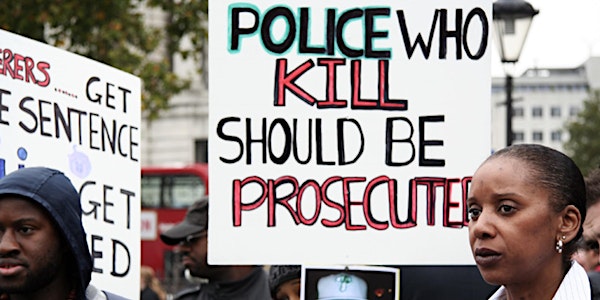 Ultraviolence Screening + Q&A with filmmaker and participants.
Edinburgh premier of 'Ultraviolence' (75 minutes/Migrant Media/2020/UK) + Q&A
When and where
Location
Fruitmarket 45 Market Street Edinburgh EH1 1DF United Kingdom
About this event
Ultraviolence (75 minutes/Migrant Media/2020/UK) + Q&A
Migrant Media and BLM UK in collaboration with political and cultural grassroots organisations across the UK have joined forces for the ULTRAVIOLENCE 10 CITIES TOUR. Our Edinburgh stop on the Tour is with BLM Scotland and is hosted at the Fruitmarket.
This special screening of this powerful documentary about resistance to state violence will followed by a Q&A with the filmmakers as well as the families of those who have died in state custody. Come and hear how you can help in the struggles for justice, including getting involved in the radical People's Tribunal on Police Killings. You can also watch Injustice, Migrant Media's classic award winning documentary on the same subject here: https://vimeo.com/migrantmedia
Special Jury Award - Queens World Film Festival 2021
Special Audience Award – Arbetar Film Festival 2021
Ultraviolence Synopsis: Since 1969, over two thousand people have died at the hands of the police in the UK. Shootings, chokeholds, batons, gassing, suffocation, restraint and brutal beatings are some of the methods used. The numbers of deaths is escalating. Inevitably police officers involved are not convicted for these killings. In this documentary, the families of the victims of police violence demand justice. They ask why society ignores human rights abuses by agents of the state. This reflection on resistance is poignant and political, capturing the brutality and trauma as well as the unrelenting fightback of those who will not be silent about state violence.
"the perfect reminder to everyone that Black Lives DO Matter" The Canary
"leaves a lasting, shocking impression" British Film Institute
"proudly, cussedly uncontainable" The Guardian
"hopeful in the power of people to resist" Flickering Myth
"intimate details give this essay on injustice its power" The Times
"fearless, unflinching, but above all compassionate filmmaking" Cine Vue