Description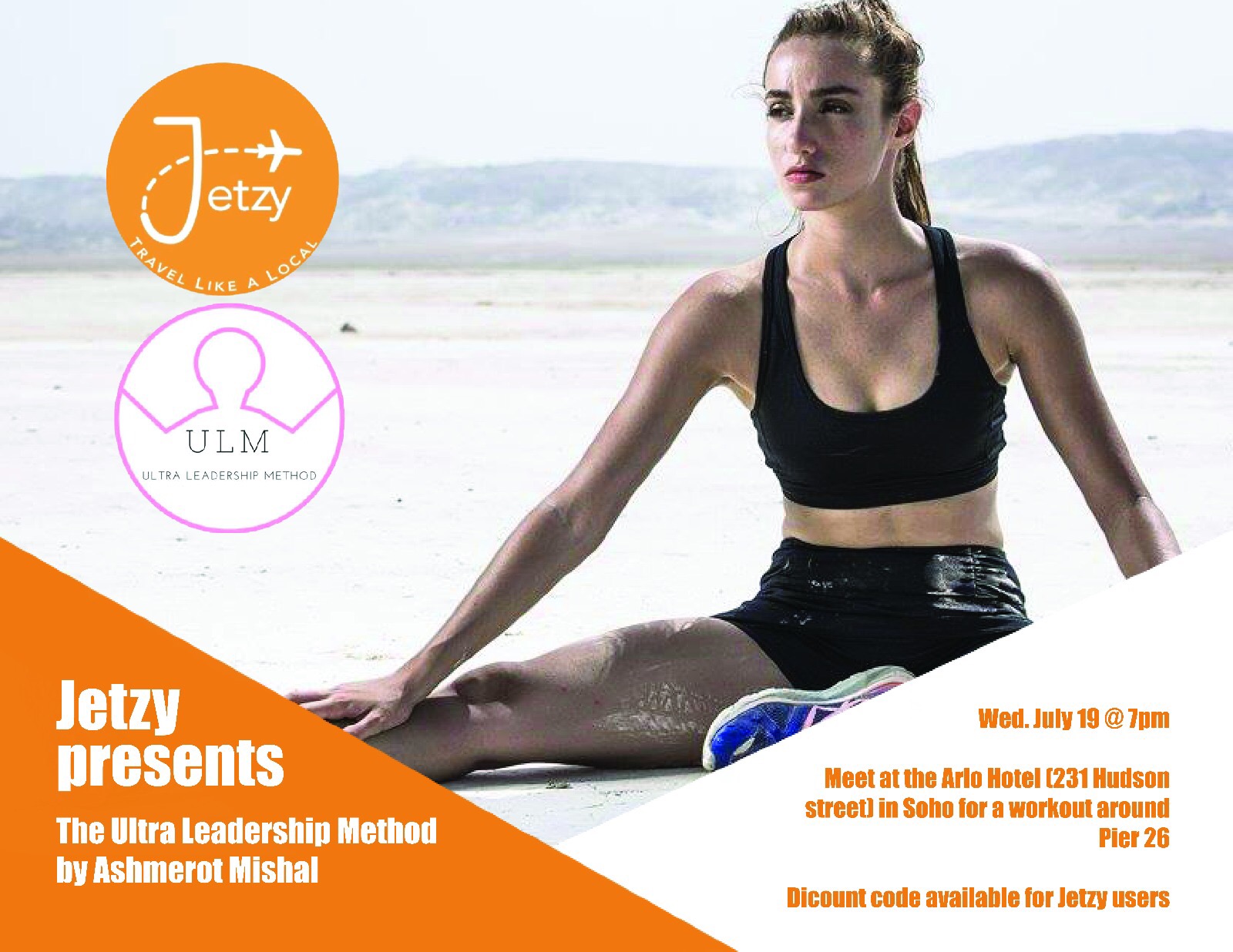 Join the upcoming 90 minute special

Ultra.Training X JETZY

SUMMER outdoor fitness workshop of the 5 Keys to Power Performance,

on Wednesday

- June 19th!
Location : Soho / Hudson River
Times :
7:00 PM - Gathering / opening at the Arlo Soho Hotel (231 Hudson street)
7:15 PM - Running towards the Hudson River & Pier 26, where the workshop will be held.
8:30 PM - After workout networking & drinks at City Vinyard.
⭐️ Download the free ultratraining app to start training the ULTRA WAY!
⭐️ Download the JETZY app to get a special discount of $10.
*Ticket cost for participation is $40.
This includes the coaching paperback "Ultra Success - 12 Steps To Power Performance".
- - -
About JETZY:
Jetzy is a lifestyle social travel app, a network of global jetsetters with celebs, athletes, top business influencers and billionaires etc using the platform (jetzyapp.com). It helps connect like-minded people real time by location globally and provides socially enjoyable as well as business/career networking opportunities. Jetzy is an app but what we're really building is a lifestyle. A global support community of people who like to explore and maintain an active/social lifestyle.
Jetzy has half a million followers in 50+ countries and Jetzy app has been used from 135 countries. Take a look at the links
Jetzy founder Shama has been on the cover of Forbes Entrepreneurs and is widely published. She just met the President of France and was a speaker at one of the largest innovation conferences in the world, held in Paris. Other speakers included Chairman of Alphabet which is the holding company of Google, CEO of Ali Baba, founder of Wikipedia, chairman of LVMH, chairman of GE etc.
Download Jetzy
About the Ultra.Training :
The Ultra.Training is the fitness and endurance branch of the Ultra Leadership Method : The Coaching Technique for Setting Ultra Goals & Achieving Them.
It is being taught and practiced through the proven formula for success of The 12 Steps to Power Performance, created by ultramarathoner champion, former Israeli Defense Force trainer, author, speaker and coach - Ashmoret "Ash" Mishal.
- - -
About This Workshop :
The 5 Keys of The Ultra Leadership Method will guide you to better manage and achieve your goals by practicing practical goals achievement skills through a physical workout of the ultratraining 90 minutes workshop.
Key 1 - Goals Setting:
Setting Specific, measurable and attainable goals. Specifying them by Long,mid and short term targets.
Key 2 - Situation Assessment:
Assessing the current condition and shape, to better understand the gap we need to overcome for achieving the future goal.
Key 3 - Suitable Target:
It is nevertheless a skill to understand which goal - realistic, ideal or stretched - suits our peak performance, and when to use it!
For more Keys and Steps for SUCCESS, visit our website:
Ultra.training/coaching
Or email us at: