Ultra Mirage El Djerid 100K www.ultramirage.com
Description

THE RACE : ABOUT Ultra Mirage El Djerid - UMED100
The Ultra Mirage El Djerid is a single stage 100km trail race taking place every year across the )in the south of Tunisia between the towns of Tozeur and Douz. The 100km distance shall be covered in less than 20hours. Participants will start the race on Saturday 7th October at sun rise in Tozeur and will run through the day (and possibly into the night) to reach the historic town of Douz. There will be 5 checkpoints situated every 15-20km offering water, medical assistance and guidance. The terrain is very flat throughout the full length of the competition with elevations of +50m to -15m, promising a very fast race! The landscape, color and surroundings are exceptional.
Race Prices (Race only)
The price to run the race is EUR 150.00

This is reduced to EUR 130 for a team of 3 or more

Please only proceed with the payment once your space is confirmed by the organizers
Winning Prize
#1 EUR 3,000
#2 EUR 1,500
#3 EUR 500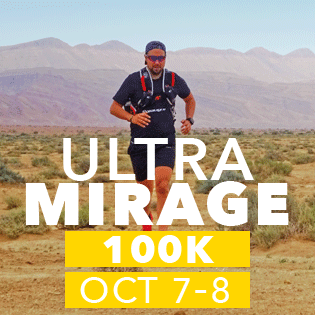 UMED 100 FAQ
Ultra Mirage El Djerid - UMED100

100km race across the largest salt pan of the Sahara Desert - Chott El Jerid

When: 7th October

Where: Tozeur, Tunisia, North Africa

Distance: 100km single stage

Category: trail run

Runners: all runners welcome (16 minimum age)

Timing: 20h max time to finish the race

Check Points: 20k, 15k, 15k, 20k, 15k, finish

Terrain: 10km road , 20km sand, 70km salt pan (approximate)

Weather: expect a dry hot weather with temperature between 22-32C

Essentials: runners expect to carry a limited amount of safety equipments as well as nutrition. Water will be provided at checkpoints

Race backed by : International Association of Ultra Runners, Tunisian Athletics Federation , Association Tunisienne d'Ultra Marathon
THE AREA
With a surface area of some 7,000km2 (2,700 sq miles) Chott El Djerid in the largest salt lake (Endorheic basin) in the Sahara desert, and one of the largest in the world.
The name Chott El Djerid comes from the Arabic for the "lagoon of the land of palms". Studies have shown that the Now completely dry lake used to be connected to the Mediterranean Sea thousands of years ago. Legends state that it was the birth place of Greek Godess Athena.
The area offers some spectacular sights due to the unique nature of the crust and the surface of the lake. According to a team of European scientists, Chott el Djerid is considered to be one of the closest environment to planet Mars!
The location is a major attraction site for tourists and other visitors. It has been used as the background of numerous movies including Star Wars.
LOGISTICS
Friday 06th October
Runners expected to be at Tunis Carthage Airport on Friday 06th October at 11.00am
Board internal TunisAir Flight TUN / TOZ at 13.10
Land at Tozeur International Airport at 14.15
Ground Transport to Hotel - Check in for 2 nights on half board
Dinner & Race Briefing by organizers starts at 6pm
Saturday 07th October
Breakfast served from 5:30am-6:30am
Walk to Start line in Tozeur from 6:30am
7:00am Race starts
Sunday 08th October
Ground transport from Finish line to Hotel
Lunch & Prize giving at 12.00pm
13.30 departure to Tozeur Airport
Board Internal TunisAir Flight TOZ / TUN at 15.10
Land at Tunis-Carthage Airport at 17.15
Please check if you require a Visa to enter Tunisia.
Our Travel Agent will be happy to assist you.
Tunisia is Visa Free for most European countries.
You are encouraged to take your own travel insurance at your country of origin for the event of a medical emergency.
Medical staff will be happy to assist you at Check Points.
Runners wishing to spend more time in Tunisia before or after the race are very welcome to do so and have our Exclusive Travel Agent cater you full Tunisia experience (please refer to the contact list)
The Organizers are able to change the course and distance of the race in case of extreme cases including (but not limited to) sever weather conditions.
WARNING: The Ultra Mirage El Djerid 100km is a very high intensity race which will put a sever strains to your body.
All runners need to be fit and well prepared for such an event.
FAQs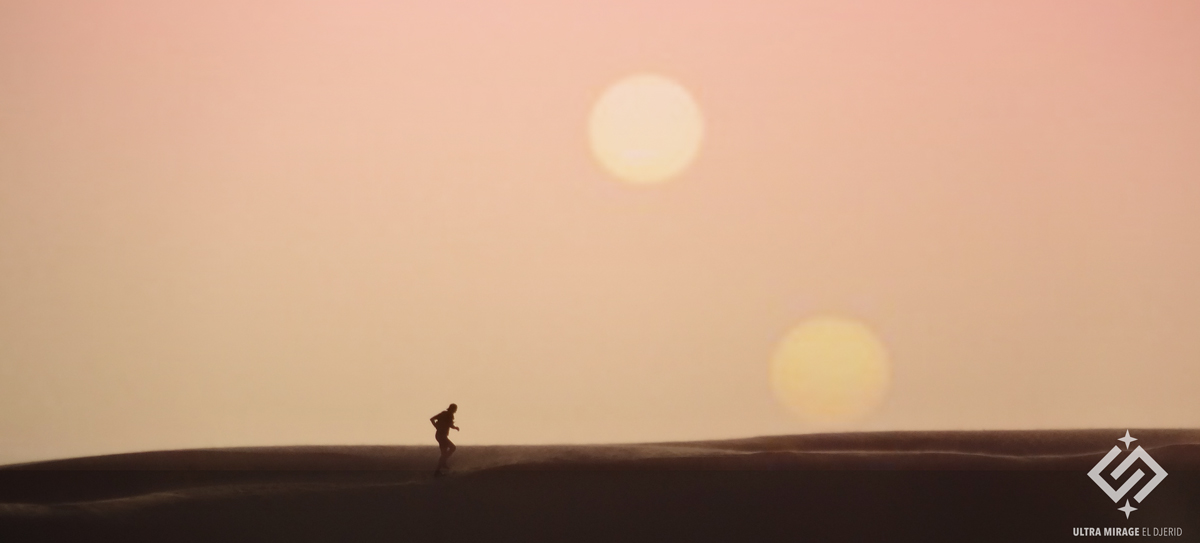 How can I contact the organizer with any questions?
Race Organiser Ultra Mirage Sports International Ltd, Beaumont House, Kingswood Warren Park, Woodland Way, Surrey KT20 6AD. United Kingdom,
Contact Mr Amir Ben-Gacem amirbengacem@yahoo.co.uk
+44 77 4 89 62 89 4
How can I contact the Tunisian Team with any questions?
Agence Hapax, 2 rue Abdelwahab Allouche 2083, El Ghazela, Ariana, Tunisia
Contact Raya Ben Guiza Verniers +21623405069 raya@agence-hapax.com
Contact Gérald Verniers gerald@agence-hapax.com
Contact Adel Beznine, local race coordinator +216 20 250 000