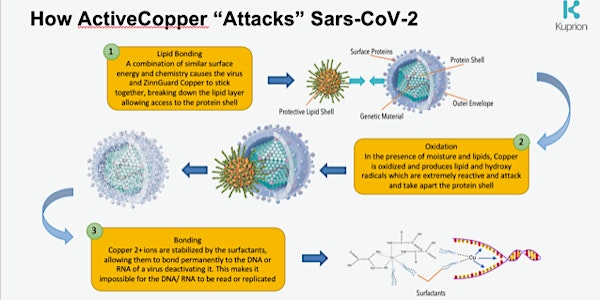 Ultra-Active Antimicrobial Copper Surfaces Self-Sterilizing in 30-60 second
Ultra-Active Antimicrobial Copper Surfaces Self-Sterilizing in 30-60 sec Engineered Copper at the Nanoscale by Alfred Zinn, CTO Kuprion
About this event
The coronavirus disease 2019 (COVID-19) has created an acute worldwide demand for sustained broadband pathogen suppression in households, hospitals, and public spaces. The US recently passed a new sad milestone of 500,000 deaths due to COVID-19, the highest rate anywhere in the world. In response, we have created a rapid-acting, self-sterilizing copper material capable of killing SARS-CoV-2 and many other microbes in seconds. The highly active material destroys pathogens faster than any conventional copper configuration. The material maintains its antimicrobial efficacy over weeks and is shelf stable. We have performed rigorous testing in accordance with guidelines from U.S. governing authorities and believe that the material could offer broad spectrum, non-selective defense against most microbes via integration into masks and other protective equipment. The presentation will provide a detailed view into the "inner" workings of the material including the underlying mechanical details that make this high efficacy possible.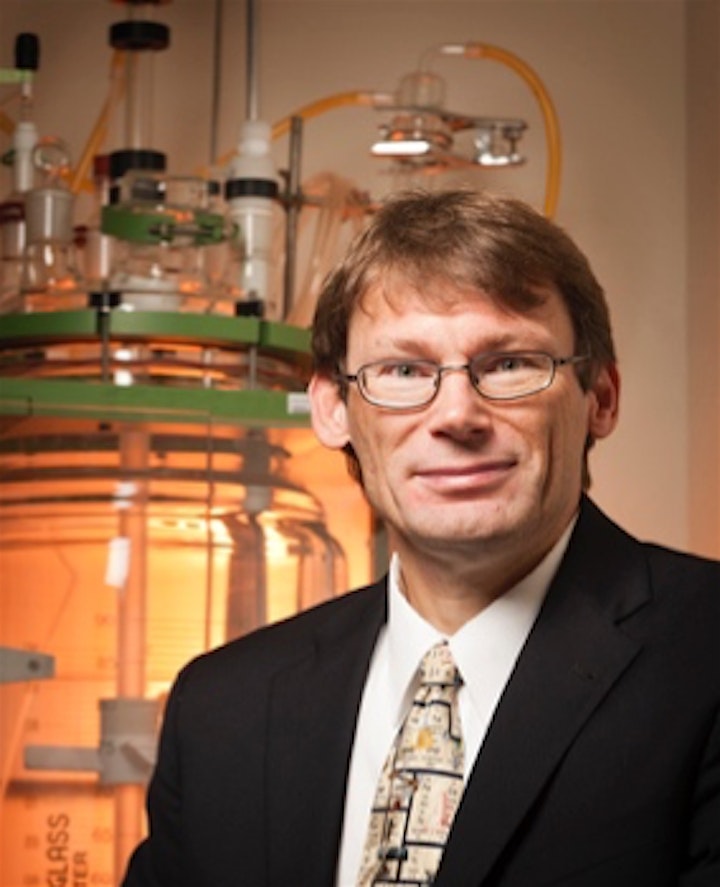 Alfred Zinn is founder and CTO of Kuprion Inc., a materials company principally engaged in the manufacture and application of engineered copper materials for a wide variety of applications such as surface mount technology, packaging, printed circuit board assembly, printed electronics, 3D printing, injection molding and many thermal applications with special focus on copper-based nanomaterials. The latter are fused to bulk copper to take advantage of the low processing temperatures, and the high electrical and thermal conductivity of bulk copper. Since the onset of the Covid-19 pandemic, Dr. Zinn and the Kuprion team have been investigating ActiveCopper (aCu) as a powerful antimicrobial. aCu has been successfully tested against Gram-negative and positive bacteria, non/enveloped viruses including SARS-CoV-2, and multiple resistant strains of bacteria ("superbugs"). In all instances it kills pathogens in 1 minutes or less, which is an unprecedented level of efficacy for copper. With these extraordinary findings, Dr. Zinn has submitted the material for EPA registration for incorporation into PPE such as masks, gloves, and surface coatings.
Prior to his current position, Dr. Zinn was a Lockheed Martin Fellow at the Advanced Technology Center (ATC) of the Lockheed Martin Space System Company, in Palo Alto, CA. In this role, Alfred was responsible for the development of nanostructured functional materials (optical, thermal, nano/micro-magnetics), smart materials, high-temperature materials systems, device physics modeling, quantum/superlattice structures and devices, and high-performance energy conversion devices (solar, high & low-quality heat conversion). His role included identifying profitable adjacencies and licensing opportunities for new technologies and help bring them to market. In addition, he mentored young emerging talent to strengthen the department's work force and diversity.
Alfred currently holds over 40 patents in materials, structures and processing technologies and THz technology (full list available upon request), with multiple international filings (Europe, India, China, South Korea, Taiwan, Singapore) and a number of additional patents pending as well as four trade secrets and four trademarks (CuantumFuseTM, ZinnGuardTM, ActiveCopperTM, KuprionTM). He has authored or coauthored over 30 archival journal publications, including book chapters in "The Chemistry of Metal CVD" as well as the "Encyclopedia of Inorganic Chemistry." Over the past two decades, he has presented his technical results and accomplishments at many national and international Conferences.
Prior to this, Alfred was a member of the pioneering ESA Startiger project, where he helped develop a compact (desktop-size) real-time THz imager and supported a field emitter development effort as a materials and processing consultant. Before that, he held positions at the Ultramet Corp. in Pacoima, CA, where he worked on multiple SBIR programs focused on high-temperature, corrosion-resistant materials and systems (ceramic foams and composites) and was a senior scientist in the Materials and Process Department at the Boeing Corporation in Huntington Beach, CA; his work there involved development of shuttle tile thermal protection system (TPS) technologies, which resulted in two NASA Tech Brief awards and two patents.
Alfred received his Doctor of Science degree in Chemistry in 1990 from the Philipps University, Marburg, Germany. Following completion of his graduate studies, Dr. Zinn spent five years at UCLA as a postdoctoral scholar and lecturer. During that time, he conducted postdoctoral research on low-temperature CVD precursor development for interconnect, diffusion, and migration barrier deposition, as well as single- and mixed phase magnetic nanomaterials synthesis.
Agenda
Check-in and Nano Journal Club : 11:30 AM - 12:00 Noon
Introduction and Announcements : 12 Noon - 12:10 PM
Seminar by Alfred Zinn : 12:10 PM - 1:00 PM
New! 11:30 AM - 12:00 Noon - Nano Journal Club will host a discussion on a paper titled 'A materials-science perspective on tackling COVID-19' (https://www.nature.com/articles/s41578-020-00247-y)