Ultimate Wealth Camp Digital Marketing/Influencer Partnerships Event -Vegas
Ultimate Wealth Camp Las Vegas
When and where
Location
Flamingo Hilton Hotel 3355 S. Las Vegas Blvd Las Vegas, NV 89109
About this event
1 day 23 hours

Mobile eTicket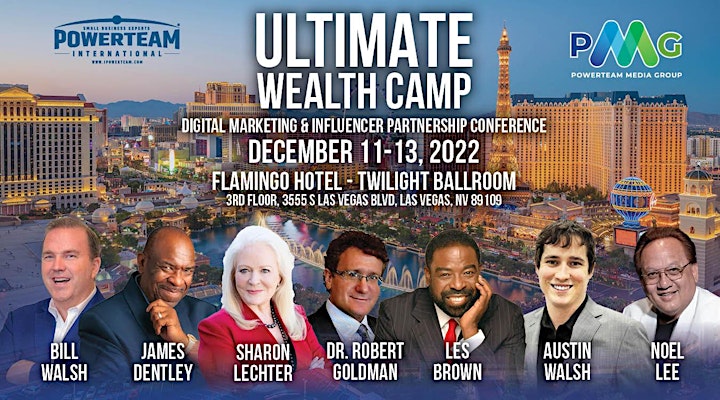 Come & Learn How to Make More Money with Digital Marketing & Influencer Partnerships!
Discover the Magic of having Power Partners.
Are you frustrated at seeing your competitors succeed at the "online thing", but failing to produce similar results?
Are you serious about growing your business, but not sure what to do?
It's time to let the experts show you exactly how you can use Internet marketing strategies to grow your business at our sell-out event,
The Ultimate Wealth Camp.
We have put together an amazing lineup of speakers for you, who will show you strategies you can implement in your business right away.The Ultimate Wealth Camp kicks off with our amazing Mega Wealth/Holiday Party where you can mingle with successful and brilliant entrepreneurs and build relationships with people who can take your business to the next level. The room is full of leaders, business owners and wealthy individuals just like you, with whom you can connect and build strategic partnerships.
The party is followed by two full days of our intense Ultimate Wealth Camp Sessions - this is an interactive learning environment, where we bring you expert speakers and leaders - plus some of our best partners and customers - to teach you high-level strategies you can immediately implement in your business.
You'll have the opportunity to pitch your concepts and ideas to some of the best marketers on the planet. Think about it; the people who have done what you're trying to do will be at your fingertips to give you step-by-step strategies. Just one nugget of information can skyrocket your business growth.
Come learn how you can substantially impact your financial future by connecting with mega successful entrepreneurs and learning how to make money on the internet through the power of priceless marketing partnerships! You will learn about new ways to make money as well as be able to share your great ideas with some of the top marketers in the world! Now it is up to you to take action and take control of your success plan.
If You are ready to be one of the lucky few who take advantage of this rare opportunity, register and plan to be in Las Vegas  for the Ultimate Wealth Camp
VIP KEYNOTES JUST ADDED:
Mr. Les Brown
World's Leading Motivational Speaker
As one of the world's most renowned motivational speakers, Les Brown is a dynamic personality and highly-sought-after resource in business and professional circles for Fortune 500 CEOs, small business owners, non-profit and community leaders from all sectors of society looking to expand opportunity.
______________________________
Sharon Lechter
Sharon L. Lechter is an American accountant, author, and businesswoman. She is the co-author of Rich Dad Poor Dad, and the founder and CEO of Pay Your Family First, a financial education organization.
- Best Selling Author of Think & Grow Rich for Women
- Outstanding Visionary & Leader
- Global Coach & Mentor
- Great Friend of Bill Walsh
______________________________
DR. ROBERT GOLDMAN
Dr. Robert Goldman is the physician co-founder and Chairman of the Board of the American Academy of Anti-Aging Medicine and Chairman of the World Anti-Aging Academy of Medicine. Dr. Goldman is the 2013 recipient of the Dwight David Eisenhower Fitness Award, bestowed for outstanding individual or cumulative achievement in fitness and contributions to the growth and development of sports fitness through outstanding leadership activity.
Professional Highlights
Co-Founder and Chairman of the Board, American Academy of Anti-Aging Medicine
Chairman, World Anti-Aging Academy of Medicine
Chairman, International Medical Commission
President Emeritus, National Academy of Sports Medicine
Founder, International Sports Hall of Fame
___________________________
Mr. James Dentley
CEO/FOUNDER OF JD3TV
James Dentley is an entrepreneur, best-selling author of The 5 Frequencies of High performance, philanthropist and one of the nation's top Life and Business Strategist. As one of the world's most renowned motivational speakers, James Dentley is a dynamic personality and highly sought after resource in business and professional circles for Fortune 500 CEOs, small business owners, non-profit and community leaders from all sectors of society looking to expand opportunity. He is also an annual 7 figure earner in the MLM industryand has trained over 80 people to do the same.
_____________________________
Austin Walsh
Digital Marketing Expert/Mobile Funnels
Austin Walsh is a successful Internet Marketer in Chicago. He has been a successful entrepreneur and has been speaking for over 10 years at events all over the world on internet marketing & facebook marketing. At his workshop you will learn some great ideas about the key drivers required to create success in the confusing world of internet marketing. He joined as a speaker on the circuit, but didn't forget about his Facebook vast experience as a teenager and soon started a business in marketing online in 2010. Today he is passionate about the possibilities and future of marketing online using Facebook. You will love his direct style and his ability to break down the success or failure of any website when it comes to generating leads & customers.
________________________________
Noel Lee
Noel Lee is an American engineer, inventor, and businessman. He is the founder and CEO of Monster Inc. Lee graduated from California Polytechnic State University with a bachelor's degree in mechanical engineering and subsequently did work in laser fusion for the Lawrence Livermore National Laboratory.
__________________________
Bill Walsh
Bill Walsh® is the CEO/Founder of Business Coaching/Venture Capital firm Powerteam International. Bill hosts and speaks at events all over the world! His passion is to empower entrepreneurs and business owners to create massive success. He loves to help people to understand specifically what it takes to build successful companies. He is an accomplished author, speaker, radio personality and movie celebrity, He has a very successful background in finance and marketing. He has spent two decades working with start-ups to major global brands increasing sales, productivity and overall success. He is an innovator with a remarkable ability to determine and dictate success strategy to seize global market opportunities.
MEET SOME OF OUR FEATURED
Speakers & VIP Panelists