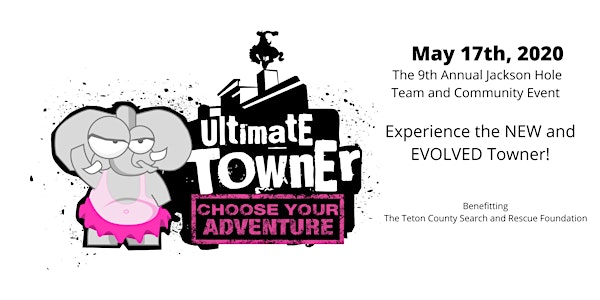 Ultimate Towner - Choose Your Own Adventure - Jackson, WY • Sunday May 17,...
Event Information
Location
Phil Baux Park
Snow King Ave
Jackson, WY 83001
Description
TOWNERS!
Get ready for the NEW and EVOLVED 9th Annual Jackson Hole Ultimate Towner!
Sunday, May 17th, 2020 - 1:00 PM - 5:00 PM
Choose Your Adventure and create your own course. Complete as many checkpoints as possible over a 2 hour period. Visit www.ultimatetowner.com to see what's NEW this year.
Winter Discounted Registration is open for a limited time, with Adults only $49 (33% off!) and Kids 12 and under and Seniors only $29!
The 2020 Event Beneficiary is the Teton County Search and Rescue Foundation. Please add an additional donation when you register 100% of which will go directly to them. We are suggesting a $10 per registered participant donation.
Additional Registration Details
If you are registering for multiple people, please include separate emails for each registered participant!
You can create a team at any time and invite friends to join your team.
You can register as an individual now, and join or create a team later.
All ages welcome, Children 12 and under register with a separate ticket AND and be accompanied by a registered adult.
If you have any questions about the registration process please call Eventbrite Customer Service number at +1 877-297-6805 which is available 24 hours a day.
FAQs
What's Included?
The Ultimate Towner Choose Your Adventure Team and Community Building Experience! PRICELESS!
A 5% automatic direct cash donation to our event beneficiary, Teton County Search and Rescue Foundation, from your entry fee which is then matched via Old Bills and the JH Community Foundation. We DO encourage additional direct donations upon registering of $10 per person.
An Event T-Shirt (while supplies last for most attendees who register three weeks prior to the event.)
Event prizes from sponsors! Check out the website for sponsor prize updates
How do we know where to go?
Your team will receive preliminary course information a week before the event to strategize your approach (if you choose!). Your team will download a smartphone event app that will have location checkpoints and on the go challenges (done anywhere) integrated into the Towner course. This app will have all the checkpoints and challenges and integrated gps navigation.
How do you "win?"
Teams acquire points by submitting text, photos, and videos to your downloaded smartphone event app to complete checkpoint challenges.
How many people are on a team?
We recommend two to six participants per team. Teams stay together during the event completing checkpoints as one team.
When will we see the final course layout?
Final course updates will be released the week prior to the event to those registered. This will allow your team to strategize on the navigation of your course checkpoints.
Is there an age limit to enter the event?
This is an ALL AGES EVENT, and Children 12 and under must register and be accompanied by a registered, paying adult.
What can/can't I bring to the event?
Please, no dogs (other than service animals) on the course.
Can I Ride Bikes?
Bicycles, skateboards and non-motorized vehicles are allowed. Be sure to follow all the Rules of the Road!
What is the approximate event timeline?
12:00 PM

Day-of Registration Open at Phil Baux Park with Event Music

12:30 PM Team warm-ups & start GETTING PSYCHED!

1:00 PM Official Opening Ceremonies with course briefing for the NEW Choose Your Adventure format, including a course safety briefing and important information about your Ultimate Experience.

1:20 PM All Participant ULTIMATE ELEVATION Warm-Up

1:30 PM Game On! All Towners Begin on Course

3:30 PM Arrive at the Finish Line (Snow King Hotel) for food, beverage, networking and closing ceremonies

4:30 PM Prizes, awards and amazing event video!
5:00 PMDepartures and course breakdown volunteer support (6-8 pm)
Is my ticket refundable?

All tickets are non-refundable, this is a fundraising event. You can transfer your ticket to another person by calling Eventbrite Registration.

Where can I contact the organizer with any questions?
If you have any questions about the registration process please call Eventbrite Customer Service number at +1 877-297-6805 which is available 24 hours a day.
Event-specific questions, sponsorship, volunteering or how to be more involved contact Grand Dynamics at info@granddynamics.com.
Find All Event Information at www.ultimatetowner.com
THE ULTIMATE TOWNER WILL BE HELD RAIN OR SHINE!!!
Date and time
Location
Phil Baux Park
Snow King Ave
Jackson, WY 83001