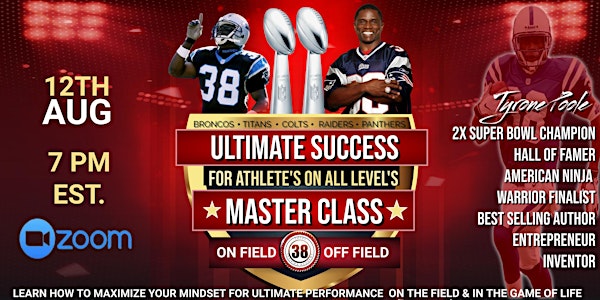 Ultimate S.U.C.C.E.S.S. For Athlete's Master Class
Learn the 7 ULTIMATE S.U.C.C.E.S.S. steps needed to WIN in the game of life on and off the field!
About this event
Join 2X Super Bowl Champion, American Ninja Warrior finalist, top transformational speaker, best selling Author, humanitarian and CEO of Work That Thing Supplements, Tyrone Poole -LIVE on Zoom, Friday August 12th @ 7:00 PM EST. I 6:00 PM CST. I 4:00 PST.
At this event, Tyrone will teach Athlete's on all level's, 7 proven MINDSET principles to "WORK THAT THING" & WIN in the game of football and in life that he applied and achieved ULTIMATE SUCCESS in by becoming the first ever 1st round draft selection, 22nd pick in the 1995 draft, 1st ever defensive selection in Carolina Panther's history, a 12 year starter and to date is still living an athlete's lifestyle in mind and body.
***In this Platinum Athlete's Master Class, you will learn:
*How to know your SYSTEM and apply the right FORMULA & "WORK THAT THING" on the field and in the game of life.
* How to take your mindset and game performance to the ultimate level of it's capacity.
*Learn proven tips of the trade that when applied will yield you:
*Scholarships
*Drafting
*Starter spot on the team
The SUCCESS ACRONYM Formula and how to apply it to the game & every area of your life.
-SACRIFICE
-UNDERSTANDING
-CONFIRMATION
-COMMITMENT
-EFFICIENCY
-STABILITY
-SPIRIT
Tyrone's powerful story of growing up in a small town with poverty stricken beginnings to beating the odds stacked against him through having the mindset of a champion will transform your life and show you how a principle driven life will breed change for anyone who works that thing & applies it both on the field and off. It's time for you to tap into the WINNER within and live a CHAMPIONS Life.
ABOUT TYRONE POOLE:
Tyrone Poole is a former NFL (National Football League) 14 years veteran, 2X Super Bowl Champion, Author, Inventor, Founder, Speaker and TV Personality. He has presented to some of the world's most effective leaders and up and coming young athlete's. He is the best selling author of "ULTIMATE SUCCESS IN THE GAME OF LIFE" for those looking for ultimate success instead of average success.
Tyrone is now seen as the go-to TRANSFORMATIONAL keynote speaker for young athletes, corporate and association markets that want their to improve their mindsert, morale, teamwork and communication and ultimately achieve more results. His messages are full of inspiration, knowledge and humor and principle driven application.
***Register today and transform your life and performance skills to achieve ULTIMATE SUCCESS!