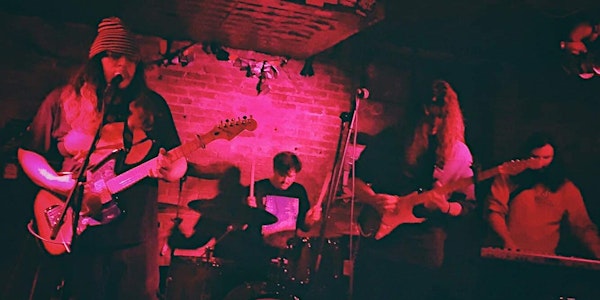 Performers
Ultimate Overshare
Rex Pax, Geoff Simons, pulses.
Location
DC9 Nightclub
1940 9th St NW
Washington, DC 20001
with Rex Pax, Geoff Simons, pulses.
About this event
10:15PM - Ultimate Overshare
9:30PM - Rex Pax
8:45PM - Geoff Simons
8:00PM - pulses.
Ultimate Overshare

Rex Pax

Geoff Simons

pulses.

WEBSITE | FACEBOOK | INSTAGRAM | TWITTER | SPOTIFY | BANDCAMP | SOUNDCLOUD

pulses., from Virginia, is a fresh offering of progressive post-hardcore. From humble beginnings in their debut album bouquet in 2017, the band has a clear-cut unique sound that sets them apart. Characterized by memorable genre-staple callouts and a passion for their craft, the four-piece has won the hearts of listeners in their short tenure. One could expect to hear pulses. in the shuffle of such bands as Happy Hour, Dwellings, and good friends I Met a Yeti.

This group got their start with the LP bouquet. in 2017, before gearing up for 2020's Speak It Into Existence. The latter record recruited such guest vocalists as longtime band friend Sierra Binondo of With Sails Ahead, Gavin Cole, and emo legend Max Bemis of Say Anything. Speak It Into Existence is chock full of quirky guitar runs, funky riffs, and a sense that the record is a passion project produced to perfection to bring the band's ideas to life. pulses. then crafted the EP Speak Less, showcasing the heavier side of their songwriting with short, succinct wallops reminiscent of The Fall of Troy. It was this niche EP that the group themselves fell in love with and emphatically performed on large stages as soon as live performances came back in 2021. Keep your eyes on pulses. as the perfect exhibition of four friends creating unconventional tunes to a dedicated audience.