Actions and Detail Panel
Ultimate Orgasm for your Senses
Thu, Apr 27, 2017, 12:00 PM – Mon, May 1, 2017, 2:00 PM Indochina Time Thailand Time
Event Information
Location
Ko Pha Ngan
Tong Nai Pan Noi
Koh Phangan, จ.สุราษฎร์ธานี 84280
Thailand
Description
---
ULTIMATE ORGASM FOR YOUR SENSES RETREAT
Recharge your body, heart,mind and soul
---
HEY, ARE YOU HAPPY?
Are you happy, no matter what your boss says to you?
Are you happy, no matter whether your spouse listens to you?
Are you happy, for just being you?
Let me ask you a question, who do you want to change if you have a chance?
Your spouse? Your boss? Your colleague? You kids? Your friends? Or, yourself?
And when was the last time, that you were the authentic, happy you, despite all the imperfections of life?
Do you miss the person that was happy, care free, attractive and successful?
Do you want to be the person, that always smile through life?
When was the last time that you stopped rushing anywhere and looked at the blue sky?
When was the last time that you smelled the fresh air?
When was the last time that you felt the veins on a leaf?
When was the last time that you listened to the rhythm of the rain?
When was the last time that you took time to appreciate the explosion of flavors on your tongue?
When was the last time that you felt, yourself? Your fear, your pain, your deepest desire?
When was the last time that you looked at somebody in the eyes and told them how you truly feel?
When was the last time that you felt truly and deeply connected to the person you love?
When was the last time that you were happy, care-free, being in the present and just being youself?
CAN YOU REMEMBER?
Or are you doing all this, with a million other thoughts running on the back of your head?
---
HERE WITH US,
You will have the chance to truly connect with all your feelings, with the peace of mind
One, and only one thing, at a time
You will have a safe environment to open up, to be vulnerable, to be true to yourself, to share your love, fear, pain and deepest desires

You will be able to let go of your baggages

We heal our wounds together

You will know how to be attractive, just by being the authentic, imperfect you
We all know that life is not always rosy. We all heard that happiness is from within.
How to be happy when life is not as rosy as we expect?
COME WITH US,YOU WILL KNOW!


---
ULTIMATE ORGASM FOR YOUR SENSES is an ACTIVATION for your senses- smell, sight, hearing, touch and taste.
---
Let's dive into a journey
TAKE A DEEP BREATH...
JUST IMAGINE waking up on a quiet, predawn morning, stepping out, for an alone moment before the day begins. The silent stillness around you is filled with possibility. Breathing the fresh air from the sea, you see the first glimmers of morning light as the sun rises over the blue ocean, listen to the waves crushing the shore, taste the sweet juicy papaya just off the tree, feel the peace within you.
TAKING ANOTHER FULL BREATH, you draw in the peace and space all around you while allowing the present moment to pull you into even deeper imaginings about the retreat ahead.
IMAGINE YOURSELF marveling at brilliant blue skies, breathe-taking sunsets and endless turquoise ocean. You can't stop smiling as you watch yourself enjoying the kindness of authentic Thai culture while soaking up the inherent sacred lightheartedness of this island.
YOU EVEN SEE yourself participating in daily yoga, meditation and inner and outer explorations. And finally, you feel yourself sinking into a space of such deep authenticity that you begin to embody the true connection with the world and profound healing energy of this transformative oasis itself.
It is time to recharge and rejuvenate your senses with the connection of Mother Nature, a feast of healthy delicious food, daily Yoga practice and activities for your soul.
It is a WHOLISTIC experience


SUDDENLY YOU PINCH YOURSELF AND REALIZE...
You are on one of the most picturesque and magical places on earth! A place of relaxation and deep transformation.
Transformation, you ask?

---


YES!
---
We will take you on a life-changing journey to reconnect you with your Body, Mind, Heart and Soul. This is where you will meet yourself.
IT IS NOT ABOUT PERFECTION OR FIXING SOMETHING, BECAUSE YOU ARE NOT BROKEN. YOU ARE WONDERFUL AS YOU ARE.
We just help you to reactivate your senses for a deeper feeling of wholeness
"You lack a foot to travel? Then journey into yourself - that leads to transformation of dust into pure gold." (Rumi)
We will journey with you to the pure gold destination. Over the 4 magical nights and five days you experience a sense of lightness of heart that you never have before. Unadulterated fun and deep connection are the focus so that you can let go and be truly free.
You're able to let go and totally immerse yourself in the beauty of nature, mouth-watering food and fascinating culture of the tropical island and take this dedicated self-discovery time - through yoga, meditation, sharing and healing. You will go back home refreshed and empowered, with the peace of mind that you have been always longing for.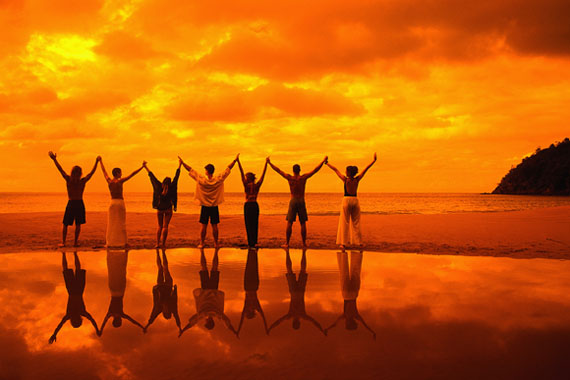 ---
How will you leave the retreat..
After 5 days on Koh Phangan, you'll leave rejuvenated, empowered, openhearted and care-free. Filled with the passion the island has ignited in your soul and ready to live your life full power!
---
THIS RETREAT IS FOR YOU IF YOU ARE A...
Leader and Doer - You're ambitious, have a very full life, have many demands and like to get things done, always doing too much - making it tough to slow down and stay in the moment.
Planner and Type A - Always have to-do lists, like to be in control and have difficulty letting go.
​Giver - Who always give to those we love - work, careers, family, responsibilities.
​Questioner - You know who you are! You're at a cross-roads in your life, and you're READY for some YOU time, and are READY for a change in your life.
---
You deserve to be surrounded by the water, beauty, and like-minded friends on this amazing island and reconnect fully with the most important person you know…YOU!!!
---
I DESERVE IT


---
LOCATION
Koh Phangan- the crystal island
Koh Phangan is magical. Why? Koh Phangan sitting on Rose Quartz, the energy of love, that's why this magical energy full of love is here. You will feel it.
This sacred spiritual island offers picturesque landscapes surrounded by mountains, coconut trees, turquoise ocean, stunning white beaches, waterfalls, beautiful flora and fauna, traditional temples, simple and loving people, a free and liberated atmosphere and the feeling of being in the present moment.
There are unique diving and snorkeling sites, great authentic Thai cuisine, a range of night time venues, beautiful nature trails and spectacular sunset.
You want to escape the hustle and bustle of the city and inhale the beauty of life? Koh Phangan is the perfect place for a transformational experience.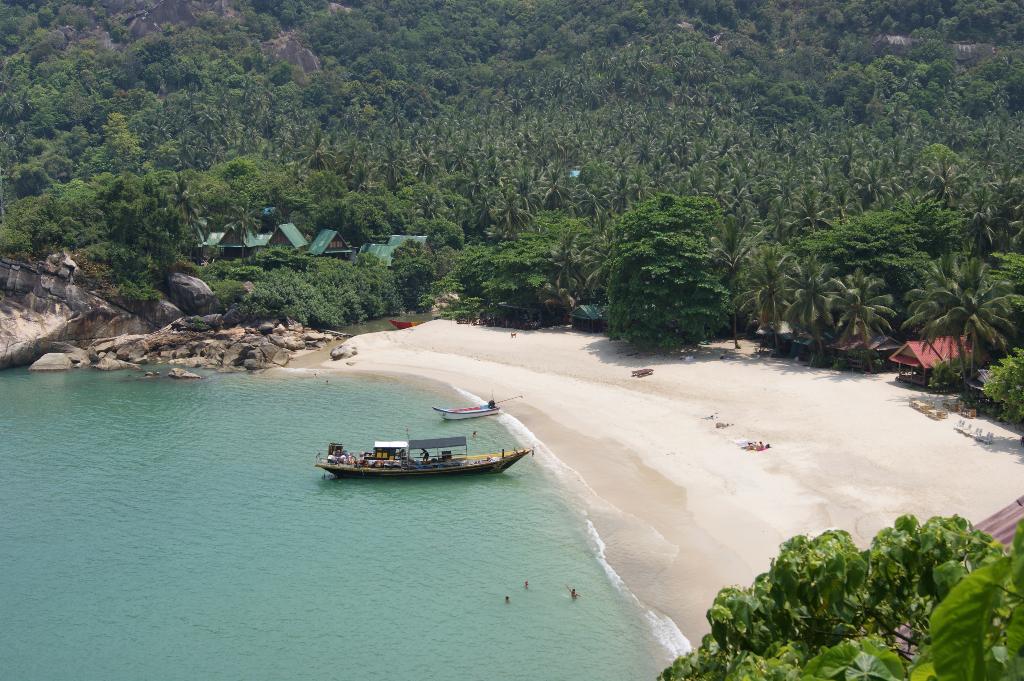 ---


VENUE
We'll spend four luxury nights on the east side of the island, where the time seems to slow down and the nature is still untouches, so calm and peaceful.
The villas are located on the hillside overlooking Ton Nai Pan beaches and mountain ranges.
The amazing infinity pool has 180 degree breathtaking ocean view. The most magnificent sunrise of the whole island you will experience here.
This is the place where you can rest your spirit and just live.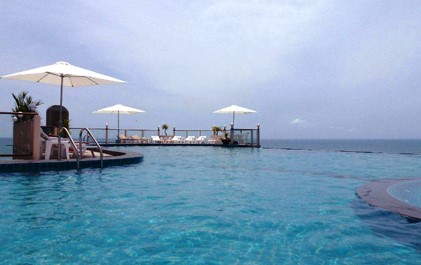 ---


THE CUISINE
Thai cuisine is a sensory high artform combining taste, sense and vision. The essentials in Thai cooking are intricacy attention to detail, texture, color, taste and the use of ingredients with medicinal benefits, as well as excellent flavour. Thai cuisine is a celebration of the fresh and fragrant.
Thai food is simply delicious – no matter you are vegetarian or meat lover.
Imagine you can eat whatever you want, without regrets. A healthy and delicious feast of the freshest excotic fruits just off the tree, greens cooked full of flavour, fresh fish from the ocean with a nice glass of vino in your hands and guilt-free desserts.
IT IS A TRUE RETREAT!
We will surprise you with amazing food you never tried before and activate your tastebuds with an explosion of flavors.
If you specific diet requirements – no worries – we are happy to accommodate any of your food preferences.
We'll have time out on the town to experience the fresh and fragrant local fare. You can try something at the open air local market at Tongsala. Nancy would also like to introduce you to a couple of her favorite restaurants. Oh dear…..I hope you plan on doing a lot of walking around town and nature to burn off the calories. :-)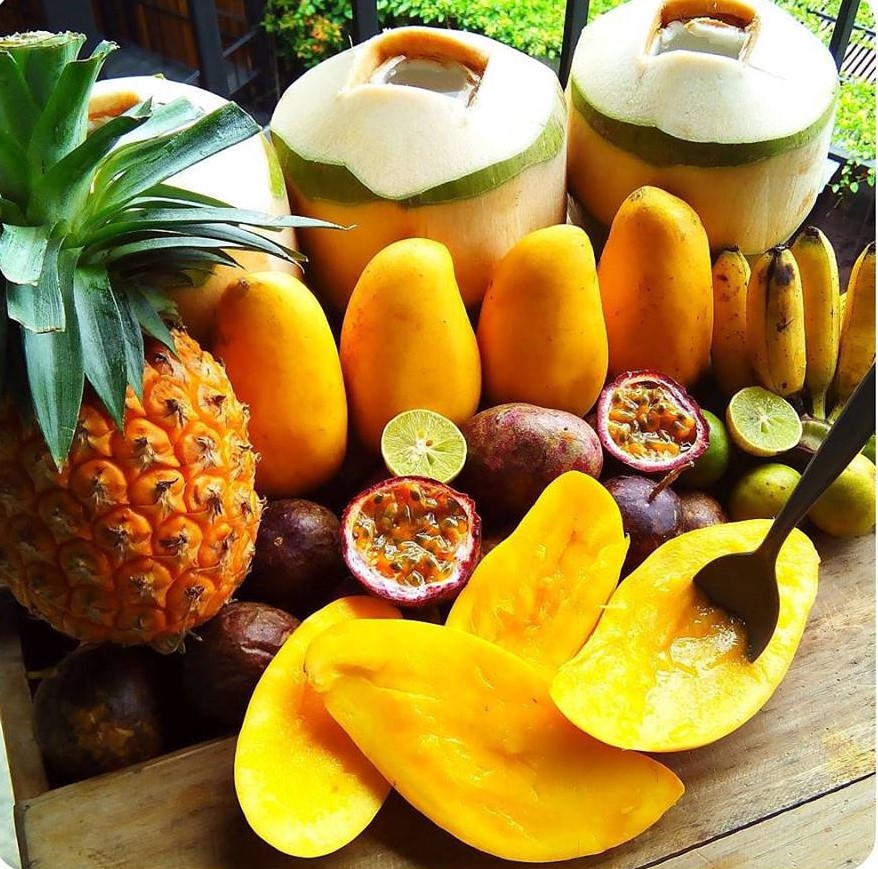 ---
The Yoga
"YOGA is the journey of the self, through the self, to the self" (Bhagavad Gita)
Nancy's Yoga classes are delighted from the spirit of Yoga. She loves to guide her students through the class with mindfulness and connection to the breath. She wants her students to step off the mat energized and ready for the day with a positive mindset, intention for the day and gratitude. Her teachings are a gentle Hatha flow from the heart with a strong focused on grounding, attention to the after effect of each asana and connecting to the true self.
Hatha Yoga is a path toward creating balance and uniting opposites with a system of physical postures and breathing. In our physical bodies we develop a balance of strength and flexibility, but we also learn to balance our effort and relax in each pose.
When you relax, you perform.
You will leave the retreat with this trick to calm and relax yourself, even if you are in the middle of chaos
If you are a beginner - no worries! Classes are fulfilling for beginners and teachers alike.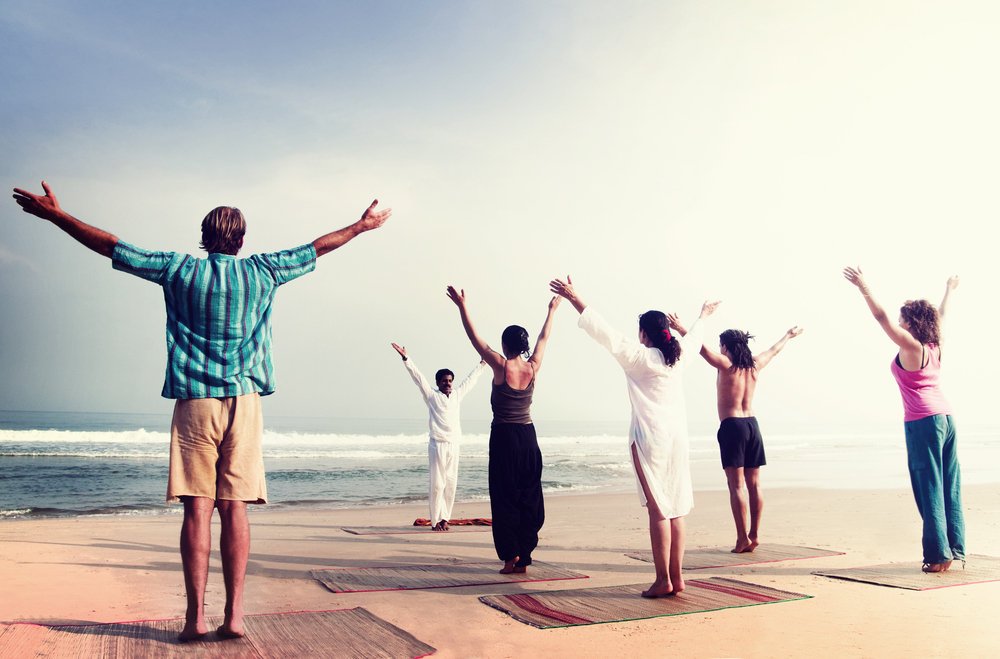 ---
This is exactly what I need!
---


The Itinerary
Each day is well planned for you...to really experience it fully with all of your senses. Weaving in the perfect blend of yoga, activities and free time for self exploration and bonding with your new friends. You have a general idea of what to expect but we'll surprise you with more delights along the way.
Oh dear here some ideas of what you can expect:
Abundance of Nature, Magic Waterfalls, Ecstatic Dance, Live Music, Fire Ceremony, Life Celebration, Delightful Yoga, Inside Meditation, Inspirational Exercises, Sound Healing, Spontaneous Adventures and more.
Wow...so exciting.
Here is what a typical day looks like:
Daily Yoga and Meditation or a longer workshop type class

Daily Breakfast

Included group activity

Free exploration time

Dinner
---


The Experience
So what can you expect if you spend 5 delightful days (and 4 nights) enjoying yourself on an exquisitely adventure to the crystal island Koh Phangan?
Well, what if you got insanely relaxed, refreshed and having an amazing life-changing retreat and coming home heart opened reconnected to your soul?
And what would it mean to you to experience something you never allow yourself to touch deep within you, letting things go you carrying for years on your shoulder and feeling more light and free to be the best version of yourself?
Inhaling Mother Nature's healing power and experience the realm of heaven on earth more consistently and vividly with activating your spiritual senses.
1. Living with an open heart - Imagine leaving with greater sense of who you are and that you're ready and inspired to go back into the world with new found passion for your life with an open heart.
2. Tools to keep you happy and calm after the trip - The entire time is structured around heart-opening with journaling, reflection and sharing time to give you the space to be able to reflect on your intentions. We will create a sacred healing circle for women and men separately to fully express whatever they want. We give you tools to create goals or ways of being once you leave the retreat in your daily life.You'll return home knowing what it feels like to really be connected, open hearted, and free!
3. Activation of your senses- to experience life in full. To be the authentic you. To be attractive and happy despite all the imperfections.
Let me give you an example for opening your senses...
The retreat is an Ultimate orgasm for opening your senses to their full present. Just visualise the sweet and sheer beauty of Frangipani. If you see Frangipani only for its beautiful colour, you are in effect under-experiencing it, because you are using only your eyes, only one out of five senses. Frangipani evokes a magical tropical feeling with their fragrance and beautiful white look shining on the tree. You'll experience Frangipani fully. Imagine yourself taking a bath with floating Frangipani on the water, pure relaxation is overwhelming you. We will open all of your senses, that they act together and at once. You will experiencing Frangipani rather than only seeing it.

---
What you'll get
Transfer ferry port on start and end dates of retreat

Four nights accommodations double occupancy including tax

Daily yoga and meditation

Daily (4) breakfast

Daily (4) Lunch

Daily (4) dinners

All group activities

Nature Hike

Massage Treatment

24/7 guides/retreat leaders
---
What is not included
Your round-trip airfare from home to Koh Phangan

Any wine you purchase at the winery

Other non-included items would include souvenir shopping, personal phone calls, extra spa services, taxis, laundry, bell-boys, and tips

Personal, medical or trip cancellation insurance
---


How to get to Koh Phangan?
The nearest airport is on Koh Samui. You can get a connecting ferry from Koh Samui to Koh Phangan (Thong Sala Pier) which can be arranged at the information desk at Koh Samui Airport.
Another option is to fly to Surattani Airport. From there you have to take a bus to Donsak pier (1,5hr). Ferries to Koh Phangan running frequently and it will take you 2-2,5 hr.
You must arrive into Koh Phangan on April 27th and depart May 1st, 2017 after lunch.
If you want to come earlier or stay later for some exploring – contact Nancy. She can help you design something fabulous as well as make sure that you actually end up on Koh Phangan at the right time and in the right place! Feel free to ring her at +66 61200710.
---


The Bonus
Before you even arrive at your ULTIMATE ORGASM FOR YOUR SENSES retreat, you'll be invited to join a private Facebook group as soon as you register so you can get to know your islandmates, ask questions and share in the pre-trip excitement. What's even better is that when you get home after the retreat you can keep in touch with everyone, share pictures, swap stories, and keep everyone in the loop with your triumphs and challenges.
You'll also have a FREE 30 minute DISCOVER session with one of the retreat leaders one month after the retreat, so together we can make sure you're still on track with everything you learned.
It's all about collecting memories, making new friends and connecting to your soul.
We will create something for you to capture the magical moments and will send you a gift after the retreat.
---
VIP
- exclusive session with Nancy & Lydia (value $150 USD)
- One-on-one consultation with Asia's Top Female Bio Hacker Lydia Huang (value $150)
- Emotional Healing session with Wholistic Coach Nancy (value $200)
- Luxury accommodation with marvelous Ocean view ($200 USD)
---
I'M GOING!
---
Do you have all the infos you need?

If you have any questions you can connect with us on +66 612270010 or wholistic@nancyhuettig.com.

We looking foward to share this magical journey with you!

LOVE & LIGHT
Nancy and Lydia


FAQs
Are there ID or minimum age requirements to enter the event?
No, there is no ID or minimum age requirement to enter the event.
What can I bring into the event?
Bring an open heart and open mind into the event and make yourself ready for some delightful activities.
How can I contact the organizer with any questions?
If you have any questions you can connect with us on +66 612270010 or wholistic@nancyhuettig.com.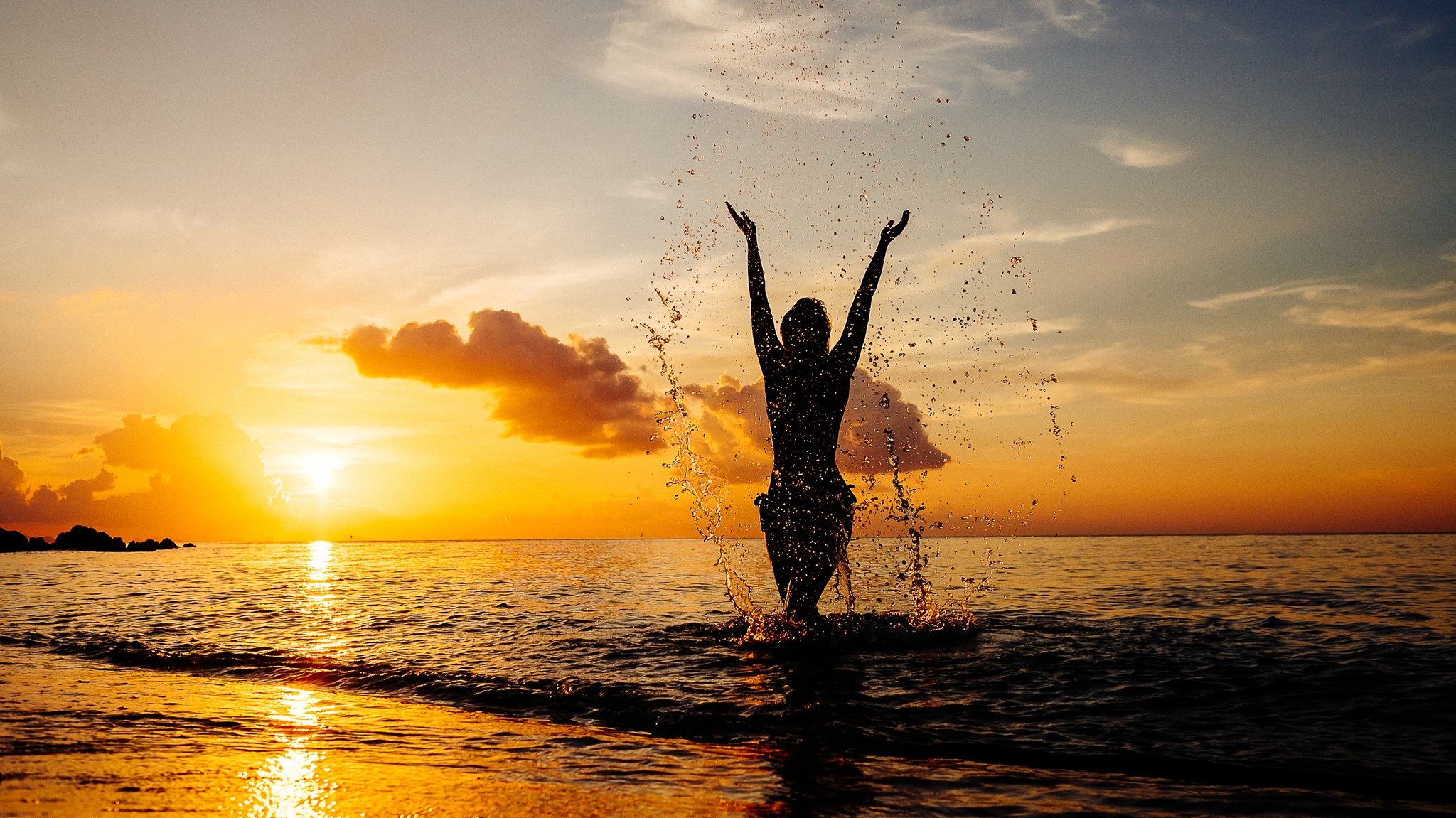 Date and Time
Location
Ko Pha Ngan
Tong Nai Pan Noi
Koh Phangan, จ.สุราษฎร์ธานี 84280
Thailand