| | |
| --- | --- |
| Ultimate Old School Daze Weekend Getaway | |
Event Details
SAVE THE DATE JUNE 2-4  
Ultimate Old School Daze Weekend Getaway
Giving you 3-days & 2-nights at the elegant Norfolk Waterside SHERATON Hotel & Convention Center, offering you nothing but first class treatment and making memories that will last a lifetime. The Ultimate Old School Daze Getaway features: 3 days, 2 nights, at a 5 star hotel, over 500 gorgeous ladies and fellas, business networking, meet and greet, karaoke, line dancing, tonk, spades, wine tasting social, beach themed dayparty , Live band, Live performance from hip hop legend, live band, All White Midnight Curies. Come make memories, relax and have fun!
In association with: Mandrake Lewis, Stovell Wade, Frank Ratchford, Rodney Jordan


3 days/2 nights Lodging
Event Wristband

 (includes free admission to all events and cruise)
                                           ITINERARY 
Friday

*3pm Friday- Check in to get wristbands in MONTICELLO 1ST FLOOR 

*4pm – 6pm Meet & Greet at The WATERSIDE DISTRICT in BLUE MOON TAP HOUSE (Beside the hotel)

Meet and greet your fellow travelers at BLUE MOON TAP HOUSE

*6pm – 8pm Meet & Greet  at The WATERSIDE DISTRICT in PBR (Country western theme) Sign up to ride the MECHANICAL  BULL !! That's right sign-up to ride the Bull to start the weekend off right!!  

TEXT bull to 9193086990 if you want to ride.

 

*9pm – The International Ballroom (3rd floor)

Concert Friday night. 3rd floor hotel ballroom – DJ BEE, DJ SKILLZ, Mr. Cheeks, RL and Hip-Hop Legend Rakim

 

 

SATURDAY

 

*9am-11am – Outside by the Pool

Morning workout and exercises with Trainer Ken and Nick Spartan Racer

 

*2pm-7pm - Saturday Summertime Fine Day party -  FM Restaurant

Come with your Beach Attire ready to party as we enjoy a wonderful day partying to the sounds of Dj Skills. It's walking distance from the hotel.

 (3 blocks from hotel ) (320 Granby St, Norfolk, VA 23510)

 *7pm–9pm – Pool Party Social Mixer

Stop by take a dip in the pool or just stop by to say hello. It's the Water Mixer

Sponsored by the CMB

 

*11pm - 2am - Saturday Night– All White Midnight Cruise

Come dressed in your all white as we enjoy three levels of entertainment, performing live 3 STAXX, Dj Skillz as we cruise under the midnight sky. IMPORTANT: YOU MUST HAVE YOUR LICENSE AND BOARDING PASS TO GET ON THE BOAT. WILL BOARD AT 11pm LEAVING AT 11:30pm!!  

**Pizza Party after we exit the Boat.  Must have wristband.

 

*3am- until - After party part II location (TBA)

 "No Sleep On the Cruise Weekend"




Sunday depart - Safe travel God bless!

******Greensboro/Burlington/Winston bus will load at 10am leaving at 11am

*****Raleigh bus will load at 10am leaving at 11am 

 

Text SCHOOLDAZE to 9193086990 for Concert updates, party locations, weekend updates, etc..



Sunday depart - Safe travel God bless

!
Important links :
Rooms are sold separtate 
Detailed weekend Itinerary: Click Here
Buses will leave from Charlotte, Greensboro and Raleigh
If you have additonal questions call 919-279-8588 or email swade5@yahoo.com 
HOTELS IN AREA
SHERATON NORFOLK WATERSIDE (HOST HOTEL)
777 Waterside Dr., Norfolk, VA
BUS SCHEDULE
Charlotte NC
WAL-MART 7735 N. TRYON ST
9am Load Bus
9:30 LEAVE **(BUS WILL NOT WAIT ON ANYONE)
BUS CONTACT: Kean Weathers  336.692.3352
Winston-Salem NC
WAL-MART 4550 4550 Kester Mill Rd
10:30am Load Bus
11:00am Leaving **(BUS WILL NOT WAIT ON ANYONE)
BUS Contact : Frank Ratchford 336.462.7237
Greensboro NC
WAL-MART 121 W Elmsley St.
11:30am Load Bus
12:00pm LEAVE **BE ONTIME WE WILL NOT WAIT**
BUS CONTACT: Nick Ingram  336.734.3445
Burlington NC
WAL-MART 3141 Garden Rd.
12:30pm Load Bus
1:00 pm LEAVE  (BUS WILL NOT WAIT ON ANYONE)
BUS CONTACT: Stovell Wade 919.308.6990
Raleigh NC
Costco 2838 Wake Forest Rd
12:30pm am Load Bus
1:00 pm LEAVE (BUS WILL NOT WAIT ON ANYONE)
BUS CONTACT: Rodney Jordan 919.824.3454
RETURN SCHEDULE
**CHARLOTTE, BURLINGTON, GREENSBORO, WINSTON-SALEM
***BUS WILL LOAD AT 10am leaving at 11am
**RALEIGH BUS
*** WILL LOAD AT 11am leaving at 12pm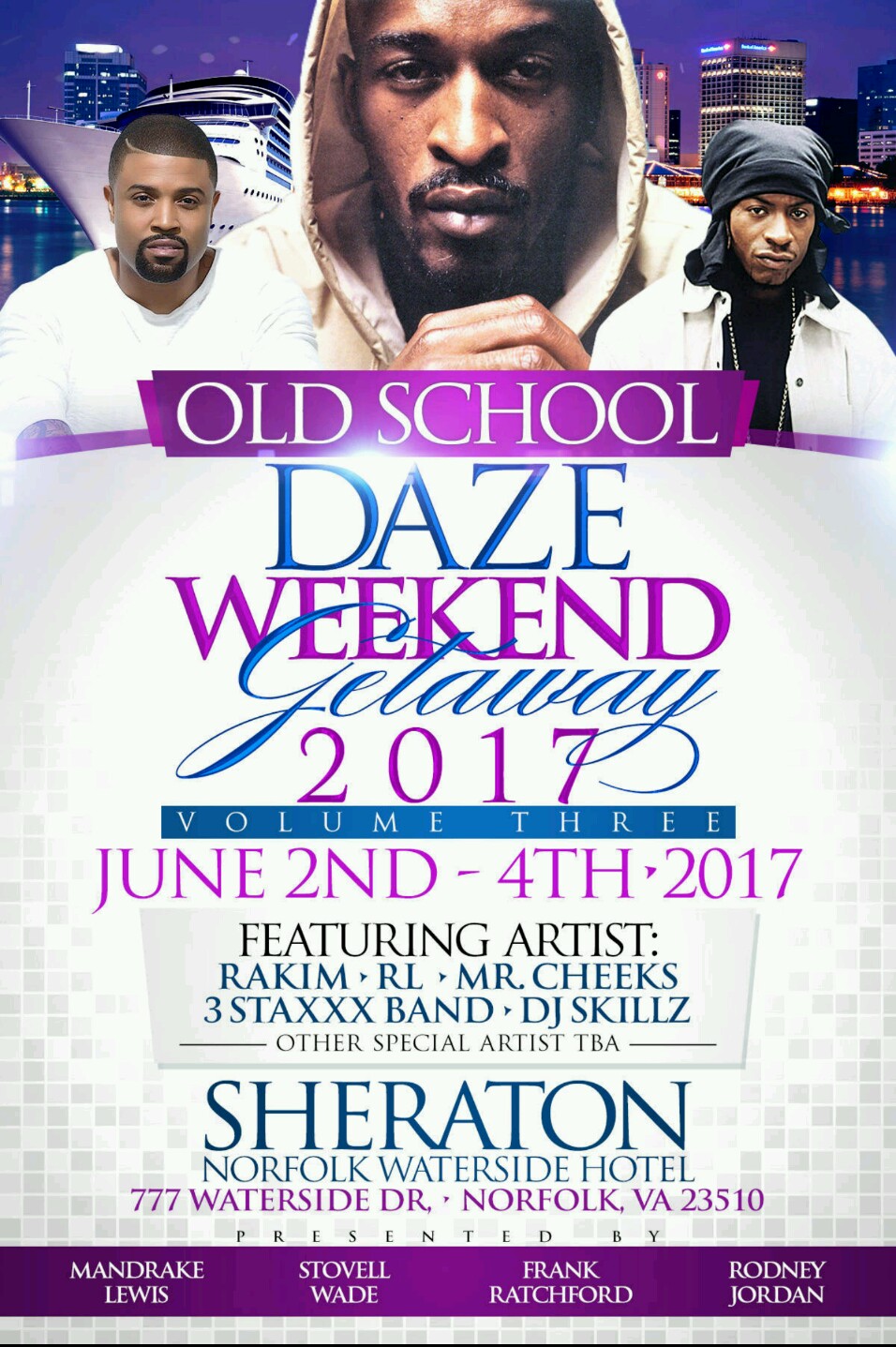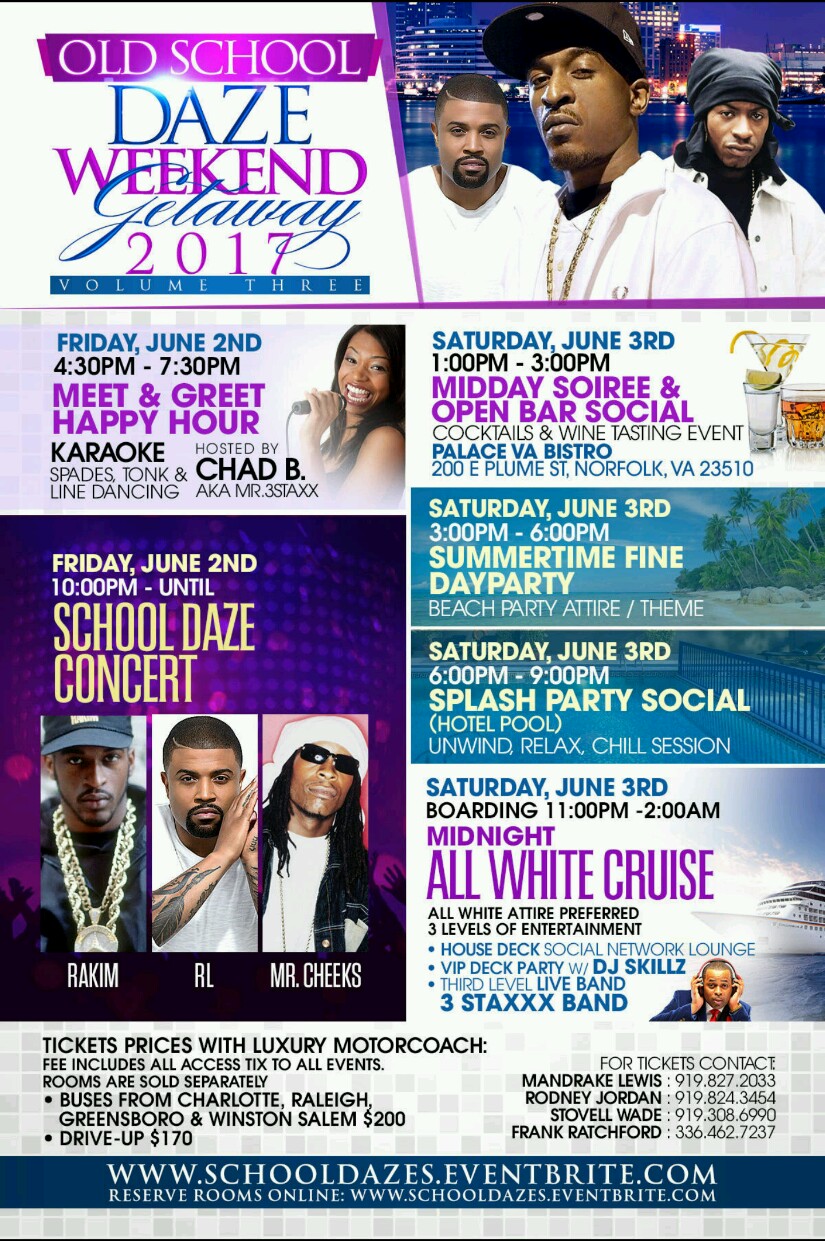 ,
When & Where

Sheraton Norfolk Waterside Hotel
777 Waterside Dr
Norfolk, VA 23510


Organizer
ItsDoable is a non profit organization which helps at risk families in the community all over the state. This event will aid our programs to assist families in need. www.itsdoable.org