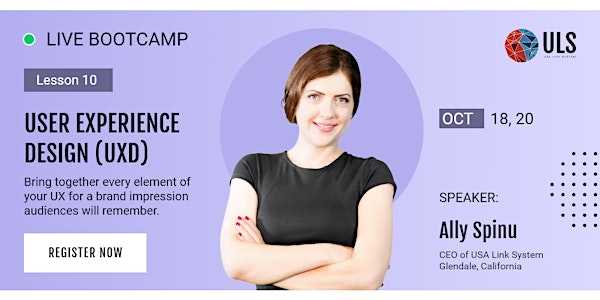 ULS Digital Marketing Bootcamp-User Experience Design, Oct 18, 11-30 AM PST
Learn how to design with the end-user's experience in mind from the start.
About this event
To secure your spot, register here through our website! https://usalinksystem.com/bootcamp-course-2
User Experience Design (UXD) should be the foundation of your marketing strategy. Lesson 10 of the ULS Digital Marketing Bootcamp pulls together all of the UX elements from previous lessons into one cohesive unit of building your online presence. Learn how to design with the end-user's experience in mind from the start.
Without UX design, elements of your website, app, product, or service will inevitably fall flat. Save your brand time and resources by learning how to integrate UX design at every stage.
Get expert advice while building fellow small businesses by joining this lesson for $15.99.
Why Learn from ULS?
Join our thriving community of over 1000 people interested in learning more marketing hacks, yet also get small-group focused attention from our variety of course dates and times!
As a small business, we here at ULS are dedicated to giving back to the marketing community by providing these courses to deep-dive into UX design!
Our Awards:
Check out our accolades on our website: https://usalinksystem.com/
Our Case Studies:
Want to see the skills you'll learn in action? Some of our clients include Laura Lee, Maurice Dadoun, Prestige California Builders, Manny MUA Digital, ExportsNews, Body and Mind Pilates and many more!
Your Instructor:
Learn more about the CEO of USA Link System who will be showing you the ropes here: http://allyspinu.com/
Bootcamp Topics on the Horizon:
Dive Into The User Experience
UX Research Basics
Wireframing for UX Designers
From Concept to Prototype
User Experience Design (UXD)
Build the online experience your customers are waiting for with help from ULS!
Once you register for this event, you will receive an email with a link to a registration form that you must fill out to get access to the Zoom link and join the session.
Fee - $15.99
This one-time fee per course gives you access to our Live lessons and also goes directly towards building small businesses just like yours.