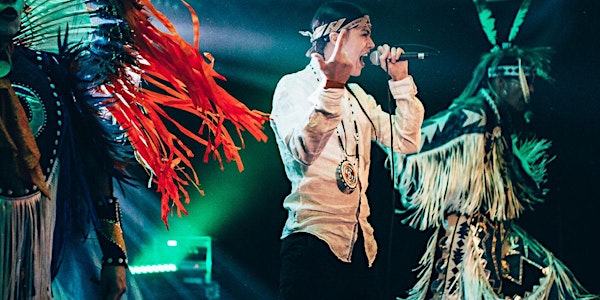 Ulrich Museum Contemporary Indigenous Arts Festival
Celebrate Indigenous Artists with exhibits, workshops, films, & performances-including a concert by rapper Frank Waln-all free of charge!
When and where
Location
Ulrich Museum of Art 1845 Fairmount Street Wichita, KS 67260
About this event
Live performances, artist talks, hands-on workshops, and a film program will join the Myths of the West exhibit as the Ulrich Museum of Art presents the Contemporary Indigenous Arts Festival, Oct. 4-5 at the museum and other locations at Wichita State University, with sponsorship by Art Bridges, INTRUST Bank and Wichita Marriott Corporate Hills. All events are free of charge.
College and high school students, as well as the public, are invited to take part as the Ulrich celebrates the works of Indigenous artists in conjunction with Myths of the West: Narrating Stories of the Land and People through Wichita Art Collections, which runs through Dec. 3 in the Polk/Wilson and Amsden Galleries. Admission to all events is free.
The festival kicks off at 7 p.m., Tuesday, Oct. 4 at Duerksen Amphitheater with a free performance by Frank Waln (Oyate Teca Obmani), a Sicangu Lakota rapper and activist. Mvskoke Creek/Seneca Hoop dancers Lumhe and Samoche Sampson, also known as the Sampson Brothers, will open the show and later join Waln onstage for a portion of his performance. The rain location for this event is Miller Concert Hall. Registration is not required for this performance event.
On Wednesday, Oct. 5 a variety of programs will be available. Registration is required for hands-on workshops, film screenings and the Wichita War Dancer performance because space is limited, but all programs are free. Register as soon as possible for the widest range of program options. Lunch will be hosted for workshop attendees.
Workshops and more on Oct. 5:
Intro to Hoop Dance: An introduction to Indigenous Hoop Dance utilizing multiple hoops. Learn, sweat, or have fun. Pick one, but all three are gonna happen! This workshop is for all ages. Teaching Artists: Lumhe Sampson & Samsoche Sampson (Mvskoke Creek/Seneca) | Location: McKnight Art Center North Lawn | 10 a.m. and 2:30 p.m.
Printmaking: The Magical Art Medium: Join a printmaking tour of Myths of the West and a tour of the printmaking studio. Learn about the four major printmaking processes, then carve a small linoleum block and print it using a printing press. Teaching Artists: 10 a.m.-Marco Hernandez | 12:45 p.m.-Jocelyn Lechuga | 2:30 p.m.-Anthony Corraro | Location: Meet at the Ulrich Museum for the tour. The class will take place after at the Printmaking Studio, McKnight North Room 221
Sun Printing with WarClan Collective: Enjoy a discussion about native art and cultural influences with one of the cofounders of Warclan Art Collective and take part in a guided cyanotype sun printmaking workshop. Teaching Artist: Taiomah Rutledge (Ojibwe/Meskwaki/Dakota) | Location: McKnight West Room 113 | 10 a.m., 12:45 p.m. and 2:30 p.m.
Tattoos: Illustrations Meant for Skin: A brief history of design that uniquely applies to tattoo art from its origins to modern day. Attendees will design a rose through the lens of tattoo art. Teaching Artist: Megan Shelton (Ponca/Seminole/Creek) | Location: McKnight West, Room 113B | 10 a.m., 12:45 p.m. and 2:30 p.m.
Indigenous Bling-Beaded Earrings: A brief overview of beading styles and tribal designs, including crafting techniques, stitches and tools. Attendees will execute a simple beaded earring design using provided beading starter kits. Teaching Artist: Tylana Looking Glass (Comanche/Apache Tribe of Oklahoma) | Location: Clayton Staples Gallery | 10 a.m., 12:45 p.m. and 2:30 p.m.
Indigenous Songwriting Workshop with Frank Waln: A masterclass in Indigenous songwriting from award-winning Lakota music artist, producer and audio engineer Frank Waln, who will demonstrate how culture, history, and ancestral teachings can ground us in our creative process and life path. Teaching Artist: Frank Waln (Sicangu Lakota) | Location: Collection Study Center, 1st floor of Ulrich Museum | 10 a.m.
Alter Stories of Place and Identity: Take part in a short tour and discussion of Myths of the West, highlighting the work of Indigenous artist Norman Akers. After the tour, participants will create their own accordion-style mini book collage to map their story of place and identity. Teaching Artist: Lori Santos (Taino) | Location: Meet in Ulrich Museum, 2nd floor galleries for tour. The class will take place after in McKnight North Room 118 | 10 a.m., 12:45 p.m. and 2:30 p.m.
Workshop Attendees: When you arrive at Wichita State University, head to the check-in table in the atrium of McKnight Arts Center West (just west of the Ulrich Museum) where you'll receive a program of events and be directed to your workshop location.
Performance: World Champion Wichita War Dancer (Tohono O'Odham/Ponca) has a passion for sharing his culture and history. He will perform traditional native dance in regalia. Location: McKnight Arts Center Atrium | 12:45 p.m.
Sundance Indigenous Short Film Tour 2022: Six films by Indigenous filmmakers in one 92 minute program: "Udeyonv (What They've Been Taught) by Brit Hensel (Cherokee Nation), "The Headhunter's Daughter" by Don Josephus Raphael Eblahan (Ífugao, Visayan), "The Original Shareholder Experience" by Petyr Xyst (Roadrunner clan in the Pueblo of Laguna), "Long Line of Ladies" by Shaandiin Tome (Dine), "Kicking the Clouds" by Sky Hopinka (Ho Chunk Nation/Pechanga Band of Luiseno Indians), and "Maidenhood" by Xóchitl Enríquez Mendoza ((Zapoteca). Location: CAC Theater | 10 a.m., 12:45 p.m. and 2:30 p.m. at the CAC Theater.
Myths of the West and associated programs are generously supported by Art Bridges, INTRUST Bank, Emprise Bank, and Fidelity Bank. Additional support provided by Don and Ellie Skokan, Keith and Georgia Stevens, and Jeff and Janice Van Sickle. The Ulrich is grateful for the ongoing support of Salon Circle members who make the Museum's exhibitions and programs possible through their Salon memberships. We also receive funding for general operational support from the City of Wichita and Wichita State University. WSU College of Fine Arts; WSU School of Art, Design & Creative Industries; and Mid-America All-Indian Museum are partnering with the Ulrich to produce the festival.
Indigenous Peoples Acknowledgment: The city of Wichita occupies the traditional homelands and hunting and camping territories of several Native American nations, including the Kiowa, Kaw, Osage, Wichita, the people of the Seven Council Fires, and many other Indigenous caretakers of this land and water. Today, the state of Kansas remains home to four federally recognized tribes: Prairie Band Potawatomi Nation, Kickapoo Tribe in Kansas, Iowa Tribe of Kansas and Nebraska, and Sac and Fox Nation of Missouri in Kansas and Nebraska. This land and water are deeply connected to the vibrant cultures of Indigenous people past, present, and future. As a cultural institution that seeks to connect with the entirety of its diverse community, the Ulrich Museum is honored to present, collect, and support art that represents Indigenous perspectives. We also recognize our responsibility to help dismantle legacies of invisibility and injustice against Indigenous peoples through conversation, representation, and education.