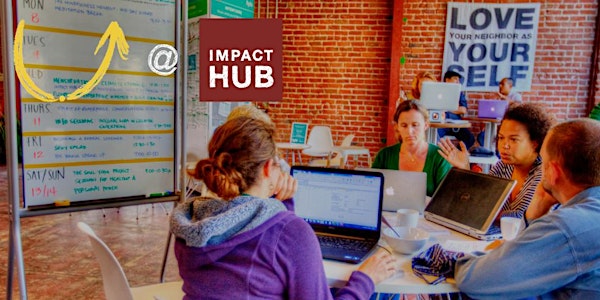 U.Lab @ Impact Hub Oakland
When and where
Location
Impact Hub Oakland 2323 Broadway Oakland, CA 94612
Description
Starting 10 September, the Presencing Institute and the Impact Hub network are partnering up to bring the open online edX/MITx course U.Lab: Transforming Business, Society, and Self to 43 Impact Hub locations around the world. We believe in the power of social change through entrepreneurial action, and see the potential offered by the U.Lab course for locally rooted, globally connected communities of changemakers to catalyze systemic change.
Get involved by registering for the U.Lab at edX.org, and then join us for this 10-week journey!
How can I participate?
We offer 2 options:
Attend the live sessions at Impact Hub Oakland for FREE:

September 17th, 7:00 - 9:30 AM

October 8th, 7:00 - 9:30 AM

October 29th, 7:00 - 9:30 AM

December 17th, 7:00 - 9:30 AM
3-Month U.Lab Connect Membership (mid-Sept through mid-Dec)*:

Join us for in-depth learning, connecting and prototyping the Future of Oakland for only $30 per month.
Why opt for the U.Lab @ IHO Membership?
As participants of the free online course U.Lab: Transforming Business, Society, and Self, you are free to organize your own hub. So why become an IHO member for your U.Lab journey? U.Lab is an online course that invites offline engagement and prototyping; indeed, this is essential to deepening your understanding of the material. When you become a member of Impact Hub Oakland, you are a part of a rich, diverse community of purpose-driven people who believe another world is possible. Our vibrant community offers a great environment for learning, connecting and prototyping - so that your ideas can actually manifest with the support of like-minded people with common intentions. You'll also be part of a global community of over 11,000 other Impact Hub Members worldwide.
The U.Lab Connect Membership includes the following benefits:**
A weekly meetup to make sense of & practice the learning material, and support your U journey in project groups.

A connection to people in our impact ecosystem - entrepreneurs, changemakers and regional stakeholders - who are working to create a world that works for all.

A hosted environment that will support your journey through the U.Lab experience to bring the course and your ideas to life.

A beautiful and well-equipped meeting place for the live sessions and group activities with your fellow U.Lab participants, and 15 hours/month of co-working access.

Full Connect Membership benefits: Part-time member discount for conference room and venue rentals; free/discounted event tickets; and membership in the Impact Hub global network and virtual community on HUBnet.
WANT TO JOIN US FOR THE U.LAB JOURNEY @ IMPACT HUB OAKLAND?
Register here on Eventbrite to attend the first two sessions for free. If you already know that the U.Lab Connect Membership is for you, you can join HERE. And don't forget to join us for our Kick-off Session on September 10th!
Mark your calendar for these meetup dates and times on Thursday mornings:
9/10 from 8:00AM - 9:30 AM
9/17 from 7:00AM - 9:30 AM
9/24 from 8:00AM - 9:30 AM
10/1 from 8:00AM - 9:30 AM
10/8 from 7:00AM - 9:30 AM
10/15 from 8:00AM - 9:30 AM
10/22 from 8:00AM - 9:30 AM
10/29 from 7:00AM - 9:30 AM
11/5 from 8:00AM - 9:30 AM
12/17 from 7:00AM - 9:30 AM
(bold indicates a livestreamed course from MITx edX.org)
* Current IHO members automatically have access to the U.Lab @ Impact Hub and are not required to purchase any additional membership product. Just RSVP here on Eventbrite.
** The online U.Lab course is free and may be taken on your own without any additional cost by registering directly on the edX site. If you are inspired to participate in the course at Impact Hub Oakland, come join us for the free kick-off session on 9/10, and the 1st Live Session on 9/17. If you decide you want to stay with Impact Hub for the entire course, this will come with the above-stated membership benefits and registration fee.