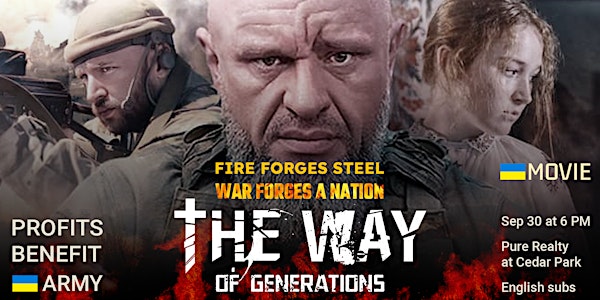 Ukrainian movie "The way of generations" with English subs
Join us to watch "The Way of Generations" - a new movie about the Ukraine's century-lasting fight for freedom. With English subtitles.
When and where
Location
Pure Realty 305 Denali Pass Drive #suite c Cedar Park, TX 78613
About this event
This film is about the struggle of Ukrainian people for their liberty which has been lasting for centuries.
Producer, co-screenwriter, author of the film's idea - Mykhaylo Ukhman, military journalist, writer, military volunteer. He was exactly that person who combined the fight of Ukrainian Insurgent Army (UPA) and Ukrainian Armed Forces against russian invaders.
The idea of the film was born in 2018 when Mykhaylo visited Volyn region where he met Hanna Abramovych-Zelena who was ex-connector commander of UPA (North) of Klym Savur. An old rebel, who is currently 93, told how she carried out special tasks for other rebels while her neighbour was handing her over to National Comity of the Internal Affairs (NCIA)… After all a 16-year-old girl was tortured and raped by 5 soviet soldiers and sent to the Siberia.
Another film character is warier of UPA Stepan Petrash who went through the decades of camps after he had been captured by russians. This man has told about the struggle of UPA units against German and soviet occupants. The screenplay is also based on his stories. According to the film plot, we cross the the time from the past to present where Ukrainians are fighting against russians again. The descendant of the UPA warriors, Nazar, doesn't head for The East to fight because he doesn't consider that this is his war. However, while he was wandering around the forest with his girlfriend he slept over by a grave and his dream was interrupted by a killed rebel who came to ask him why he didn't go to protect his country…
After this talk with the rebel and some other events Nazar gives up a job, leaves a pregnant girlfriend and heads for Donbas. Eventually, he realised if he doesn't eject russians, his child will be born a slave in "the new Union". The final scene of the film is a harsh battle near Donetsk where our guys destroy russian position and enemy infantry.
—————————————————————————————-
Film is not going to be heavy-hearted or boring. A viewer will see love, betrayal, fight, gunnery, and everything what is liked by an average planed dweller.
The aim of the film is to show people our history from the new point, to reach youth minds and touch adults' hearts. "The way of generations" is the film which will ruin soviet myths and will change the consciousness of Ukrainians.
To popularise the film and the struggle of Ukrainians for our independence famous actours are invited to star in it: Larysa Rusnak, Oleksiy Palamarenko, Volodymyr Nikolaienko, Sergio Dovgiy, Anastasia Ponomarenko, Nazar Borushok, Kira Podolska, Svitlana Matviishyn.
———————————————————————————
Professional and amateur actors, representatives of reenactment clubs, and actually Ukrainian secret service men, special forces fighters and UAF soldiers were filmed.
Partially scenes were filmed in Volyn where UPA was born. Another part of scenes were shot in Donbas near by the town of Volnovakha ruined by russians. Modern technique and weapons which were used in real battles against russian occupants are showed in the film.
A film producer, producing company "Ukhman & Company"