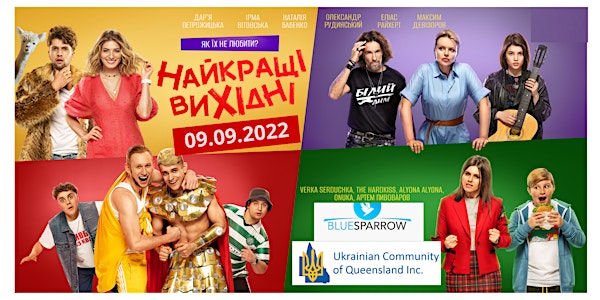 Ukrainian movie night - The Best Weekend
The Best Weekend A fun and witty comedy, The Best Weekend is aimed at raising funds for Ukraine! The film is with subtitles!
When and where
Location
New Farm — Five Star Cinemas 701 Brunswick Street New Farm, QLD 4005 Australia
Refund Policy
Contact the organiser to request a refund.
Eventbrite's fee is nonrefundable.
About this event
The Best Weekend (українська нижче)
A fun and witty comedy, The Best Weekend is aimed at raising spirits and raising funds for Ukrainian cinema! The film is in Ukrainian with English subtitles.
Synopsis:
A guy from Germany becomes a volunteer at a festival to make a female organiser fall in love with him but instead accidentally kills the festival's foreign headliner.
Guys from Kryvyi Rih organise a legendary bachelor party but quarrel like children and fight like adults.
A young girl from Odessa looks for her rocker dad who she hasn't seen and has idolised for the last 10 years.
A career woman from Lviv arrives for the most important interview in her life but her younger brother disrupts absolutely all of her plans.
This is going to be the craziest trip of our characters and their Best Weekend!
Release date in Ukraine: 2.02.2022
Genre: Comedy
Duration: 95 min
Production: FILM UA Group and "Your Best Festival" LLC with the support of the State Agency of Ukraine for Film Affairs
Distributors: FILM.UA Distribution, Kinomania
Starring: Darya Petrozhytska, Elias Reichert, Hans Jorg Berthold, Irma Vitovska, Alina Cheban, Bohdan Osadchuk, Georgy Hostikoev, Nataliya Babenko, Taras Denisyuk, Maksym Devizorov, Oleksandr Rudynskyi, Maksym Kyrychenko, Valery Morozov
Star cameos: VERKA SERDUCHKA & band, alyona alyona, The HARDKISS, ONUKA, Artem Pyvovarov, Oleksiy Durnev
Director: Vlad Klymchuk
Screenwriter and creative producer: Anastasia Lodkina
Producers: Anna Eliseeva, Dmytro Sydorenko
Executive producer: Andriy Ryzvanyuk
Associate producer: Oleksandra Melnyk
Приєнуйтесь до перегляду комедії «Найкращі Вихідні»!
Прем'єра в Австралії — 09.09.2022.
Хлопець з Німеччини влаштовується волонтером на Atlas Weekend, щоб закохати у себе дівчину-організатора, та натомість він губить закордонного хедлайнера фестивалю..
Хлопці з Кривого Рогу влаштовують легендарну парубоцьку вечірку, але сваряться, як діти і б'ються, як дорослі.
Юна одеситка шукає тата-рокера, якого не бачила та ідеалізувала довгі 10 років.
Кар'єристка зі Львова приїжджає на найважливішу в її житті співбесіду, але молодший брат зриває їй абсолютно всі плани.
Це буде найбожевільніша подорож наших героїв та їхні Найкращі Вихідні!
#найкращівихідні #якїхнелюбити #твоякомедія #твоївихідні
Дата релізу: 2.02.2022
Гасло: Як їх не любити?
Жанр: комедія
Хронометраж: 95 хв
Виробництво: FILM UA Group та ТОВ «Твій найкращий фестиваль» за підтримки Державного агентства України з питань кіно
Дистрибутори: FILM.UA Distribution, Кіноманія
У ролях: Дар'я Петрожицька, Еліас Райхерт, Ганс Йорг Бертхольд, Ірма Вітовська, Аліна Чебан, Богдан Осадчук, Георгій Хостікоєв, Наталія Бабенко, Тарас Денисюк, Максим Девізоров, Олександр Рудинський, Максим Кириченко, Валерій Морозов
Зіркові камео: VERKA SERDUCHKA & band, alyona alyona, The HARDKISS, ONUKA, Артем Пивоваров, Олексій Дурнєв
Режисер: Влад Климчук
Сценаристка та креативна продюсерка: Анастасія Лодкіна
Продюсери: Анна Єлісєєва, Дмитро Сидоренко
Виконавчий продюсер: Андрій Ризванюк
Асоційований продюсер: Олександра Мельник