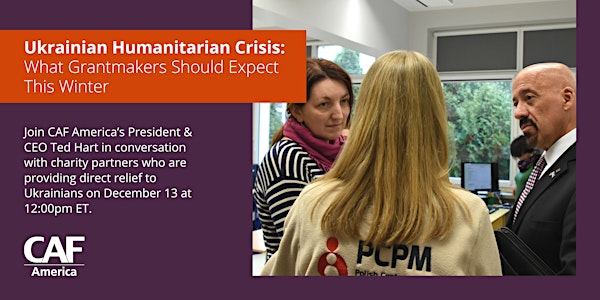 Ukrainian Humanitarian Crisis: What Grantmakers Should Expect This Winter
Join CAF America's President & CEO Ted Hart in conversation with charity partners who are providing direct humanitarian relief to Ukrainians
About this event
European countries are preparing for another wave of Ukrainian refugees, numbering in the hundreds of thousands, as winter approaches and Russia targets Ukraine's power grid.
Join CAF America President and CEO Ted Hart in conversation with CAF America charity partners who are providing direct relief to Ukrainians throughout Central and Eastern Europe. You will hear firsthand insights from our partners as they share their experience and provide a deeper understanding of the current state of the humanitarian relief and response landscape. This conversation will address what work is currently being done to support Ukrainians, what these organizations see as challenges to providing that relief effectively, and what changes they anticipate seeing in the coming winter months.
Joining CAF America in this conversation will be the Polish Center for International Aid (PCPM), Polish Humanitarian Action and People in Need (PIN).
—
About the Polish Center for International Aid (PCPM)
The Polish Center for International Aid (PCPM) is a non-governmental organization whose mission is to provide humanitarian, development, and medical relief assistance throughout the world, while maintaining the basic principles of humanitarianism, impartiality, neutrality, and independence. Learn more about PCPM: https://pcpm.org.pl/en
About Polish Humanitarian Action
Polish Humanitarian Action is a humanitarian non-profit organization based in Warsaw/Poland. For almost thirty years they have delivered humanitarian aid to people around the world who are suffering due to armed conflicts and natural disasters. They offer a variety of programming around disaster relief, water and food services, shelter, and education. Learn more about Polish Humanitarian Action: https://www.pah.org.pl/en/
About People in Need (PIN)
One of the largest non-profit organizations in Central Europe, People in Need (PIN) is a Czech nonprofit, non-governmental organization that provides emergency relief to people around the world during natural disasters or major crises, as well as delivering long-term aid to people living in poverty. In addition to humanitarian aid, People in Need implements development projects, education and social integration programs, and provides human rights support in areas of need. Learn more about People in Need: https://www.peopleinneed.net/
About CAF America
A leader in international philanthropy since 1992, CAF America (Charities Aid Foundation America) is a US public charity that offers a streamlined process through which individuals, foundations, and corporations can make charitable donations to international organizations across the globe. Our services and support enable clients to mitigate the risk, reputational exposure and administrative burden associated with international grantmaking, while enabling them to make impactful, cost-effective and tax-advantaged gifts. Whether supporting organizations working worldwide, providing swift responses to major disasters, or helping build connections between global communities, CAF America turns donors' visions into impact. CAF America's worldwide reach translates into more than $3.8 billion in donor funds and over 1.8 million eligible organizations in 135 countries: https://www.cafamerica.org/