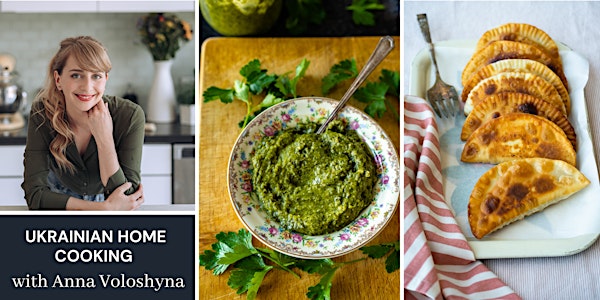 Ukrainian Home Cooking with Anna Voloshyna
Join guest chef Anna Voloshyna to fall in love with Ukrainian cuisine like chebureki and ajika!
About this event
NOTE: iphone and ipad users, CLICK HERE to register for class.
What's on the Menu
Meat & Onion Chebureki
Cheese & Herb Chebureki
Green Ajika
Born and raised in Ukraine, guest chef Anna Voloshyna's passion is making people fall in love with Eastern European cuisine. And fall in love you will as she teaches you to make chebureki, a street food-style turnover that is deeply rooted in Ukrainian culture and is the national dish of Crimea. With Anna as your guide, you'll learn to make two versions of chebureki: a vegetarian option with cheese and herbs as well as a meat version with savory, juicy meat seasoned with caraway and black pepper. Both fillings are wrapped in a simple non-yeasted dough that has a surprising secret ingredient: vodka! Anna will explain the role of that little splash of alcohol in this versatile dough. Then, you'll get step-by-step instructions on shaping, stuffing and sealing your turnovers. Anna will share everything you need to know about frying them safely and with confidence, guaranteeing that they come out of the skillet perfectly golden brown and crispy. Like its dumpling cousins across the world—like empanadas, gyoza and pasties—chebureki love to be served with a sauce to balance the richness. In this case, that sauce is ajika, a boldly flavorful blend of jalapeños, shallot, garlic and fresh herbs. Anna will teach you how to achieve just the right amount of spiciness for your taste and how to keep your ajika beautifully bright green. Join us to put a vibrant taste of Ukraine on your home table.
About Anna: Anna Voloshyna was born and raised in Ukraine and lived there for 20 years before moving to the United States. After coming to the Bay Area, Anna started working as a food photographer and stylist, helping chefs and culinary brands tell their stories through her camera lens. After numerous photoshoots and exciting cooking endeavors, Anna was finally offered a chance to unveil her own food-making talents through hosting Eastern European pop-up dinners. Her Georgian khachapuri nights and Ukrainian varenyky feasts became a delicious sensation in the San Francisco culinary community. Now Anna's goal is to make people fall in love with Eastern European food through every little Ukrainian dumpling, fluffy garlic pampushki, and every single bowl of luscious borscht you will cook from her new book, "Budmo!: Recipes from a Ukrainian Kitchen." To learn more about Anna, please visit https://annavoloshyna.com/ or follow her on IG @ annavoloshynacooks.
Order yourself a copy of Anna's new book, "BUDMO!: Recipes from a Ukrainian Kitchen"! Use promo code MILK2022 for 10% off your order.
Want to give this class as a gift? You can purchase gift cards here.
Bonus: All attendees of this class will receive a one-time 15% off coupon to the Milk Street Store after class.
This event has limited spots, and you must register in advance via Eventbrite. One sign-up covers one device. Closed Captioning is available for this event.
Immediately after registering, you will get a confirmation email that contains the Zoom meeting log-in information. One week prior to class (or within 48 hours of registering, if you sign up less than a week in advance), you will receive an email with the ingredients, equipment and prep you'll need to cook along with us, if you choose.
After class, you will receive a recording of the event, as well as a folder of recipes and resources that we discuss during the event. Class recordings are available to all registered attendees for two weeks following each event.
Payments for Milk Street live stream classes are non-refundable. If you find yourself unable to attend, you may transfer the ticket to someone else, but we are unable to refund fees and all payments are final. Classes are subject to cancellation at any time. In the case of cancellation by the event organizer, all paid tickets will be fully refunded.
Proceeds from live stream cooking classes support Milk Street's non-profit work with The Big Sisters Association of Great Boston, The Boys & Girls Club of Dorchester, and other partners.
If you have any questions about this class, please don't hesitate to get in touch via cookingschool@177milkstreet.com.