A virtual conference for PhD students and early-career researchers that aims to promote quality research, networking and community building.
About this Event
On behalf of the Organising and Advisory Committee we take great pleasure in welcoming students, researchers and experts in robotics virtually to the University of Hertfordshire for the 4th UK-RAS Conference for PhD Students & Early-Career Researchers (#UKRAS21) on the 2nd June 2021.
This exciting virtual event is specifically designed for PhD students and early-career robotics and autonomous systems researchers of the UK-RAS Network and will foster research progress and offer opportunities for networking.
This year's theme focuses on "Robotics at Home". We want to examine robotics and autonomous systems for use in the home, considering aspects of rapid prototyping, safety, assisted living, rehabilitation robotics, technology acceptance, and diverse user groups. At the same time, we aim to discuss innovations in delivering robotics research while working from home, addressing challenges in remote working, on-line experimentation, digital twinning, or simulation. Moreover, we seek to understand how different robotic and autonomous systems make themselves at home by being tailored to suit their respective working environments, such as factories, offshore platforms, power plants, or disaster scenes.
The aim of #UKRAS21 is to promote quality research, networking, and community building for PhD students and practitioners at the frontier of science and technology in intelligent robots and systems, by discussing the latest advancements in this fast growing and exciting field.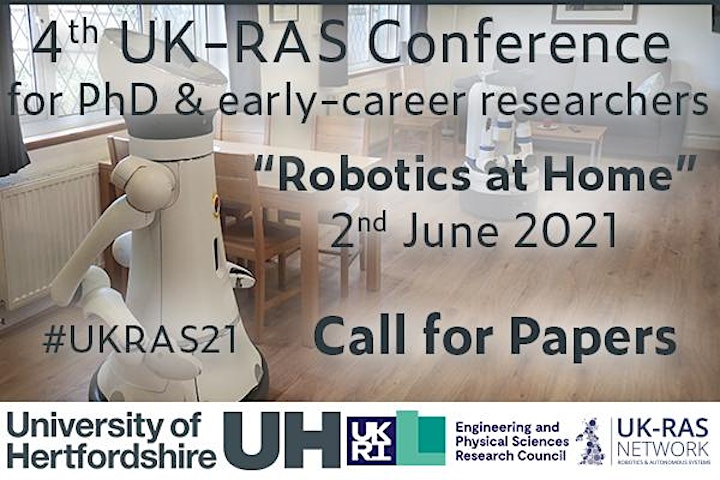 The call for papers is now open and we are looking for submissions in areas including (but not limited to):
Artificial Intelligence and Robotics
Assistive Technologies and Rehabilitation
Smart-Home and Robotics
Virtual and Remote Robotics
Robotics Research Methods During Social Restrictions
Novel and Enabling Technologies
The deadline for submissions is 17:00 BST 23rd April 2021.