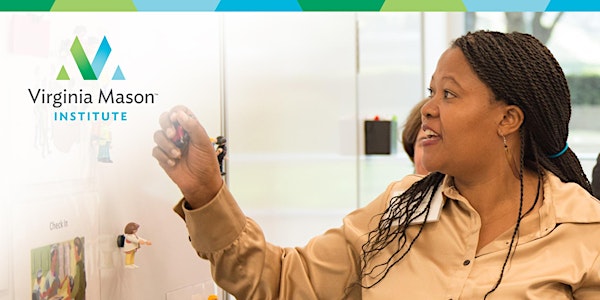 UK_Improving Flow in the Ambulatory Setting (Virtual) 23 May - 12 Aug, 2022
Sales Have Ended
Registrations are closed
Online sales have ended. Please reach out to one of our client relations managers regarding any remaining available spots at 02039507205 or events@virginiamasoninstitute.org
Event Information
Refund policy
Refunds up to 30 days before event
Sales Have Ended
Registrations are closed
Online sales have ended. Please reach out to one of our client relations managers regarding any remaining available spots at 02039507205 or events@virginiamasoninstitute.org
This virtual workshop shows participants how to create continuous flow in the ambulatory care setting.
About this event
Learn from the experts in healthcare
This live virtual interactive program uses experiential, hands-on learning techniques to guide participants in practicing process improvement knowledge and skills. Throughout the learning experience, participants receive value-added coaching and feedback from expert process improvement coaches. Participants will share a final report of their application of the concepts and create an implementation plan to roll out improvements throughout their clinic.
Time Commitment
This program requires a time commitment that includes *:
• (6) 3.5-hour learning sessions
• (6) 1-hour reflection meetings
• (2) 30-minute coaching sessions at start/end of program
• Up to 3 hours/week of practical application fieldwork in your clinic where participants will apply your learnings each week through a process improvement project. Time engaging the clinical teams will be necessary to generate ideas, create buy-in and test the changes through the plan-do-study-act method
Note on Sponsor Approval: This experience will require the support of a sponsor who will approve your process improvement project where all of your application exercises will be directed. View sample sponsor approval document.
Sessions are over a 13-week period, ending with a post-training coaching call. View Full Schedule
If you have any concerns regarding your ability to meet these requirements, please contact us to see how we can accommodate your needs.
* All sessions are live online via Microsoft Teams
This workshop will give you an understanding of
How improving flow can positively impact patient and staff engagement.
Discrete principles, methods, and tools of the Virginia Mason Production System®.
How the concept of flow impacts processes and quality of care.
Different types of demand and how to match your staffing resources to meet them to improve the patient experience and clinic flow.
The principles and methods used to reduce setup time in your clinic operations.
How Daily Management practices like huddles can improve patient flow and team engagement.
This program will enable you to
Integrate flow concepts to decrease the burden of work by streamlining processes.
Recognise other areas in your organisation that may benefit from flow improvements.
Who Should Attend
Healthcare leaders and frontline staff at all levels including:
Executives
Members of quality and safety departments
Organisational development leaders and staff
Project managers
Physicians
Nurses
Medical assistants
Individuals may register, but this training is designed for teams of 3 or more. Group discounts are available. Please contact us for details about pricing for training delivered at your organisation.
Prerequisites
Date and time
Refund policy
Refunds up to 30 days before event