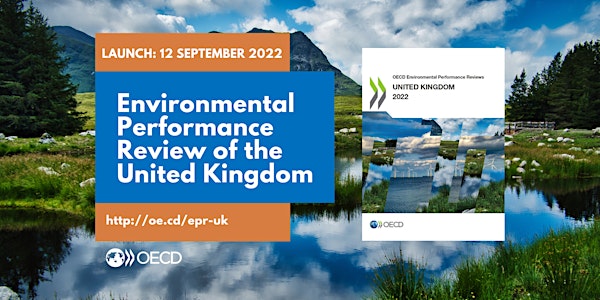 UK Environmental Performance Review Launch Event
Sign up and join us in celebrating the virtual launch of the OECDs UK Environmental Performance Review 2022
About this event
UK Environmental Performance Review
This is the third Environmental Performance Review the OECD has undertaken for the UK, the first since 2002. The UK chose an in-depth chapter on Circular Economy & Waste Management, this was peer reviewed by representatives from Germany and Japan.
The OECD published the UKs Environmental Performance Review in June 2022.
The published report can be found here on the OECDs UK EPR web page
Objective of event
The objective of this virtual launch event is to showcase the UKs Environmental Performance Review Assessment & Recommendations, undertaken by the OECD in 2021/2022.
The OECD will present their key findings and recommendations in a series of presentations. Representatives from the UK will have the opportunity to reflect on and discuss these before taking questions from the audience.
A panel session will take place to discuss the in-depth review of the UKs Circular Economy and Waste Management.
We hope you can join us virtually to celebrate the publication of this OECD report and welcome the OECDs findings.
We look forward to receiving your registration and the link to the launch event will be issued at least 48 hours in advance of the launch.
Agenda (UK time)
HIGH-LEVEL SESSION 12:30 – 13:15
Welcome by Emma Campbell, Director of Analysis and Chief Analyst, Department for Environment, Food and Rural Affairs
OECD Environmental Performance Review of the United Kingdom 2022: Key messages by Mr Alain de Serres, Acting Director, OECD Environment Directorate
Reflections by David Hill, Director General for Environment, Rural and Marine, Department for Environment, Food and Rural Affairs
The OECD Environmental Performance Reviews Programme: Nathalie Girouard, Head of Division, Environmental Performance and Information, OECD Environment Directorate
Q&A with audience
____________
Break 13:15 – 13:25
___________
CIRCULAR ECONOMY 13:25 – 14:15
Key findings of the review on circular economy by Tony Zamparutti, OECD EPR team
Reflections by Director, Department for Environment, Food and Rural Affairs and Andy Rees, Head of Waste Strategy, Welsh Government
PANEL DISCUSSION
Moderator: Chris Preston, Deputy Director of Resource & Waste, Department for Environment, Food and Rural Affairs
Panellists: Adam Read (SUEZ), Keith James (WRAP), Peter Hopkinson (Exeter University)
Q&A with audience
CLOSING WORDS 14:15 – 14:20
Final closing words of the event by David Hill, Director General for Environment, Rural and Marine, Department for Environment, Food and Rural Affairs